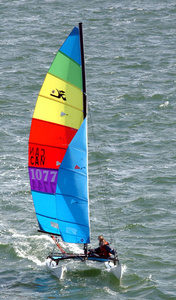 With its legendary design and induction into the Sailing Hall of Fame, the Hobie 16 is truly in a class of its own. Thirty years of racing and going stronger than ever.
Powerful enough to challenge veteran sailors yet easy enough for beginners, the Hobie 16 is the perfect all-around cat. Asymmetrical hulls eliminate the need for dagger boards. This makes for easy launching and beaching.
The Hobie 16… the ultimate one design class.
Specifications:
Length: 16′ 7″
Beam: 7′ 11″
Mast Length: 26′ 6″
Sail Area: 218 Sq. Ft.
Weight: 320 lbs.
Hull Construction: Fiberglass/Foam Sandwich
Class website:
http://www.hobieclass.com/