Teach Sailing in New York City, Spring/Summer 2020! To learn more and apply, click HERE
HRCS believes everyone can learn to sail, and that sailing provides a unique opportunity for growth and discovery. We use sailing to fulfill our mission: developing leadership and academic success in under-served New York City youth, and providing maritime education to the city at large. We do this within a vibrant community sailing center, where we offer professional instruction, membership, veterans courses, summer camp, group and corporate events, and community regattas.

Hudson River Community Sailing is a 501(c)3 non-profit whose main mission is to develop leadership and academic success in underserved New York City youth. The other half of our mission to provide sailing education, instruction and recreation to the community. We have April through November full-time and part-time positions ranging from 4 hours to 40 hours per week. If you are only available for a part of the season that is also acceptable. Apply NOW!!!
Working for HRCS:
– Your work will truly improve the lives of New Yorkers as you help us achieve our mission.
– There is a strong sense of community amongst staff, students, and members. We believe learning happens best when people feel safe, comfortable, and part of something great.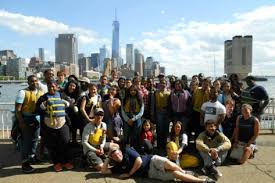 – We have the best educators in NYC, and are committed to staff development and growth.
Duration & Seasonality: Work is available weekdays and weekends ranging from 5-20 hours and 20-40 hours based on season, your availability and position.