The Coed sailors qualify for the Coed Showcase Finals- The Fiske Harriman Sleigh at Connecticut College; Stanford and Harvard look strong before the Women's Showcase Finals.
October  7, 2019,  Written by Chris Klevan —   The United States Naval Academy won their side of the Coed Showcase Qualifiers, at home. The regatta was a full 36 race event and the drama extended throughout the event as Georgetown, the regatta leader from race 1B to race 17A were overtaken by Navy during the final set of the regatta.
Navy's success came as a team effort as sophomore phenoms, Joseph Hermus and Sally Johnson won A-Division narrowly over Sean Segerblom '20 and Annabelle Ayer '22 of Georgetown. Meanwhile, Parker Loftus '20 and Kimmie Leonard '22 of Navy finished the regatta with a 1,2,1,1,1 to spark Navy's run to pass the Hoyas. Navy has now won the last four doublehanded, fleet race regattas sailed at home.
Hermus sailed primarily B-Division last year while Loftus sailed in A. Things have changed since then and the coaching move seems to have benefitted the Midshipmen. "Both skippers have been really good for us," said Navy Head Coach Ian Burnman. "But Hermus has been sailing particularly well since the end of last year. We thought he was ready for the challenge of the A-Fleet and he seems up to it so far. It took Loftus a few races to get used to the B-Fleet, but once he got his starts figured out he really dominated at the end of the regatta. Having great crews and tough competition at practice is huge for these guys as they settle into new roles."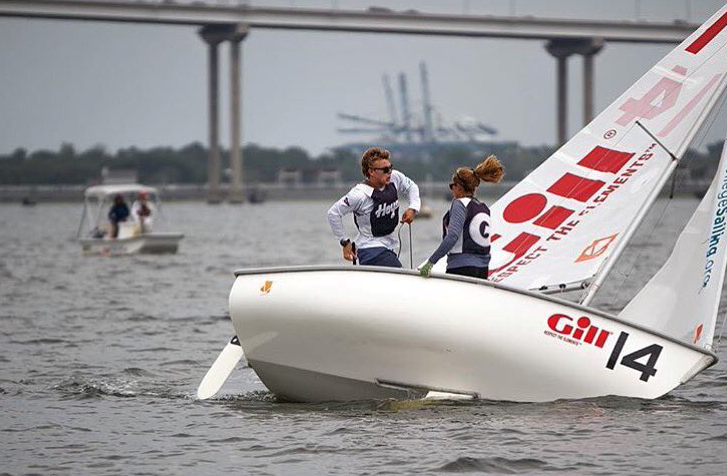 "Home has been good to us lately," continued Coach Burman "I think we've gotten into a good routine since we host so many events and it's always nice to be in our boats on our waters.  Our team also feeds a bit on the alums, parents , team members and other supporters that come by to cheer us on during the home regattas."
Emily Haig '21 and Marcus Abate '20 of MIT won B-Division with 89 points. The MIT tandem finished 2 points ahead of Jack Brown '21, Katherine Lounsbury '20, Hunter Skinner '20 and Noelle Owen '23 of Charleston. Haig was the leader of a division which saw an uncharacteristic number of female drivers, 6, who sailed the entire regatta for MIT, Brown, Yale, Cornell and UPenn, with Ava Esquire and Lenox Butcher, both female, splitting time on the helm for UPenn.
Both Georgetown and Navy can be looked at as title contenders this year. Though Georgetown and Navy finished 6th and 3rd, respectively at last year's Gill Coed National Championship, four of the top 6 teams lost starting skippers. Four of the top 5 A-Division skippers at the Nationals graduated, leaving Segerblom as the only returning skipper from the top 5. Loftus, of Navy finished 7th in A-Division last year.
Hermus returns as the reigning B-Division champion with 54 points between him and the next returning B-Division skipper, Leo Boucher '22 of St. Mary's. Chalres Miller of HWS graduated. Will Logue '20 and Caoline Teare '21 of Georgetown return after finishing 8th in B-Division at Nationals.
Charleston finished 3rd overall last weekend with 211 points. The Cougars were 12 points behind Georgetown and 28 points behind Navy. Those three teams, along with Yale, MIT, Brown, Connecticut College, Bowdoin and University of Pennsylvania qualify, in order, for the Coed Showcase Finals, also known as the Fiske Harriman Sleigh, to be sailed at Connecticut College.
"We've gone up to New London for a few regattas already in 2019 and our players are becoming more comfortable sailing there," said Coach Burman. "We'll be working on our starts a lot before the next regatta there as well as our boat handling and ability to hold tight lanes."
Boston University won the Coed Showcase at St. Mary's, the other half of the 36 team qualifier for the Coed Showcase Finals, after a tie-breaker with Harvard. Like Navy, BU charged late in the event to take the lead late from a hot Harvard team. Each of the top three finishing teams, BU, Harvard and Coast Guard held the lead at some point throughout the regatta.
Harvard jumped out in front at the waning stages of the event but the Crimson couldn't put BU away. The Terriers around to tie the event after a 2,2 final set by Javier De Urdanibia Panos '21 and Katherine Bertolini '21 in A-Division and a 1,1 final set by B-Division winner, Maia Agerup '20 with Grace Mooradian '21 and Garbiella Schmidt '22.
BU took the tie-breaker because the finished the event with seven first place finishes to Harvard's six. Normally a tie-breaker is determined by head-to-head record, however BU and Harvard were split even head-to-head.
"BU sailed fast in both divisions, and generally started well," said BU head coach Stan Schreyer. "In some of the races where they didn't start well, they were able to work back through the fleet. We had some deep races, but not too many."
"The Harvard team is very strong," continued Coach Schreyer. "They have had good results in the early part of this season, and I expect they will continue to do so. They are fast, and they sail smart."
A-Division was won by Eli Burnes '21 and Emily Wang '21, who now have finished 3rd at the Danmark, 5th at the Hoyt and 2nd at the Harry Anderson. Wang and Burns finished strong with 4 of the final 7 races in the top-3.
Agerup, Mooradian and Schmidt beat of Gage Schoenherr, Christina Nothacker and Walter Gnann of Coast Guard behind five top-2 finishes in the final 8 races of the event.
Coast Guard had 239 total points, 15 behind Harvard and BU. Boston College, Dartmouth, Stanford, Hobart and William Smith, St. Mary's and Tufts round out 4-9 in order. Those 9 team will move on to sail the Coed Showcase Finals at Conn College in two weekends, October 19-20.
Stanford won the only women's interconference regatta of the weekend, the Stu Nelson at Connecticut College. What ended up being a two team battle, Stanford and Harvard traded blows throughout the event. Third placed Brown finished 57 points behind second place Harvard. Stanford had 119, 11 points ahead of Harvard, though the regatta win was not settled until the final set.
Two Frosh, Michelle Lahrkamp and Abigail Tindall won A-Division by 30 points, beating Emma Kaneti '22 and Emma Jakobson '21 of Harvard, 53 to 83. Lahrkamp and Tindall finished in the top-3  in the first 5 races sailed as well as 10 of the 14 races sailed in A-Division.
Just as Lahrkamp and Tindall were to A-Division, Sarah Burn '23 and Jessican Williams '20 of Harvard were to B-Division. Burn and Williams won B-Division by 19 points over Stanford's other all-frost boat of Hallie Schiffman and Patricia Gerli. Burn and Williams had 9 finishes inside the top-3.