Written by Chris Klevan
Women's Semifinals is mostly set with Coed Qualifiers looming…
Last weekend held the Women's Conference Championships for five of the seven conferences while Coed and Team Race Championships took place in the South-east and the Northwest conferences. On top of that, a competitive interconference regatta served as a tuneup with many Coed Conference Championships set for next weekend.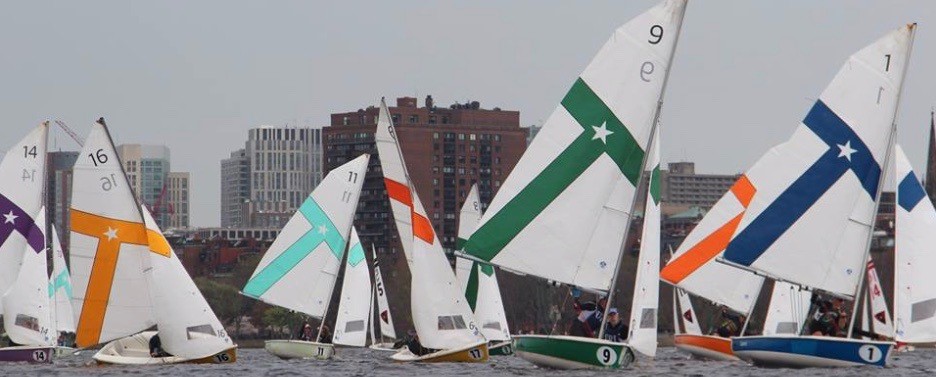 Massachusetts Institute of Technology won the NEISA Women's Championship, The Reed Trophy, hosted by MIT.  The home team sat in the passing lane throughout the event, holding the lead intermittently, but mostly trailing Boston College and Brown. There were 12 lead changes throughout the event with Boston University, Harvard, Yale, Boston College, Brown and MIT all holding it before MIT took it ultimately at race 15B and didn't let go. 16 races were sailed in each division.
The regatta was uncommonly wild as a puffy southerly caused the conditions, on the already challenging Charles River, to be even more volatile. Mixed with what is a naturally contentious regatta, the breezy conditions presented an extra element of stress for the women of New England looking to advance to the Sperry Women's National Semifinal regatta. The top 11 finishing teams advance to the semifinals.
MIT pulled out in front when it counted. Inconsistent scores late in the regatta by both BC and Brown opened the door for MIT and their late stretch of impressive consistency earned the Engineers a big regatta win.
MIT's A-Division boat, Annie Hughes '19, with Noa Yoder '19 (race 1,3-6 and 9) and Tiffany Xi '19 (race 2, 7-8 and 10-16) turned it on late as MIT made their run. Never scoring outside the top-7 after race 4, Hughes and Xi ended the event with 5 top four finishes in the final 6 races sailed to overtake BC after race 13A and Brown after race 15B.
Coupled with Hughes and Xi's impressive scoreline late, it was a bullet coming from MIT's B-Division boat, Emily Haig '21 and Julia Cho '20 coinciding with a 15th from Brown that solidified MIT's victory, putting Brown 10 points back with only one set left to sail. Hughes and Xi beat Brown in the final A race making it so that Brown needed 12 points on MIT in the final race. A margin Haigh and Cho were not about to concede.
MIT Coach Mike Kalin had the following to say about MIT's success at the Reed:
"A very memorable regatta for all the seniors on the team (Annie Hughes, Tiffany Xi, Noa Yoder, Sarah Caso), defending their home waters and edging out an incredibly talented bunch of sailors from Brown, Dartmouth and BC in the last couple of races.  It was a similar situation to how women's Nationals went last year — we were leading that regatta going into the last day, but fell a bit short (and learned some really good lessons).  I'm so proud of how we kept pushing so hard, even when it looked like Brown was unbeatable — we stayed in the moment, tried to make minor adjustments each race and really trusted our instincts and sailing partners."
"We had a lot of confidence going into day two after surviving the wild conditions on Saturday and we were thrilled with the effort put in by all of our crews (five crews sailed in both divisions).  We didn't sail Sunday perfectly, but that's kind of the secret to becoming a master of the river — nobody can sail it perfectly.  You have to be resilient and keep plugging away because the next opportunity to make a big gain relies on you staying calm and focused, and not getting too upset about the randomness that can hit you out of nowhere.  Often the difference between an average performance and a great performance are those double digit races that turn into good scores.  We were fortunate to turn a few of those double digit roundings back into top 5 finishes on Sunday, and that made the difference.  Seniors Annie Hughes and Tiffany Xi led the charge for us on Sunday with their calm and focused approach.  It's pretty difficult to rattle either of them — they both have a lot of mental toughness and function incredibly well as a duo and especially under pressure."
"This women's team has a lot of the same characteristics of our last year's co-ed team which won nationals.  Our women have set very lofty goals for themselves this season and they work so hard every day, breaking down the game and making small improvements.  They push each other hard, they believe and trust in one another and they have so much fun doing all of it — running, lifting weights, practicing and competing.  They are all great teachers and help each other get better.  They've all had days where they are way off the mark, but it's never been upsetting or mentally defeating.  It's just a cue to make some adjustments, some improvements in areas and come back stronger the next time.  Whether they win or lose, they gain some wisdom and try to make the next race a little bit better.  Finally, last year's co-ed team and this year's women's team both have great mental toughness and seem to have the most fun in the most challenging situations."
Hughes, Yoder and Xi finished second in A Division with 75 points. Maia Agerup '20 and Emily Croteau '19 of Boston University won the division with 71 points.
Hannah Steadman '20 with Emma Montgomery '22, Annabelle Hutchinson '21 and Emily Ito '19 won B-Division with 70 points, 5 point ahead of Isabella Loosbrock '19 and Emma Perry '19 of Boston College.
MIT, Brown, Dartmouth, Boston College, Yale, Harvard, Boston University , Coast Guard, University of Rhode Island, Bowdoin, and Tufts qualified to move on to the ICSA  Sperry Women's Semifinal regatta as 11 of the 16 teams at the Reed qualify for nationals.
Below are the allocation of women's berths for the first round, the Sperry Women's Semifinals: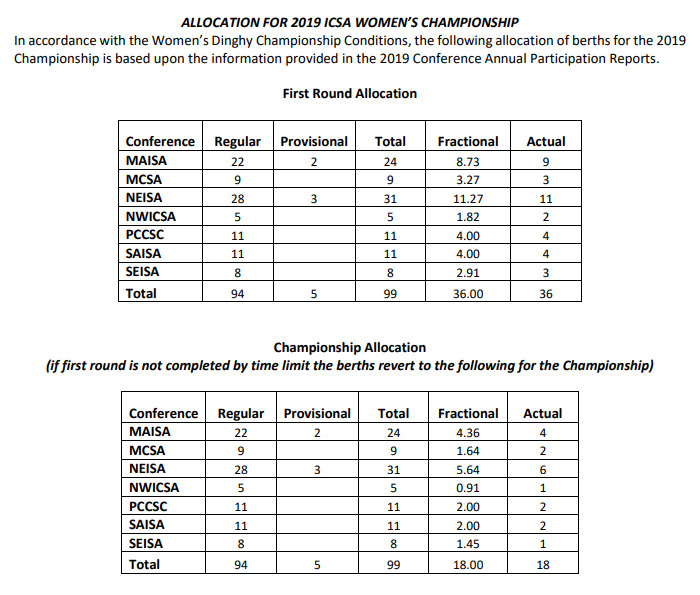 University of Pennsylvania won the MAISA Spring Women's Dinghy Championship with a 7 point margin over second place Cornell University. Saturday was very breezy as the race committee felt racing needed to be delayed at the conference championship. Only ten races were sailed on Saturday in 420s only as pressure in the puffs was extreme.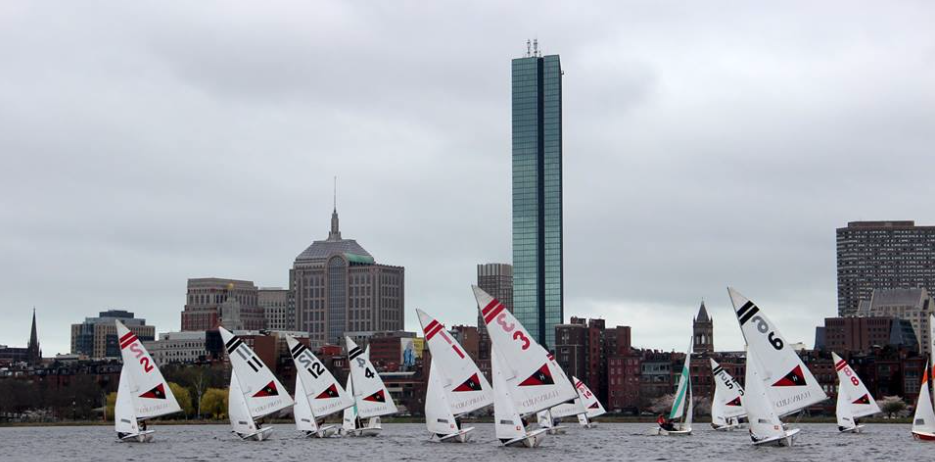 "We are very confident in our abilities in big breeze," said Penn Coach Isaac Clark. "In the fall Ava Esquier C'20 and Kelly Hanlon W'21 won the Navy Women's Open in big breeze, and Sunday of MAISA Women's in the fall we won 5 of 10 races in the big north breeze at Cornell. All of these women have been working extremely hard in the gym and really know how to push themselves further each session thanks to the tutelage of our trainers and the example set by captain Lenox Butcher C'20. We have had difficulty solidifying our B Division heavy air crew, but our freshman skipper Amanda Majernik C'22 has really stepped up and owned that role for the team."
UPenn built their lead in the breeze, winning 5 of the ten races sailed on Saturday- creating a 24 to 55 point lead over Cornell, which turned out to be only just enough to beat the Big Red.
"We dug ourselves a hole during Saturday's racing that ended up being too much to overcome," said Cornell Coach Brian Clancy. "We nearly pulled off coming back from 7th to win the event, and even though we won the day on Sunday we had to sail perfect and it was just too much. I'm really proud of the team for bouncing back after a tough day and sailing their best to move up to 2nd."
Sunday's racing started with race 5b in much lighter conditions. Cornell won that race and 8 of the 22 races sailed on Sunday, each set cutting at the lead Penn established on Saturday. After race 14B, Cornell was only 9 points back. But Penn showed resolve, beating them in the race 15 set and hanging on in the final two races of the 16 race regatta.
"Ultimately we give credit to Penn who sailed well throughout and hung on for the victory," said Coach Clancy. "They've been good all year long, we weren't surprised by their performance this weekend."
"Penn has never won any conference championship before, as far as I can tell," continued Coach Clark. "We knew we had the exact right people for the job. This was an important stepping stone to establishing an team ethos at Penn where the athletes can be confidant that they are capable of winning with consistent effort and humility."
UPenn's Ava Esquier 20 with Kelly Hanlon '21 and Dana Hackett '20 won A-Division win 65 points. Gabby Rizika '20 with Miranda Sannino '20 and Diana Otis '19 of Cornell finished second with 70 points.
"We are very happy with this result, but we are also grounded in the reality that nationals is not just MAISA, and we have had a few missteps at the Dellenbaugh, Wick, and Women's Team Race National Invite these past few weekends," finished Coach Clark. "We need to work on being regimented with our approach to starting our opening downwind moves,but probably more importantly taking care of ourselves consistently throughout the regatta with water and food. It really affects the endgame Sunday afternoon and we were not in form."
Lenox Butcher '20 with Amanda Majernik '22 and Jenna Weiner '21 of UPenn followed their teammates lead winning B-Division in a tie-breaker with Navy's Jessica McJones '20 with Brittany Slook '20, Anna Cutler '20 and Fiona Lobon '22. Both boats finished with 62 points but Butcher and company beat McJones and crew win 9 of the 16 races sailed.
UPenn, Cornell, George Washington, William Smith, Navy, Old Dominion, Georgetown, St. Mary's and Fordham will advance to sail in the Sperry Women's semifinals.
Jacksonville University won the SAISA Women's Champs, continuing an impressive spring from the Dolphins. Jacksonville's A-Division boat, Charlotte Rose '22 with Gigi Arias '21 and Ana Carrasco '21 won 7 of the 8 races sailed in the division. The one blemish was a second in race 8A.
However, such a dominant effort by Rose, Arias and Carrasco come with a slight asterisk as Charleston phenomenal Junior, Alie Toppa, one of, if not the best women's boats in the nation, was racing elsewhere. A display of confidence from the Cougars of Charleston.
Paula Resto '20 and Shaynah True '19 of Jacksonville won B-Division. The tandem finished first in half of the  races.
Jacksonville beat second place Charleston 27 to 52 in the 16 races sailed. Jacksonville, Charleston, Eckerd and University of South Florida will advance to the Sperry Women's Semifinal regatta.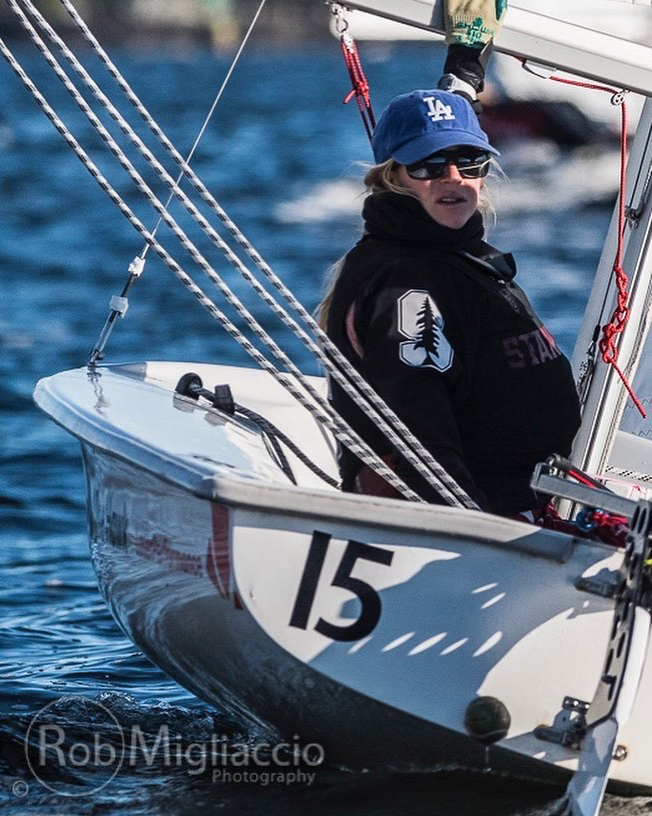 Stanford won the PCCSC Women's Conference Champs with a 55 to 69 point win over University of Southern California in the 20 race event. UC Santa Barbara finished third with 69 points and Berkeley finished fourth with 88 points, edging Hawaii by one point and capturing the final berth to the Sperry Women's semifinals in the 8 team regatta.
Berkeley led throughout the event, holding off Hawaii due to a solid B-Division finish. This will be Berkeley's second straight appearance to the semifinals and the third in the past 4 years. Berkeley has never advanced to the finals since the semifinals scores have been recorded on techscore. A team must finish top-9 at the semifinals to advance.
USC's Sarah Alexander '19 and Sabrina Moreno '19 won A-Division, edging Stephanie Houck '21, Taylor Kirkpatrick '20 and Ashton Borcherding '22 of Stanford by one point after 10 races sailed in the division, 27 to 28 points.
Stanford's Sophia Sole '21 with Camille White '22,Cassie Obel '19 and Madeline Bubb '20 won B-Division, beating Madeline Kraus '20 and Mary Toomey '21 of Santa Barbara by one point, 27 to 28 points.
Northwestern won the MCSA Women's Qualifiers, beating University of Michigan by 12 points. University of Minnesota finished 3rd capturing the final berth to nationals, edging Wisconsin by 7 points.
Northwestern's B-Division boat, Lillian Nemeth '22 with Audrey DeBruine '19 and Natalie Shilati '20 were the driving force behind the Wildcat's win with top-3 finishes in all of the 8 races sailed in the 6 team regatta. They won 4 of those 8 races.
Jenna Probst '22 and Margaret Carroll '21 of Michigan won A-Division with 18 points. Probst and Carroll also finished with all top-3 scores.
Minnesota started the regatta in 3rd place overall and maintained that qualifying position throughout the event.
University of Washington won the NWICSA Team Race Champs with a 5-1 record in the three team, three round-robin event. The Huskies were 3-0 against Western Washington and 2-1 against Oregon State to qualify for the ICSA Laserperformance Team Race Nationals.
This will be their fifth appearance at the Team Race Nationals since 2013. However, the Huskies' best finish is 13th in what was a 14 team regatta in 2013. Since the regatta expanded to 16 teams in 2014, the Huskies have never finished better than 15th.
Connor Hughes '19, Kayden Potter '20 and Karl Skeel '20 are the Huckie skippers for this year's campaign and Cora Knauss '18, Farzana Mohamedali '20 and Avery Wolf '21 are the crews looking to turn a new page for a conference that has struggled on the national scene as of late.
Texas A&M at Galveston edged Tulane by one loss in the SEISA Team Race Championship. The 4 team regatta presented one berth to the Laserperformance Team Race National Championship and consisted of a double round robin and a 5 race sail off to break the tie between Tulane and Galveston.
Galveston took a 2-0 lead in the best of five series to end the event. Tulane pushed the tie-breaker to race 4. However, Galveston won race four to advance the the national championship.
Galveston left the conference once this season where they finished 15th at the 38th Lynne Marchiando Trophy. This is Galveston's seventh straight team race appearance, the same as Yale. However, over that span they've finished last in all but two appearances.
This year's team looks to flip the script behind an older squad of Alex Schwinn '19, John Hanna '19 and Jonathan Sager '20 with Leena Siiteri '21, Ava Cares '20 and Conner Sager '20.
The team race qualifier was a one day event. Sunday SEISA held their fleet race qualifier, SEISA Coed Championship.
The top two finishing teams from the 7 team regatta will advance to the cped semifinals. Galveston and Tulane were clearly the best two teams at the event. Tulane finished the 26 race regatta with top-2 scores in all but 3 races and Galveston had 5 races outside the top-2.
Galveston won 14 of the 26 races sailed in both divisions while Tulane won only 8 of the 26 races. Tulane was disqualified from race 10B. That would've been their 9th race won and the difference between first and second in the event.
Tulane's Ciara Rodriguez-Horan '22 with Grace Bloomfield '19 and Sophia Ricker '19 won A-Division with 23 points and all first or second finishes.
Skylar Bayman '22 and Jonathan Sager '22 of Galveston split time on the tiller with Connor Sager '20 to win B-Division.
Stanford won the Admiral's Cup with a two point victory over Dartmouth College. Stanford sailed impressively in what was the most competitive coed fleet race thus far this spring season. Stanford started the day on Sunday 37 points behind Dartmouth and 43 points behind St. Mary's who ended the regatta in third.
Eight of the top 10 ranked teams according the the sailing world college rankings were in attendance at the Admiral's cup and most teams were sailing their top group.
Saturday was dictated by big breeze from the south and many boats couldn't make it around the W4 course upright. After Saturday, eight races were complete in each division and Stanford sat in 6th place due to a troublesome stretch by freshman Wiley Rogers with Matthew Hogan '21 and Victoria Thompson.
The Stanford B-Division boat sailed extremely well to start the event, scoring 19 points in the first 5 races sailed. However, what is good can't last as the talented freshman with Hogan and Thompson scored a 17,12,15 to end the day.
"Saturday was breezy with long delays in racing," said Stanford Coach Isabel Strachan. "We started out strong but as the day went on, we got tired and didn't take care of our bodies as well as we should have. That, in combination with a mistimed crew switch, caused weaker races. On Sunday, we knew there was a good chance of moving up into the top 3 if we focused on consistency on the start line and boat speed. Wiley and Tori got into a groove over the next 8 races and were able to move their way back up the leaderboard."
"Shoeless" Wiley Rogers turned it around in the lighter air on Sunday. Rogers, now sailing with Thompson exclusively, never finished outside the top-9 on sunday and had five top-3 finishes to help pull Stanford from 6th to first.
The effort of Rogers,and Thompson was complimented by a 3rd place finish by Romain Screve '21 sailing with John Kirkpatrick in the big breeze (1-8) and Sammy Pickell '22 and Matthew Hogan '21 on Sunday. Screve and company scored 7 top-3 races in the 16 race regatta in what was surely the most competitive A-Division we've seen this season.
The two divisions for the Cardinal combined to pull Stanford to a late regatta win. Trailing Dartmouth by 9 and St. Mary's by 17 going into the last full set, Stanford had a 1,6 in race 15 in A and B division respectively to close the gap and a 2,6 in 16A and B to take the win.
"It was great to have good racing in Newport-like conditions," continued Coach Strachan. "We didn't have any division wins, but our consistency with different skipper/crew combinations over variety of conditions should give us confidence going into Nationals. We were weak on the starting line, so that'll be our focus moving forward."
Nicholas Baird '19 with Graceann Nicolosi '19, Sam Tobin '22 and Sonia Lingos-Utley '21 won A-Division by 14 points over Dartmouth's Chris Williford '19, Ryan Goldstein '22 and Rebecca McElvain '19. The Yale senior had only two races outside the top-8 and showed why many consider him the frontrunner for college sailor of the year. Baird, Nicolosi, Tobin and Lingos-Utley finished inside the top-3 in 7 of the 16 races and won 4 of those races.
Despite the heroics of Rogers and Thompson of Stanford to win the regatta overall, B-Division was owned by Will Logue '20, Jack Hogan '21 and Annabelle Ayer '22 of Georgetown. The Bulldog boat beat Stanford by 13 points and finished inside the top-4 in 9 of the 16 races sailed including the first six races of the regatta where they went 2,1,1,4,1,1 in big breeze.
Stanford won with 199 points Dartmouth finished second with 201 points and St. Mary's finished third with 206 points. Georgetown was 4th with 207 and Charleston fifth with 221.