Yale wins the Navy Womens as light air limits sailing across the east coast
March  11, 2019, Written by Chris Klevan, Photos by Colin Grey Voight
The 2019 Spring Sailing Season is slowly heating up, both figuratively and literally. Light air in MAISA limited racing at the Navy Spring Women's, the John Jackson and the St. Mary's Team Race- the three premiere regattas last weekend.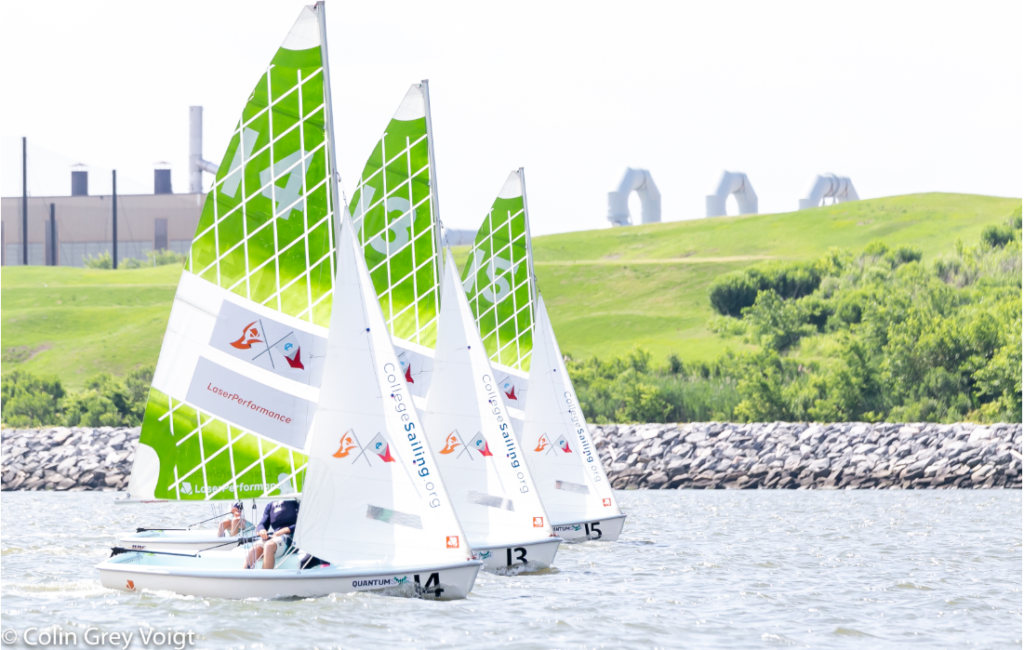 The Navy Spring Women's, at Navy, sailed 11 races in each division. Yale won decisively over Charleston 78 points to 98, respectively. Yale's victory can be attributed to the stellar sailing of B-Division winner, Christine Klingler '20 and Kira Woods '19. The Eli tandem put together quite the scoreline, finishing either first or second in all but 3 races sailed. Besides a tenth place finish in race 10, Klingler and Woods never finsihed outside the top-5 in what was, essentially, the women's interconference season opener. Woods and Klingler finished with 31 points in their division, 26 points ahead of the next closest boat.
However, it was the depth of Yale that made the difference over Charleston as the Cougar's A-Division boat was just as hot as Klingler and Woods. Alie Toppa '20 and Annabel Carrington '19 won A-Division, finishing with 33 points. Toppa and Carrington, like Klingler and Woods, finished with only one race outside the top five- a rare accomplishment in A-Division as the competition contains several Women's College Sailor of the Year darlings.
Bailey Carter '19 of William Smith and Louisa Nordstrom '20 of Yale are two of the best sailors you'll find on the women's circuit today. They're two of the best sailors you'll find anywhere today. All who pay attention expect both Carter and Nordstrom to be mentioned for all the major awards come May. Toppa is proving that she belongs right next to those ladies in the conversation for best women's skipper in College Sailing today.
Nordstrom's ability to hang with Toppa and Carrington, finishing 14 points behind the A-Division winners, was the difference maker for Yale.
MIT finished 3rd with 111 points.
Don't forget to check out the S1D ICSA Team Race Rankings, complete with Coach Analysis!!
The John Jackson Memorial Team Race at Georgetown was limited to a full 8 team round robin and a round of 6. The home team, Georgetown again set the bar for great team racing. Sailing their typical starting squad, Andy Reiter, Sean Segerblom, Will Logue, Claire Mohun, Haley Shea, Rebecca Fung and Caroline Teare, the Hoyas finished with a 11-1 record, dropping one race to Boston College throughout the event. For the second weekend in a row, the Hoyas showed that they are better and faster than the competition, winning 8 of their 12 races in a 1-2-3 combination.
Navy finished second with a 8-4 record and Old Dominion finished 3rd with a 7-5 record.
The John Jackson Memorial was one of two MAISA team race league regattas. The other was the St. Mary's Team Race Interconference. Like the John Jackson, the St. Mary's Team Race was limited due to light and variable conditions. 43 total races were sailed at Georgetown and 45 total races were sailed at St. Mary's.
Stanford, sailing without consistent starter, Romain Screve '21, won the event with an 8-1 record- dropping its only race to Hobart and William Smith. Stanford, like Georgetown simply outsails the competition, winning 7 of their 9 races in a 1-2-3 or a 1-2-4 combination. With Screve in the mix they are as formidable as anyone in the game today. Without Screve, they are forced to sail Wiley Rodgers '22- the USA heir to the 470 class.
Brown finished second with a 7-2 record. NEISA is uncommonly deep this year and, with only 4 slots to the Laser Performance Team Race Nationals, there are more quality teams edging for a trip to the nationals than berths will permit. Brown is very much in this mix and they showed it with a strong performance in St. Mary's. Brown features one of the strongest sailors in New England, Patrick Shanahan besides two of the best women's sailors in the game, Ragna Agerup '20 and Hannah Steadman '20. With Agerup and Steadman, Brown may be the favorites to win the Women's Championship this year. On the team race scene, they represent two of the most slippery boats around, they will be as tough as anyone in NEISA.
Hobart and William Smith finished third, 7-2, losing the tie-breaker with Brown. HWS started what is expected to be their top team in Charles Miller '19, Lindsey Kloc '19, Hector Guzman, Maya Weber '20, Kyle Easton '20 and Aidan Morgan '21. Most of that team sailed to a 3rd place finish at the Laser Performance Team Race Nationals and were about 10 boat lengths away from the regatta win. This is a different team clearly as over the past two weekends they've started 3 different boats alongside Miller, Gozman, Kloc and Weber.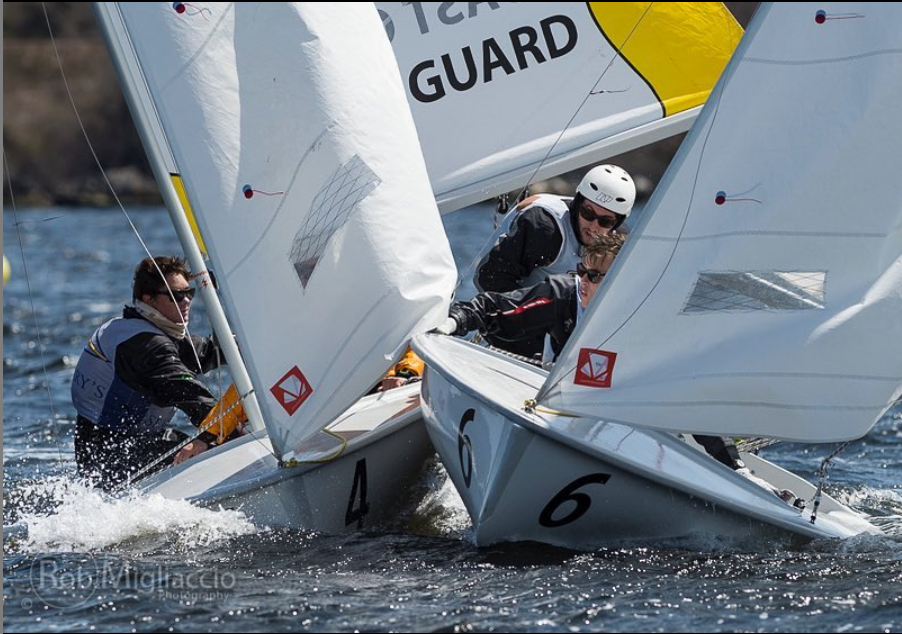 Bowdoin won the Rudkin Team Race at Eckerd college, hosted by Roger Williams. Roger Williams beat the system by creatively finding a way to host a regatta about 1,300 miles from home. Bowdoin won the event with a 11-3 record in the two rounds of 8 sailed. Their three losses came twice to MIT and once to Connecticut College. Don't forget to check out the S1D ICSA Team Race Rankings, complete with Coach Analysis!!
"For us the priority right now is boat speed and boathandling," said Bowdoin Head Coach Frank Pizzo. "We need the foundation in place before we get going through all the plays.  We think we have a fast group and we hope that will continue to be a strength."
"We have been using these early regattas to work on plays and communication, but also as opportunities to work on our character skills to perform when it matters," Coach Pizzo continued. "The emphasis has been on responding well after loses, not focusing on things outside of our control, and winning the hard races at the end of the day.  We have some work to do here but it is important."
"We know and respect the level of competition in our league so we are just trying to improve while we are down in Florida."
The Polar Bears sailed senior Matthew Kaplan, Alden Grimes '21, Christian Filter '20, Matt Safford, '20, Marie Bergsund '20, Louisa Lindgren '19, Julia Adams '21 and Emily Gonzalez '20.
Roger Williams finished second with a 9-5 record, winning the tiebreakers over Boston College who split the head to head with Roger Williams but were beat 1,2,3 in the final matchup between the two schools.