Yale, Charleston, HWS, Navy and Brown take regatta wins as the team race season, coed and women's, heats up!
March  25, 2019, Written by Chris Klevan, Photos by Colin Grey Voight, Rob Migliaccio and Tyler Colvin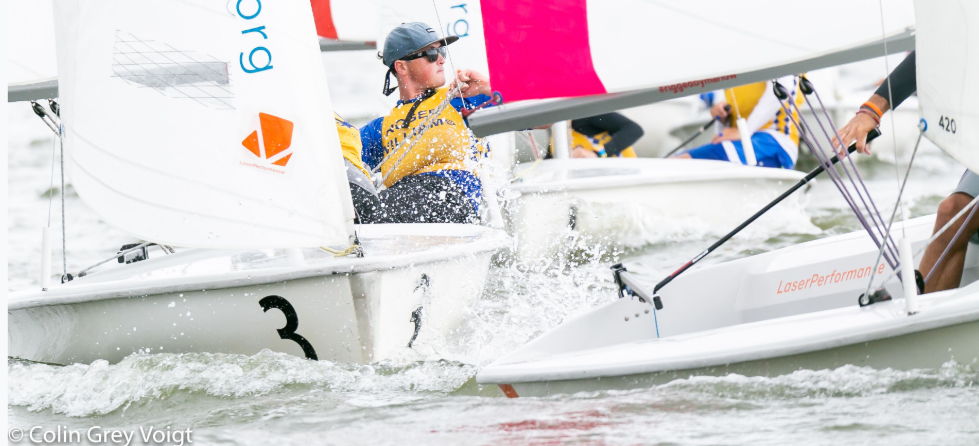 Brown University won the Duplin Women's Team Race at Tufts University in Larks on Mystic Lake. Like most New England regattas, the Duplin was a one day event. Brown went 10-0 after a full 8-team round robin and a top-4 round robin. Brown likely would have been most people's betting favorite as their top team race team features Hannah Steadman and Ragna Agerup- two of the best women's sailors in the nation. However, Brown's undefeated effort showed their depth as it featured none of the aforementioned women.
Brown sailed Rachel Foster '20, Sophie Hibben '19 and Olivia Belda '22 on the tiller with Maxine De Havenon '19, Emma Montgomery '22, Abigayle Konys '19 and Annabelle Hutchinson '21 in the front.
"The 40th annual Duplin Trophy honors former Tufts Sailing Master Joseph R. Duplin," said Tufts Head Coach Ken Legler. "A fleet racing regatta for the first 30 years, the Duplin became a team racing regatta for women about ten years ago, the first of its kind. The Duplin is not meant to be a championship of any sort; as such there are no umpires. Protests were handled by three person panels comprised of one coach and two undergrad competitors. Hot soup was provided as a throwback to the former NEWISA which provided a modest lunch at all New England Women's regattas."
"The timing of the Duplin is best for all the very fast women's sailors who are asked to team race in practice against their "A" teams during spring break.  The low-key but high level sailing at the Duplin is their reward," finished Coach Legler who is also a terrific photographer and keeper of sailing history.
Boston College finished second at 7-3 and Boston University finished 3rd at 5-5, winning a tiebreaker over University of South Florida.
The Duplin was not the only Women's Team Race last weekend. The Seahawk Women's Team Race was taken by Navy and a 10-5 record, besting University of Pennsylvania who finished with a 9-6 record.
Navy started slow, finishing the first round robin with a 2-3 record. They turned it on thereafter as they finished the regatta only dropping two races in the final 10 sailed.
Navy sailed Olivia de Olazarra '22, Jessica McJones '20 and Brittany Slook '20 with Madeline Pruzan '21, Kelly Milliken '21 and Fiona Lobon '22 as crews.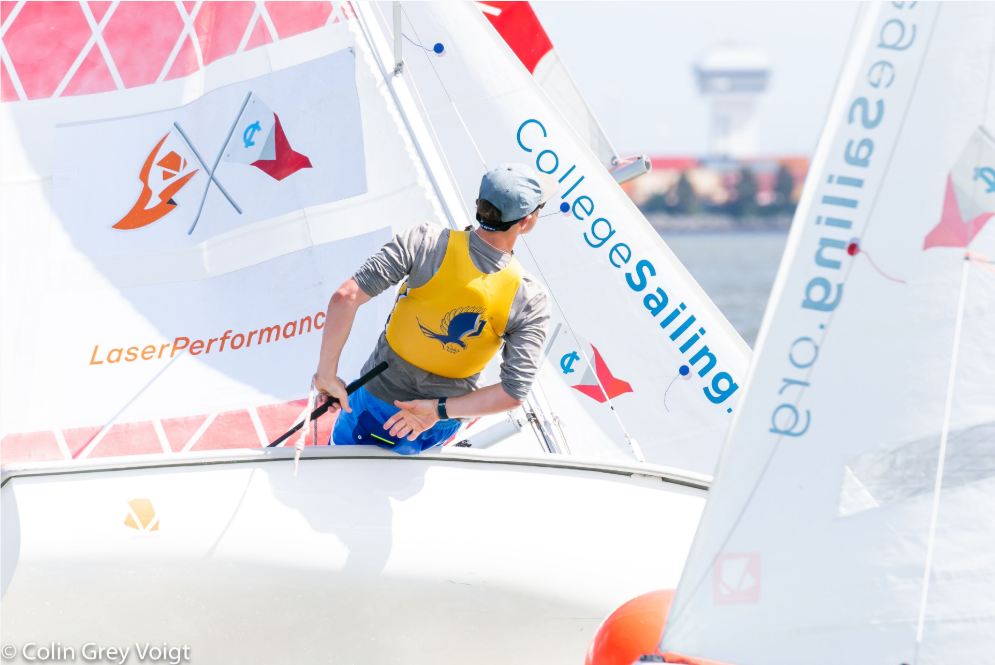 Yale won the Friis Trophy, hosted by Roger Williams University, the premier regatta in New England last weekend. "The Friis started off with really shifty conditions with a lot of fleet inversions," said Yale Head Coach Zack Leonard. "No race was over until the finish!  As the day wore on, the sailing got much better and the breeze solidified."
The regatta was shortened due to big breeze and cold water temps on Saturday, limiting the regatta to a one day, one round robin format. Yale started their usual group plus a coupe more crews for the wide range of conditions. Nic Baird '19, Nick Hernandez '19, Shawn Harvey '21, Sonia Lingos-Utley '21, Graceann Nicolosi '20, Claudia Loiacono '21 and Catherine Webb '22 were joined by stars on the women's circuit, Catherine Mollerus '21 and Christine Klingler '20 to add depth to an already deep and talented squad.
"The racing was what you would expect for early season team racing," said Roger William Head Coach Amanda Callahan. "There were some head scratching decisions mixed in among solid execution. Team racing can be challenging enough in stable conditions but when you add big velocity and angle changes, as well as significant current, there was a lot being thrown at the competitors this weekend and it was good to see them trying to manage so many facets of the game."
Building upon an already impressive team race season, the Bulldogs of Yale won the tie-breaker against the home team, Roger Williams in a high stakes, but ultimately anticlimactic one race sailoff to end the event. "Yale did a great job off of the line and we were in full chase mode from the jump. Our guys battled hard to get back into the race but, as you would expect from a talented team, Yale was able to punish us for our mistakes and they came away with an impressive win in the sail-off and the overall event win."
Though the Bulldogs' top squad has yet to finish worst than first at a team race regatta this season, carrying a 38 win and 5 loss record so far, they did appear to be beatable at the Friis, losing twice- once decisively to Dartmouth who finished that race in a 1-2-4 combination and the event in 4th (more on that later,) and to Boston University in what looked to be a  sketchy 1-3-5 finish in favor of the Terriers. Yale seems to be the most refined team in the nation but there are more than a few teams knocking on their door.
"We always have good battles with Yale, this one was no exception," said Dartmouth Head Coach Justin Assad. "As always in NEISA, anyone can win any race, so we just try to stay level headed no matter who our opponent is, and we trust that we can beat anyone as long as we don't beat ourselves."
Dartmouth finished 4th after losing a sailoff with Stanford University. Both teams finished with a 6-3 record.
Assad continued to say, "We lost the tie break with Stanford – very good race, we undershot the Layline on the last beat in a 1-2, which
ultimately cost us the race.  After opening the regatta with three straight losses we felt pretty psyched to be playing for third."
With two weeks to go before the Fowle Trophy, New England's Team Race Championship and qualifier for nationals, the conference hierarchy is incredibly uncertain. Yale is the obvious favorite to come out of NEISA, but with Roger Williams, Bowdoin, Dartmouth, Boston College, Brown, Harvard, Tufts, MIT and Boston University all vying for the remained 3 qualifying berths, the NEISA Champs could be quite contentious.
After a Friis Trophy where Roger Williams looked great and Dartmouth emerged from the White Mountains of frozen New Hampshire seemingly battle-ready, all eyes look to Boston and MIT for next weekend's Lynne Marchiando Regatta as the last showdown and indicator of what's to come in New England.
College of Charleston won the Aaron Szambecki Team Race with a 18-3 record after two full 10 team round robins and a final four.
"The regatta is named in memory of Aaron Szambecki, ODU `96. Aaron was an Honorable Mention All-American, Team Captain, and avid team racer," said Old Dominion Head Coach and ICSA President Mitch Brindley. "In 1997 Aaron took his own life, and with the support of the Szambecki family, we renamed the ODU Team Race in his memory."
"The regatta is known for at least one day of big breeze, a competitive field, a solid umpire team, great hospitality, and a regatta gift," continued Coach Brindley. "And for the Monarchs, it is on opportunity to raise awareness for suicide prevention. With awareness, suicide is preventable. All campuses of resources available to help students in need." To learn more see:  www.afsp.org; www.suicideispreventable.org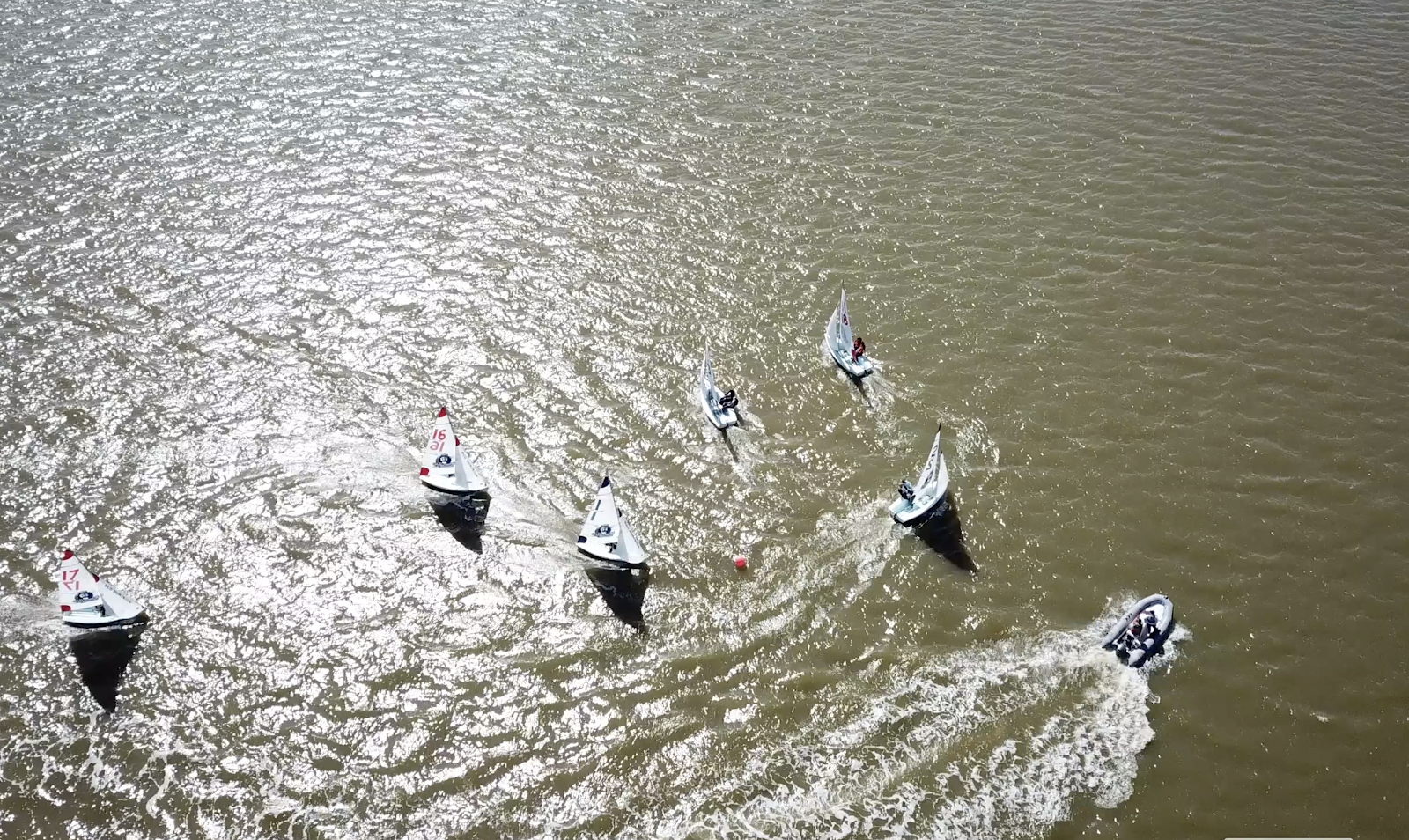 "This year we had great day of big breeze on Saturday, followed by perfect team race conditions on Sunday."
The win at the Szambecki marks the first interconference team race win this season for Charleston as the newcomers are finding their stride alongside the incumbent Dale and Lounsbury. Charleston is trending up in a big way finishing 3rd at home at the Bob Bavier, 4th at the St. Mary's Team Race, second at the Graham Hall before winning the Szambecki.
"Augie is one of the most talented sailors I have ever had the pleasure to coach," said Charleston Head Coach Ward Cromwell. "He has been struggling through a knee injury this spring and probably hasn't spent the amount of time in the boat with Katie that we would like to have had by this point of the season, but they have really good chemistry when things are clicking and can no doubt be the fastest boat in any race. We are hopeful to make good use of the coming weekend and peak when it counts."
The Cougars mixed it up again this regatta sailing Seven Leuck '20 and Jack Brown '21 with Carter Cameron '19, Annabelle Carrington '19, Hunter Skinner '20 and Payton Alexander '19 alongside Dale '19  and Lounsbury '20. This group proved more than competent with Alie Toppa '20 back out of the rotation. However, with Toppa in the lineup, the Cougars finished 2nd at the Graham Hall- a deeper, more competitive regatta, just behind Yale. Coach Cromwell, again seems to have all the talent needed to make a run at Charleston's third consecutive Team Race Championship.
"Skipper's can get to the Nationals, crews win the nationals," continued Coach Cromwell "Our crews mean everything to our team! If one crew doesn't buy in to what we are doing, the whole team suffers. Our crews are strong, athletic, knowledgeable and provide an awesome wind range rotation for our skippers. This will most certainly be a factor at the end of the season. Acknowledging and improving our weaknesses is always a good first step. Everyone has bought into doing what is best for the team and stepping up when they are called upon. I feel very fortunate to be coaching such a great group of kids and we are all very much looking forward to seeing how good we can get as unit over the remainder of the spring season."
Charleston's three losses came at the hands of Stanford in round two, Navy and George Washington in the final four after the Cougars went 9-0 in round one. Navy finished second at 16-5 while George Washington finished 3rd at 15-6.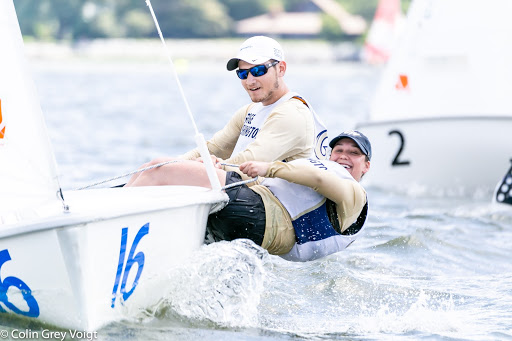 Hobart and William Smith Colleges won the Admiral Moore Team Race sailed at SUNY Maritime College. HWS finished with a 9-1 record in the single day regatta cut short, like many regattas in the northeast, due to high winds and cold water.
HWS sailed a pretty tight group as their championship lineup is starting to emerge. Hector Guzman '20 and Charles Miller '19 on the tiller has been a staple for their success for a while now. As is the case with Maya Weber '20 and Lindsey Kloc '19. However, the emergence of Kyle Easton '20 and Aiden Morgan '21 looks to provide stability for a team now with its eyes on a Mid-Atlantic Championship.
After losing their first matchup against Fordham, HWS ended the regatta on a 5 race winning streak, including a redeeming victory over Fordham. Fordham's success in this event earned the Rams a trip to the MAISA Championships, The Prosser Trophy.
Fordham, along with HWS, Georgetown, ODU, George Washington and Navy prequalify, leaving St. Mary's, Cornell, University of Pennsylvania, Christopher Newport University, SUNY and KP fighting for the final 2 spots at the Team Race Challenge, just to have a shot at being one of the 4 that MAISA will send to the Laser Performance National Championship May 25-27.
"I was really happy to get the results we needed this weekend to move directly to the Prosser," said Fordham Head Coach Johnny Norfleet. "We knew going into the weekend that we either needed to win our event or finish two places higher than St. Mary's as they were the only team we would beat in a tiebreak. Though we didn't win, we did enough to barely edge out a spot in the top 6 of the team race league. This means we can give our sailors a much needed weekend off and put our focus entirely on preparing for the Prosser in two weekends. Hopefully the experience from this weekend will help prepare us for the high stakes environment of the Prosser in two weekends."
"I wouldn't be surprised if the qualifying spots come down to a multi way tie and a sail off, so it may come down to who can execute best under pressure," continued Coach Norfleet. "I really like our chances this year as I know we can beat every team in the field, but there's no doubt we still have some weaknesses that we'll need to clean up in the next two weeks if we want to peak at the Prosser."
Fordham finished 8-2 with Roger Williams rounding out the top 3 at 5-and-5, winning a tie-break against University of Pennsylvania.