Who's your Crew? (Part 2): An Intercollegiate Sailing Association Team Race Preview, By Chris Klevan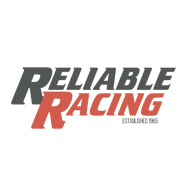 This is the second in a two-part series examining the 2018 ICSA Spring Team Racing Season. Part 1 took a look at the top 13 teams heading into this season, and below are 10 more that could vie for the National Championship. In case you missed it, also check out ICSA Team Race Season Preview, Part I
First, an apology: It was stated in Part 1 of this segment that Georgetown's Campbell  D'Eliscu was absent from the team last fall due to "reasons unknown," causing some to infer nefarious circumstances. Mr. D'Eliscu was not absent for reasons unknown but rather studying abroad. I apologize for failing to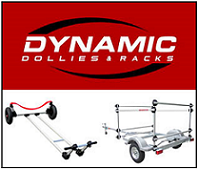 research his absence properly.
Team Racing requires a culmination of knowledge, skills and teamwork. To compete at the highest level, a team of three boats, sailing in concert, must have the experience to execute split second maneuvers, chemistry to communicate and adapt to dynamic changes in the play and the speed to sail away.


The biggest factor that separates the players from the pretenders is the third; the third skipper. All the top teams have two boats with blinding speed, handles and an eye for beating another boat. But only the elite have three skippers with such a combination. That's the first thing to look for when trying to discern who's ready for the big leagues. However, the factor that separates the players from the champions is the crew. Who's in the front of the boat will dictate who comes away with the crown.
Finally, for a championship caliber team to become a dynasty, a team that can win the championship year after year, it takes 6 full boats that can team race at the highest level. "Yale's ability to bring in the recent grads, GTown's depth overall, if you don't have solid people to practice against, it's hard to improve because your mistakes are not accounted for in practice," says Cornell University head coach Brian Clancy. Quality practice breeds the players of tomorrow while polishing the sailors of today. To fully forecast the future of college sailing, you must dive into who's been practicing with depth at all positions.
The 2018 ICSA Team Race National Championship will be held at Old Dominion University, May 26-28
Bowdoin: Bowdoin has been the young and up-and-coming team now for a couple of seasons. They have shown an eagerness to learn and improve and have have put in the work to do so. All signs point to this team being a player this season. The biggest question looming is how the Polar Bears will account for lost players from a team that improved greatly last year.
"We did graduate three major players in 2017 including Jack McGuire, Hunter Moeller, and Dana Bloch.  We will no doubt miss them," said head coach Frank Pizzo. "The three returners that we have from last spring include Matt Kaplan, Harrison Hawk, and Louisa Lindgren. All three of these sailors have lots of experience at this point and are juniors and seniors.  The team made large strides in culture and knowledge last spring and we hope to carry that forward," continued Pizzo. "Our team finally started to learn how to win Play 2 and that resulted in many more wins at regattas."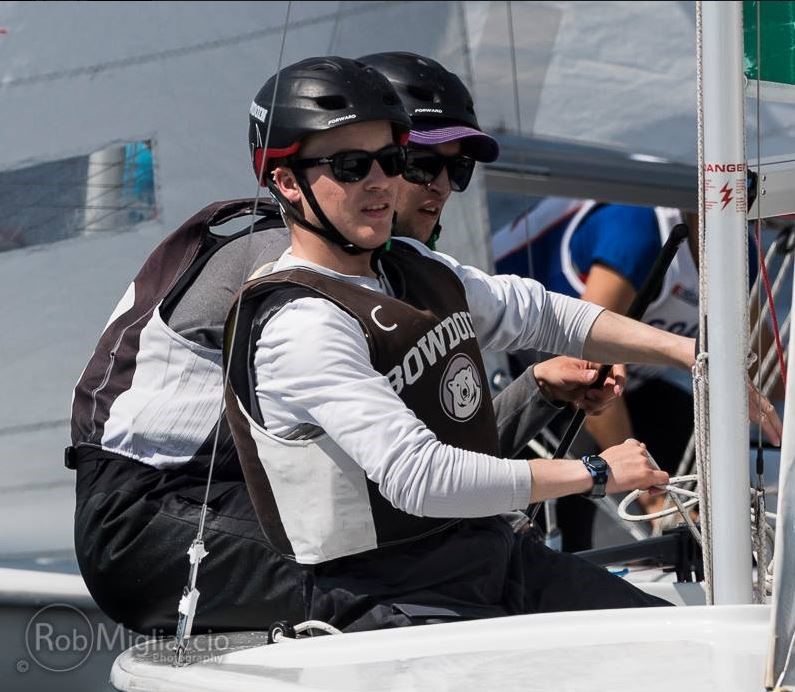 Photo by Rob Migliaccio.
Christian Filter or Matt Safford will most likely be the third sailor on the team.  Alex Vasiliou and Alden Grimes will most likely fill out the top group so Bowdoin should have a decent team to practice with.
"The biggest question will be on the crew side for how much the team develops this spring," said Pizzo "We have three sophomore crews that will most likely get in the mix with Louisa including Emily Gonzalez, Hannah Konkel, and Marie Bergsund.  Senior Jake Griffin will also get some time in the mix as well."
St. Mary's: Edmund Cooper is back and he is one of the best in the game. A year removed, to compete in the Youth America's Cup, won't put him behind the eight ball whatsoever. St. Mary's is a team that is always in the mix on the team race scene due to superb boat handling on top of great coaching. Mr. Cooper only adds to that with experience and a wealth of knowledge that is as good as anyone in the game today. St. Mary's had a surprising amount of success in the fall fleet race season behind sophomore skipper, Dane Byerly and Liam McCarthy, a junior. The unproven skippers clearly have a high ceiling.
If they can add two speedy boats to the prowess of Cooper, expect this team to challenge Navy and George Washington for the 3rd spot in MAISA and a great sleeper bet for a top-8 team come late May.
St. Mary's always have a history of phenomenal crew work, dating back to when they were a team race national powerhouse. The story shouldn't be different this year as the team race team will lean on the experience of Grace Papp, Kira Allen, Kate Bjerregaard and Lydia McPherson-Shambarger.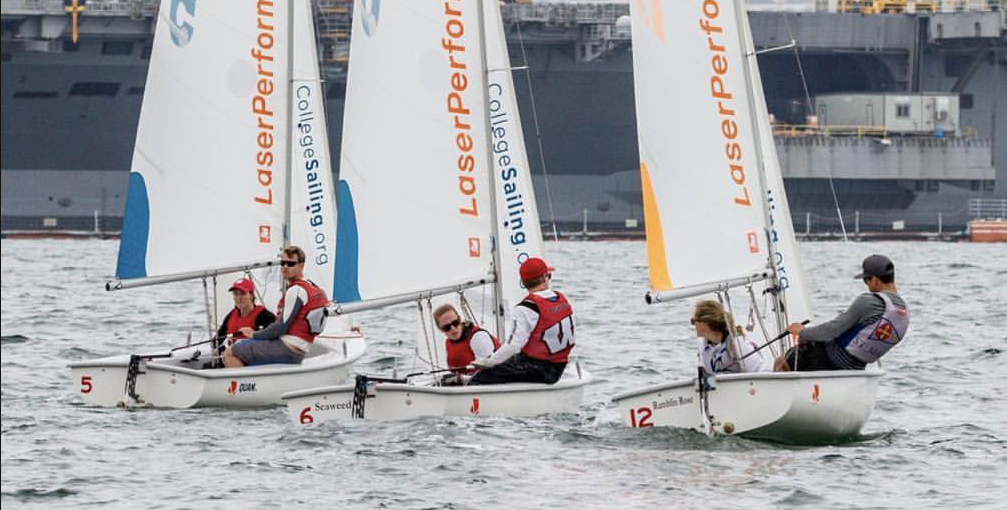 Conn College: Connecticut College will return almost the entire starting lineup that competed in last year's NEISA championship. The Camels lost only two crews, Eliza Garry and Cooper Nefsky. On top of that, they are hosting the NEISA qualifier this year and should have a slight edge on home waters. Like most NEISA venues, the Thames River can be extremely tricky in certain directions. Such conditions will reward teams that are disciplined and have experience in shifty waters. Under head coach Jeff Bresnahan, the Camels of Conn College with be set up well for success.
"The Camels are excited about hosting the 2018 Fowle NE TR Championship," said Bresnahan. "As a team we enjoy hosting and try to

make all of the visiting teams feel at home. Their are some wind direction on the river that hard for visitors. Most of the courses and wind directions on the Thames make for great team racing for all teams. We are very proud of the History of our Land and how it played a role in the development of New London and the USA."
"We are excited to have our 3 starters back from last year. Hugh, Walter and Carter work well with each other and they are all very passionate about Team Racing . Hugh and Walter have been starting and sailing on our championship team for the last 3 plus years. Adding Cater last year to replace graduates Bryce Kopp and Jordan Borthwick was a big request for him. Carter exceeded all of our expectations and brought some new ways of doing stuff to our team," coach Bresnahan continued, "Our returning crews have worked really hard over the past year to become the eyes and ears in our boats to help the drivers concentrate on what we are doing as a unit. Cecila Moriera, Sam Rodiger and, new-comer, Liz Davis will be the primary starters. Davis Lemey, Austin Smith, Paige and Gwynie Dunlevy will also see time."
Mr. Bresnahan is one of the most tenured coaches in college sailing and has a lengthy cannon of successful teams. No one knows his sailors like Bresnahan and this team has the makeup of another contender. Though getting through an extremely competitive NEISA conference has been a challenge in years passed, this team has as good a chance of any in this segment of claiming the last spot and taking advantage of a Boston College team that should regress from last year.
"We were happy with our 2017, team racing," said Mr. Bresnahan, "finishing 2nd at the [John] Jackson and the SNETR. I made a coaching error by not sailing the Marciando last year the week before the Team Race New Englands at Tufts. We sailed well at Tufts and film shows that we were in every race except against CGA. 8 out of 10 races we had winning combos halfway up the last beat. It was shocking to us that we did not qualify to move on to day 2. We had to wait a year to make up for one bad day of Team Racing."
"We practiced Team Racing about 2 days a week in October to get ready for the Hap Moore," continued Bresnahan. "The Hap Moore was good simulation for us and getting ready for the Fowle at the same site. We were excited to win, but we also were excited about how well we handle adverse situations in some of our races. We will be going on Spring Break with Harvard and St Mary's with the hope of matching up against some very good Team Racing and both teams are very well coached in team racing. We look forward to sailing well and winning enough races to be in it at the end to try to win a spot out of the NE Fowle to move out to the Nationals. Go Camels!"
Tufts: A wild card by nature, Tufts is always a player come team race season. Perhaps the snub of the "Who's Your Crew, Team race Preview part 1" as this team finished second overall at last year's Fowle Trophy, NEISA's team race championship and qualifier for nationals. That team came to play on Mystic Lake, home of the Tufts Jumbos. Things will be more difficult this year.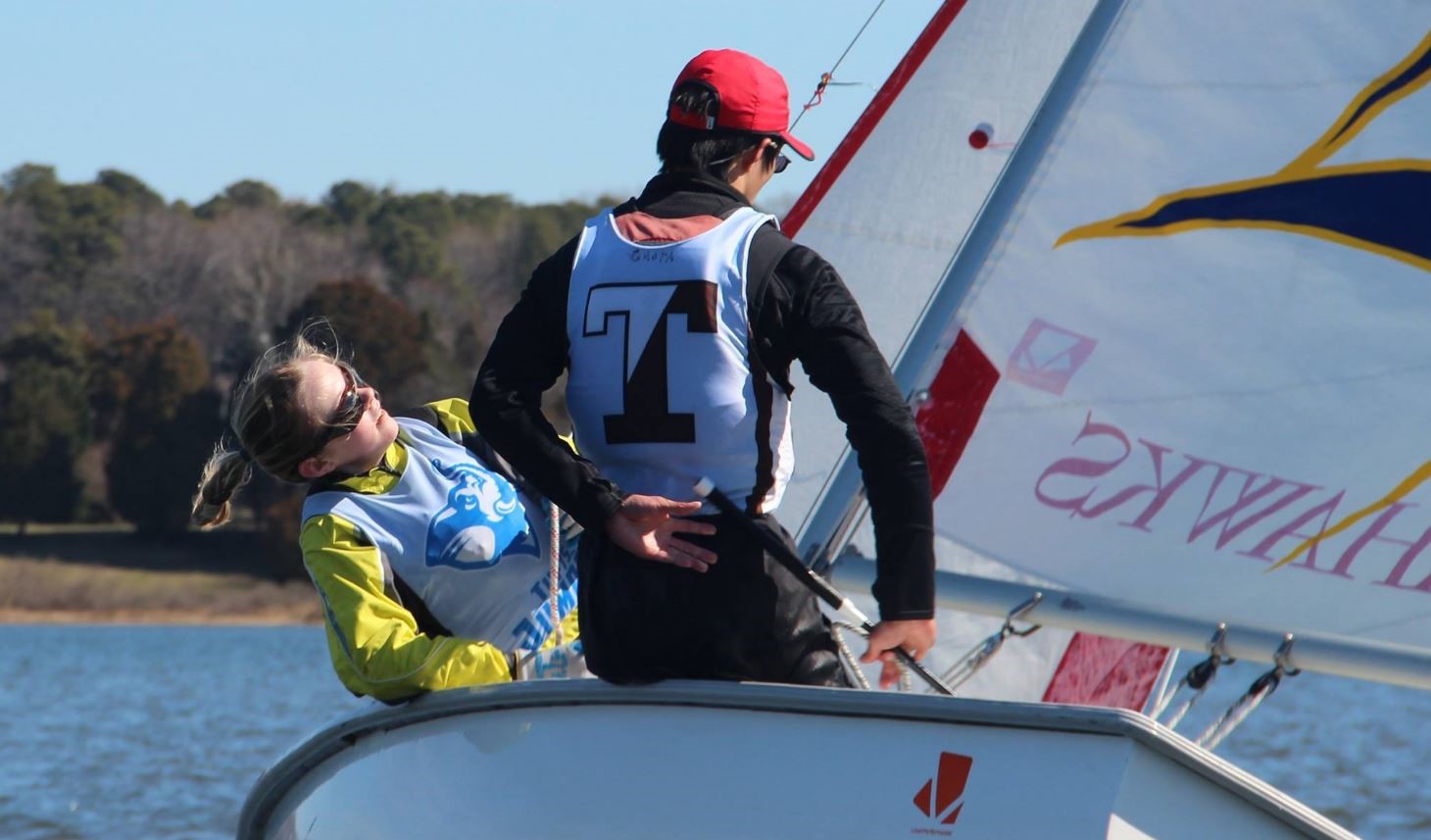 This year's team will feature a completely new group of drivers as all three starters from last year's team graduated. On top of that, they'll be tasked with qualifying away from the comforts of home. Last year's team finished tied for 9th in Charleston after finishing second in NEISA. All three other NEISA qualifiers finished ahead of Tufts, two finishing in the final four. Home field advantage cannot be overlooked. That said, Tufts practices team racing year round and have a passion for that game that is unmatched and dates back decades of strong team culture, stewarded by the legendary coach and story-teller, Ken Legler. It hard to know what to expect from this team year in and year out. However, we know they love the game and eat, sleep and breath it which is why they always seem to exceed expectations.
Boston University: Boston University has returned to prominence in New England after struggling in competitions for several years. Under the direction of Head Coach, Stan Schreyer, the historically great program is back, on the fleet race scene at least. Could this be the year they break into the team race top tier in NEISA?
Sam Morrell is joining the team this spring after a high school team race national championship campaign in 2017, sailing for Antilles School in the Virgin Island. At the very least, adding talent like Morrell will boost the level of practice. "We were fortunate to have a strong freshman class this year," said Schreyer. " We did not win the Nickerson Trophy, but we were the top New England team, sailing three different skippers.  Sam Morrell was not in school this fall, so he will be a welcome addition for the spring season.  But it's tough to say where he will be on the depth chart right now.  Lydia Grasberger will also be returning from a semester abroad.  She has been one of the fastest skippers on our team for the past two years."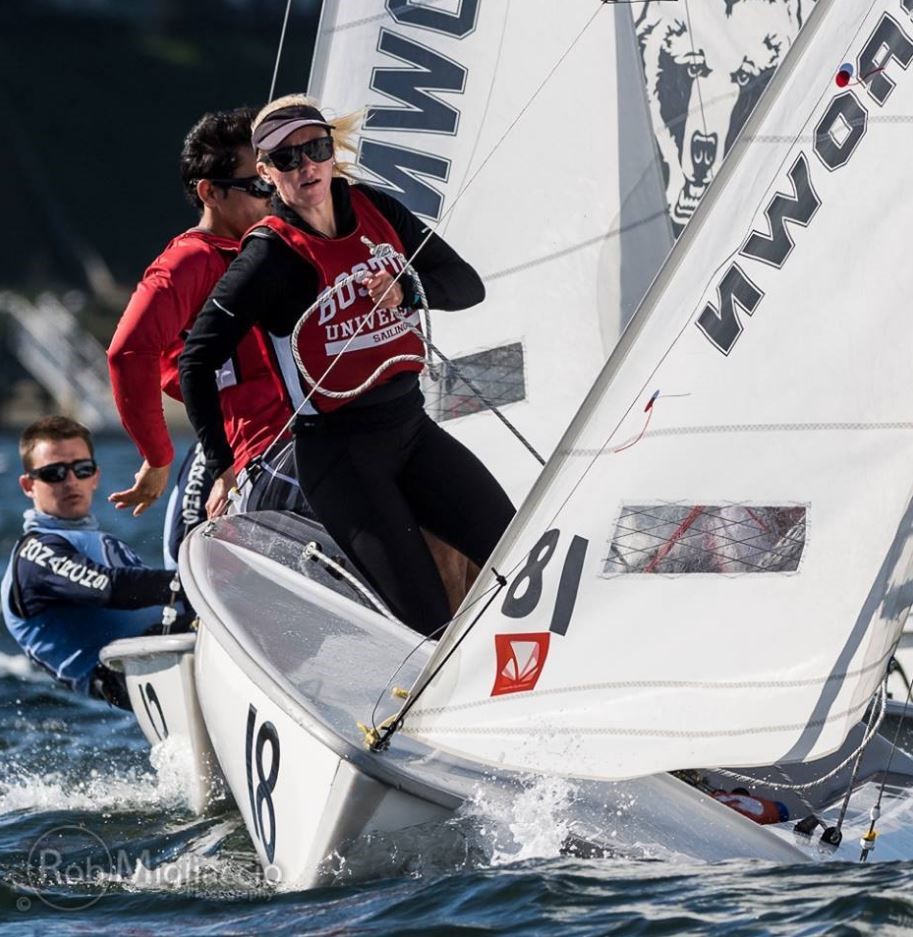 That, combined with experienced college sailors Ravi Parent, Robby Gearon, Reed Lorimer, Josh Dochoda and a stable of solid crews, led by senior, Emily Croteau makes for a complete team, at least on paper.
"We are fortunate to have several good crews on the BU team right now, more than we have starting varsity spots for," said Head Coach Stan Schreyer. "That helps immensely with team race prep, as it means that our top boats are challenged by others on the team that have very good boathandling.  Being a top level team race team isn't about having three good boats, it's about having 6 or more very good boats that can push each other.
The challenge will be creating a group that operates at a level greater than the sum of their parts. Schreyer has done an amazing job in a short amount of time. He's brought former champions, Chris Lash and Thomas Barrows on to help with the team race job.
"On the coaching side, it has been a blessing to have Thomas Barrows and Chris Lash.  Both were All-Americans, and they have a wealth of team racing knowledge,"continued Schreyer. "Also, Thomas was an Olympian, the knowledge he gained to be sailing at that level is invaluable, and he does a great job of passing on what he learned to the team." If this isn't the year we see the best of BU on the team race circuit, it's hard to say when that time is.
Jacksonville: They have a ton of young talent who know how to sail. If it is windy at the SAISA qualifier, expect this team to surprise some teams. Head Coach, John Fadre has done a nice job compiling the pieces he needs to get to job done. It seems like he has everything he required to mold a competitive team out of talent. The question will be weather the great recruiter can get the job done in a quickly improving conference.
Like all SAISA teams, they get out on the water early in the spring which might lead to some early success on the inter-conference scene. But the goal for this team is to be one of the 2 teams that get out of the conference. Expect a tight contest between Jacksonville, University of South Florida and Eckerd.
Eckerd College: The beneficiaries of recent success, this team has talent in an ever-improving South Atlantic Conference. After a second place finish at last year's SAISA championship and a 9th place finish at the National Championship this team is looking to take yet another step forward. Eckerd lost only 2 starters from their 9th place effort. Returning Andrew Schoene and Karl Rasmus Sayre they'll have experience and continuity on their side. Those two drivers, on top of a strong stable of crews in Sabine Zinserling, Jean Crotty, Kim Kusminsky, Caroline Puckette and Hana Zwick make for a scrappy team that isn't going to give many wins away.
SUNY Maritime College:  "In breeze, SUNY Maritime can beat most teams in college sailing," said Cornell head coach Brian Clancy. Zach Hill won 3 races in a row to start the War Memorial at Hobart in the windy southerly this fall, and won by half a leg. The Prosser Trophy, MAISA's team race championship and the qualifier for nationals is held at Cornell this year. Cornell may be on a lake, but if it blows from the North, it can be full on. If it does blow, a team like Maritime, could surprise the more finesse teams who rely of great boat handling and speed in light – medium conditions.
Merchant Marine Academy (Kings Point): "They have an All-American," said Brian Clancy. Charles Lomax is an extremely talented sailor, not many teams have a guy that can beat Lomax to the top mark. That alone should make Kings Point a team that no one can sleep on. This team could come together with the leadership of Lomax due to the talent of some talented first year sailors Carrson Pearce and Ryan Hunter. Like Maritime, this team can steal a win off any team at the MAISA Championship
Fordham University: They have lost more players than anyone in MAISA. In graduating Will Holz and Alec Taylor, two guys that have been to the big dance and are essentially 4-year starters Fordham, likely will take a big step backwards. It'll be an uphill battle for this team, now young and facing a tough road back into the top-4 in a competitive MAISA conference. However, they have a Hinman Championship teaching the game in Head Coach, Johnny Norfleet. Mr. Norfleet has his work cut out for him but he's up for the task.
It should be interesting to see who comes to play when the team race season opens February 24th. In a game where everyone knows what needs to be done, success of the water comes from team the executes quickly and efficiently. That started a months ago, years for the best teams when each team decided, together that they could win the wood. Quality practice, good crew-work and quick skippering will come together to crown a champion by the end of May 28th.
Feel free to post your thoughts in our discussion forum below this article!
ABOUT SAIL1DESIGN
Sail1Design is a grassroots organization, by sailors for sailors, dedicated to the youth, high school, college, and one-design sailing communities. Born in 2007, Sail1Design has grown considerably, and reaches out to all sailors wishing to enjoy and learn more about our sport. We have three main areas of business:
SAILING/MARINE INDUSTRY CAREER CENTER & JOB BOARD
We offer sailing's #1 Career Center and Job Board, always chock full of incredible sailing job opportunities. Our comprehensive career center also offers job seekers the ability to create their own web page, highlighting their experience and posting their resume. Likewise, employers can search our resume database to find the right match for that open position. Sail1Design is proud also to be the official job board of the Intercollegiate Sailing Association (ICSA), the US High School Sailing Association (ISSA), and US Sailing.
MARKETPLACE & PROFESSIONAL BROKERAGE
Unique to the industry, Sail1Design hosts and manages an active private, by-owner marketplace, focusing on performance and one-design sailboats & gear. For all boats under 25′, our ads are free. What makes us different is that we also provide, side-by-side, professional brokerage services as well. We have had great success helping our sailing clients market and sell their boats, using our powerful client base, social media, and the brokerage industries multiple listing service to ensure your boat gets noticed.
AIRWAVES NEWS & CALENDAR
S1D also hosts Airwaves, an interactive, user fed Sailing Calendar and informative Sailing News, Articles, tips, & more. Airwaves has developed a great niche in the sailing publication world, and now boasts a seven-member staff of dedicated sailors, all contributing to our varied content.