By Airwaves writer Bernat Gali
I've recently come back from Pwllheli, Wales, after coaching one of the USA Summer International Teams which participated at the Volvo Gill Open Optimist British Nationals. This is so far my 4th International Regatta with Team USA, and considering I've barely been 3 years coaching in the US and just a year and a half leading an Opti Program, I'm quite happy with the amount of the Regattas coached and the coaches I've had the pleasure to work with during each of them.
But I'm not here to talk about me (just giving some background before I throw out my opinion about something), this time I'd like to give my two cents about the USODA International Teams and in my humble and personal opinion, what it takes to smoothly run one of these Teams and have a successful event (at all levels, from results to logistics).
The particular way USODA runs these Teams (the Selection Process is fantastic and pretty fair) requires parents to confirm and pay in advance any coaching fees, boat charters, entry fees…basically anything which could become an expense it's covered by a Team Budget, so, since the beginning, it's easy to have everything pre-booked and confirm it right away after the Team is complete.
Why do I mention this? Simple, by booking straight away parents only have to book their own personal logistics (flights, hotels, car rental) and the hustle is way less. Then Coaches step up and start organizing everything sailing related. Here's where I find communication is key and specially if it's a large Team (3 Coaches needed) it is essential selected Coaches get together before anything goes out. Each Coach is different and it's important to set up guidelines in between the Coaching Team before we communicate with our customers at the start, parents.
I've noticed how important it is set up expectations and to inform everyone about everything they might be questioning themselves: venue, food, transport, equipment, gear…not only to the Team Leader but anyone who asks. Any question is important as a confident and well informed parent is a better prepared and trustful sailor at the event. The more Coaches spend preparing the Team the easier it is to lead all sailors and parents at the venue.
Two of the most difficult aspects of managing 15 to 20 sailors, in my opinion, are the following:
Sailors and sailing experience
Parents, personalities and expectations
Coaches style
Starting with sailors, usually you don't know more than a half of the sailors, maybe more, as you've never coached them before or never really noticed them sailing. Traveling a few days earlier to the venue provides Coaches with a great chance to get to know each of the sailors and start figuring out what kind of approach will better help them achieve their goals at the event. Every sailor's got a different, personality, style, experience and goals, and Coaches need to speed up the process so the first day we are ready to help them 100%. We talk, we study, we take notes, but the expedited process means a higher chance of mistakes. We live with it and do our best.
About parents, well what can I say that I haven't said before? They are our first costumers as they are the main and only sponsors for sailors and Coaches to attend this kind of events, and I'd like to think each family needs time with the Coach alone at least once, as many things they want to share or talk about are to be kept between Coach/sailor/parent. Something I find particularly hard to deny is the fact that Coaches bond better with other Parents, and honestly it doesn't mean we only like John or Mike, but we have a similar personality and we try to have fun as well. I personally try hard in splitting my coaching time even between all sailors, as they all deserve my attention no matter what.
Finally, same way a Coach bonds better with a particular parent, Coaches find it easier to work with some sailors. Please do not misunderstand me, I'm not saying this particular Coach only likes to coach Sarah or Phil…but again, I believe the sailor is more used to an approach that only one of the 3 Coaches at the event brings, and he feels more comfortable with him/her.
To bring an end to this opinion, I believe it is all about perception and communication. The exchange of information keeps everyone in the loop (with the Team Leader, with parents onshore, with sailors offshore) and prevents steps back that might affect the sailors performance at the venue, really what matters and the reason parents sign up sailors for the Teams and Coaches are selected: to place the best they can, to gain experience internationally and to really create memories everyone will carry forever.
Bernat Gali Bou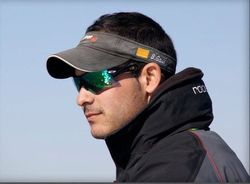 Lakewood Yacht Club Head Opti Coach
USNT Opti Coach
S1D Airwaves Writer