The new J/121 (pronounced 1-2-1) is a 40' offshore speedster that can be day raced or distance sailed by just 5 or fewer crew…. the best short-handed J ever…. capable of winning on any race track while also excelling in daysailing and weekend mode. Here's a boat, class and program that redefines sailboat racing as a recreation and shared adventure with friends, reducing the focus on specialization and athletic short-course W/L racing.  The J/121 fulfills the growing need to simplify life and reconnect with those you really want to sail with on a boat that's pure magic to sail.
Why a New 40 Footer?
Sailing continues to adapt to the rapidly changing demographics, technology and social trends of an ever more hectic world.  As our lives become more fast-paced so does the need to escape from the time constraints, pressures and burdens.  "Always on, always connected" is leading the drive to "get away" to a place that can nourish and recharge the soul.  Nowhere is that more evident than the extraordinary growth of adventure travel, providing people a much needed outlet through outdoor, shared experiences with others.
The challenge is trying to align 8-10 people onto the same schedule.  This obstacle alone is impacting keelboat racing participation across the board in most areas. Just as technology is making it easier to sail, the over-reliance on crew is making it more complicated.  Two of the positive growth areas in sailing today are one-design class racing in trailerable boats, and short-handed day racing and fun point to point events.   The global success of the new J/70 is a direct result of pent-up demand for an affordable one-design with a pre-planned circuit and easy entry.  The travel and event logistics for four people are infinitely easier than that of 8-10.  For those sailing larger keelboats, it's the charity pursuit races and day distance events like San Francisco's Three Bridge Fiasco that are becoming increasingly popular.  And it's no surprise why.  These events pack a lot of sailing fun and adventure into more acceptable, smaller doses that require less practice and time to manage.
The J/121 is designed with both of these trends in mind.  Imagine a fleet of high- performance, offshore-capable speedsters sprinting along point-to-point, around- the-island, and adventure-style races with half the normal crew size, with owners enjoying a "dream circuit" of events that tie into regional "classic" races that everyone aspires to sail in.
Now is the Time
The J/121 is the answer for those seeking a boat that offers compelling performance with less crew, all-around sailing versatility, low maintenance, and is fully ocean capable to be delivered on its own bottom anywhere.  The J/121 is a return to the shared adventure, sail-with-friends style of sailing and racing that's more memorable and meaningful than the specialized, athletic W/L racing that's succeeded mostly in establishing a pecking order that's impossible to crack.  This design hits all the hot buttons for J/sailors, but will appeal to new entrants to the sport who are drawn to turnkey adventure sailing with a pre-planned event schedule and readily available event support only the J/Network can provide.
J/121 Open Course Racing Announcement!
J/121 Open Course racing combines the best of distance and buoy racing and packs it into a half-day time-slot to better fit people's time-crunched schedules.  Sailors are trending towards events that offer more variety and adventure, and not just 4-leg, windward-leeward W-4 courses.  Open Course doesn't eliminate windward/leeward sailing, it simply expands it to include other points of sail on a stretched-out track that rewards navigation, weather routing and strategy as much as it does boat-handling, racing rules and tactics.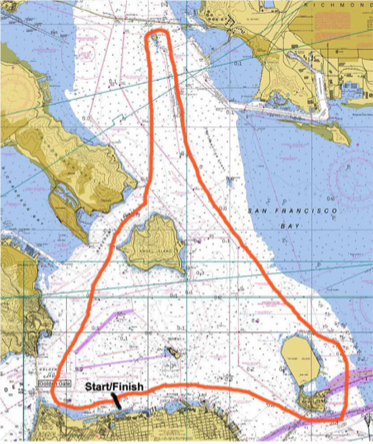 The Open Course format and scoring can be applied over any length course, including overnight races. For distance day-racing, the idea is to sail within sight and access to the shoreline including, where possible, courses around islands and other interesting coastal features.  The starting line is set to suit the course and NOT always upwind.  One could start on a beam-reach sprint leg with Code 0's flying like the America's Cup.  An example at right is the famous Three-Bridge Fiasco course on San Francisco Bay- an event that regularly attracts 300+ boats.
In a shift from traditional scoring, every race is 5-6 races in one, with incentives built in for great performances during the race.  The overall race has its normal placings (1st, 2nd, 3rd, etc.), but each leg has its own elapsed time trial, providing an opportunity for any team to pick up bonus points for having won a leg, even if they happen to be deep in the fleet at the time.  One leg of each race is additionally designated as the SPEED RECORD leg where the boat with the top recorded speed (as documented in the satellite GPS race tracker) is rewarded.  The idea is to acknowledge and reward highlights teams have during a race – highlights that might not otherwise show up on a normal score.  This incentive-based scoring system can easily be expanded in a fun way to encourage the development of other offshore skills in preparation for an upcoming signature offshore event.
Open Course racing is inspired by and tailor-made for the J/121, the newest J/Boats design that's optimized for half the normal number of crew, and with the hull form, stability and sail plan perfectly suited for all-points, open style sailing.
Sailing photo credits- Paul Todd/ Outside Images and Billy Black