The Johnstones have been a fixture in the sailing industry ever since the first J/24 came out of Rod's garage in 1977.  Since then, J-Boats has produced boats of every imaginable length and price point.  While the venerable J/24 is the signature product of the company, two other boats in the mid-20' range have risen to prominence as well, the J/22 and the J/80.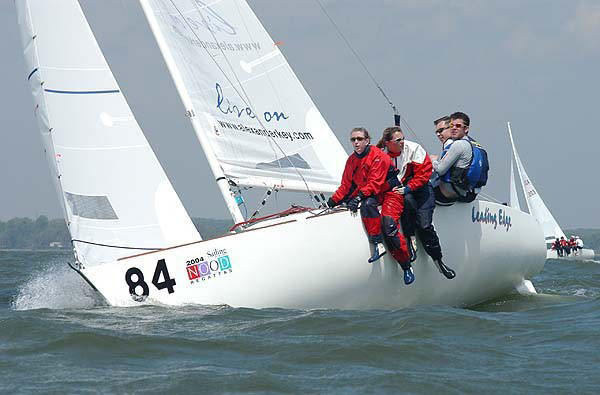 The Boats:
An international class, the J/22 has over 1600 hulls racing on three continents.  It is widely regarded as one of the most successful one-design keelboats in the world.  The J/22 is 22.5 feet long, 8 feet wide, draws nearly 4' and weighs around 1800lbs.  Sail plan is main, non-overlapping jib and large symmetrical spinnaker.  Trailerable behind an SUV, the J/22 is easily rigged and launched at the local hoist.  It sports a deck-stepped mast, laminate cored construction and lead ballasted fixed keel.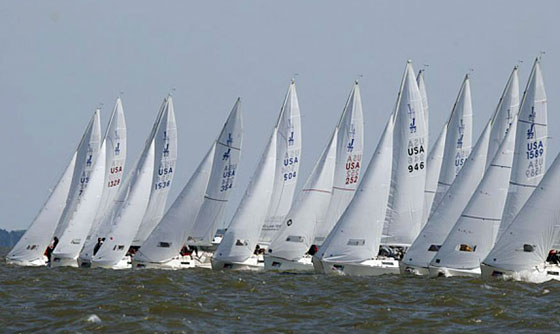 The J/22 has a large roomy cockpit and a fully enclosed cabin with offshore hatches to keep the elements out.  Raced with 3-4, it has room to cruise with 4-6.  The J/22 is wildly popular with community sailing programs due to its low cost and exceptional performance.
Designed in 1992, the J/80 is one of the best selling small keelboats in Europe and North America.  There have been over 1300 J/80s produced and it is recognized as an international class by ISAF.  The J/80 has a reputation for being a fast, safe boat with exceptional offshore capabilities.  It comfortably planes in 15 knots of breeze and has the size to punch through big chop.



The J/80 is 26 feet long with a 8'3" beam, 4'11" draft and weighs 2900lbs.  It sails with a main, non-overlapping headsail and asymmetrical spinnaker.  It has a large clean cockpit, enclosed cabin with 4 bunks, and a fully retractable bowsprit.
Set up and Sailing:
The J/22 is a quick boat for its size and handles well upwind in most conditions.  Rig adjustment plays a big part in the performance of the boat in racing situations.  The two big adjustments are shroud tension and mast rake.  Uppers are adjusted from the turnbuckle at the chain plate, making sure to also adjust the lowers accordingly.  Mast rake is measured from the length of the forestay.  A great tuning guide can be found from North Sails here (https://sail1design.com/wp-content/uploads/2015/03/north-j22-tuningguide.pdf).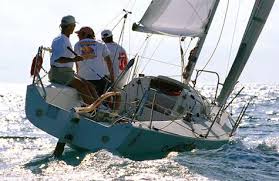 Upwind the boat drives off the main; the 100% jib helps the boat point.  Because it has a large, high aspect main, it is easy to depower in medium heavy breeze.  Using the vang and mainsheet, it is easy to flatten the main and dump power.  Crew placement is also important due to the relatively light hull weight.  Using weight to keep the boat flat, as well as moving weight aft in chop helps drive through waves.  Downwind the spinnaker should be full, continuously adjusted from both tack and clew.  Pole height affects the spinnaker shape greatly and should be monitored.
J/80 mast rake is the most important tuning aspect for performance.  Information on the best way to tune your J/80 can be found from North Sails right here (https://sail1design.com/wp-content/uploads/2015/03/north-j80-tuningguide-N01.pdf).  Adjusting your intermediates and lowers will help mast sag and power upwind.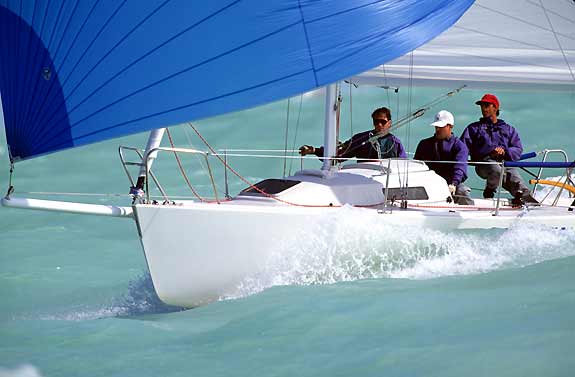 The boat handles very well upwind, responding well to a light tiller hand.  The tendency, especially in light air, is for neutral or lee helm.  Touted as being a sport boat, it compares more to a small offshore keelboat than a performance racer like the Melges 24.  It is very stable in a very wide range of conditions, with features more consistent with an offshore racer, such as a big companionway, sealed buoyancy compartment, and closed transom.  The asymmetrical spinnaker launches easily and flies off the retractable bowsprit.  It is large and powerful but all controls are lead back to the cockpit and speeds of 15+ knots are attainable.
Which is right for me?
Both boats serve different purposes.  The J/22 is an effective club racer for protected areas in medium air.  It is regarded as very good racer and has served as principle match race championship boats.  Appealing to a wide range of ages and ability levels, the J/22 is a very good day sailor.



The J/80 is an excellent buoy racer by any accounts.  The ability to handle a very wide range of conditions allows the boat to excel in more locations than the J/22.  Additionally, the J/80 performs well under handicap and can be easily sailed shorthanded.  It is a stable platform without sacrificing performance and can even be overnighted.  The J/80 is an exciting racer that can be enjoyed on an evening day sail with friends.