By Airwaves writer Pearson Potts
You may not know it, but somewhere in his collection, Ken Legler probably has a photo of you on the water. Most likely, he also knows your name –in nearly 40 years as the head coach of Tufts Sailing, he rarely forgets a name or face. He's the type of guy who will answer every question with a story. I frantically scribbled down notes and snippets of stories he recalled when I interviewed him for this piece. Most notably, he is a legend in the college sailing community, but he is also an esteemed race officer who has run numerous events such as Key West Race Week and the 470 Worlds. Aside from sailing, Ken is a fighter and twice survivor of throat cancer. Ken has been behind the camera photographing sailors and boats for decades, but today we will turn the lens on him.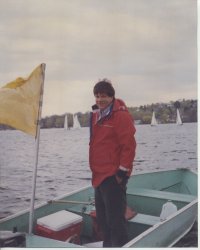 It's hard to argue that anyone else loves sailing in its purest form more than Ken Legler. While some enjoy it as an arena of competition, Ken revels in every dimension of the sport and especially the little things. As a kid, Ken sailed in squalls because there wasn't radar. His passion for sailing started as a youth on his father's cruising boat where he enjoyed dipping his toes in the water and gliding his hand through the water of the leeward rail. He also ensures that others also come back to shore with smiles when he coaches or runs races. I remember coaching in the Hyannis regatta in 2013 with him as the principal race officer. He repeatedly and frantically called the reach mark boat over the radio to guarantee that the crews were trapezing with their spinnakers flying. Ken spells win with the letters f-u-n.
Ken grew up with similarly exhilarating experiences at the Larchmont Yacht Club. It was the 1960s and while other kids were busy playing baseball and football, Ken was a small kid stuck in swim class. The only benefit to the swimming classes was that he could get to sailboat racing earlier and pass the yacht club's swim test. Forget Optimists, they weren't invented yet. Ken started sailing blue jays in the summer and when everyone else quit sailing for the winter, Ken would frostbite Dyer Dhow's.  He loved the summer easterly winds on Long Island Sound every two weeks where big rolling waves come down from RI.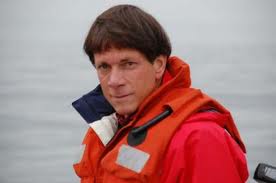 He enjoyed what many youth sailing programs lack today: fun. He pirated other boats, sailed far out into Long Island Sound and explored many different classes of boats. As a result, his natural thirst for competition developed. He yearned for victory in sailing when other kids were competing in other sports. One of his most memorable stories was a race in Manhasset Bay where he was racing Lightnings. A squall hit suddenly, and while other kids were zipping in the 30+ gusts to the nearest shore, Ken was laughing and peering beneath his boom insistent on finishing the race. One time his entire sailing class sailed around Saton's Toe in Blue Jays, anchored, and swam to the beach for a picnic and raced back with a Lemans start. Ken's skipper quickly swam to the boat while he caught up, pulling all the gear through the water. As he climbed aboard, his skipper was already hauling anchor and away they went with a breakaway back to Larchmont Harbor. A couple years later he stayed late after sailing class to match race Lightnings, Shields or Blue Jays with training partner and best friend Jamie McCreary. Ken competed and grew up with your famous sailing mentors including Dave Perry, Gary Knapp, Steve Hicks, Jimbo Cobbs, Steve Benjamin, Brad Dellenbaugh, Peter Isler, Mike Duncan, Pete Smith, Leila Jenkins, Bill Tripp, Lee Oldak and many others. It wasn't long before he was hooked onto sailboat racing. 
Ken took his first love of sailing for a short while to Mamaroneck High School, but quickly left to attend Tabor Academy in Marion, MA where sailing was a priority. When he was selecting a new school he had to decide between girls and sailing: Chesire was a co-ed school with 35 girls, but Tabor had 90+ boats. Knowing there would be plenty of girls later in college, Ken chose Tabor. Ken's mentor at Tabor remains his coaching role model. His coach, Art Ellis, was an Olympic Finn Sailor and taught Ken the fundamentals of tactics and strategy, but also skills that the young sailors of today do not learn, such as sail repair. The sailing team practiced two days of fleet racing and two days of team racing each week with regattas on the weekends. They practiced in many different boats including Puffins, Jet 14s, i420s and the infamous 92-foot Tabor Boy. In the winter he finally seemed to enjoy other sports like basketball, but under the dim lamp on his desk he drew up plays for 5v5, 4v4 and 3v3 team racing. By the time senior year rolled around, Ken was primed and ready for college competition.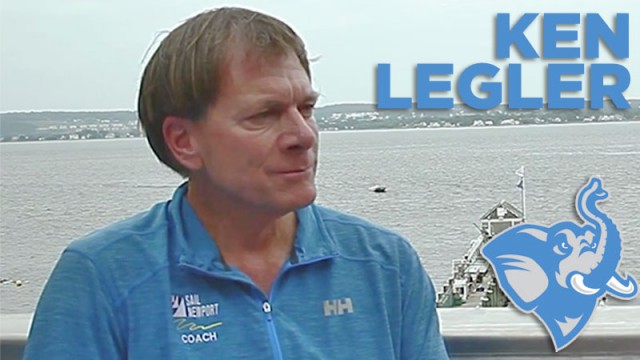 The noble pursuits to sustain life, including medicine, law, business and engineering, were not for Ken; instead, he majored in sailing at the University of Rhode Island. He joined a squad of  sailors who would also become legends in the sport such as Moose McClintock, Ed Adams and Mike Toppa. His sophomore year he convinced his girlfriend to crew where they competed in Beverly Dinghies, Interclubs, i420s and by senior year, FJ's. The new testament of college sailing was just beginning as schools transitioned from cat rigs to sloop rigs. Ken's college sailing experience is a far departure from today's athletes. Only a few schools in the nation had coaches including MIT, Harvard, and Tufts. There was no recruiting and teams like U Washington and people like Olympic Finn sailor Buzz Reynolds at Notre Dame were feared. Thanks to Skip Whyte, everyone in the New England area met in Wickford, RI on winter Sundays to race Lasers. And of course, everyone partied on Saturdays after the first day of an event.
Ken's college sailing experiences should be put in a museum. Although he prefers dinghies, he once found himself at the Coast Guard Academy sailing keelboats and missing a crewmember. His third crew member had the alcohol flu and so he recruited a local high school sailor who used his cigarette to signal the light air wind direction. He singlehanded Beverly dinghies ill with mono and rested on a floating raft until five seconds before the start when he sheeted in to start each race. At another keelboat event at Coast Guard he found himself sandwiched between large South Boston Northeastern brawlers to leeward and legends Dave Perry and Peter Isler to windward. Just before the finish line a sudden squall, combined with a tugboat that roared unapologetically through the race course stirring up 6 foot waves, nearly sank his Shields, but Ken spun out with water up to the seats and accidentally won the race.  
After getting his pseudo degree in college sailing at URI, Ken bounced around helping coach the Naval Academy in the spring of 1978 and eventually landed a full-time position at Kings Point in the fall. It wasn't long before he settled at Tufts University where he has become the legend that he is today. He was recruited by MIT Sailing Director and then undergraduate Franny Charles to coach the team in 1980.
Through his time coaching college sailing Ken has seen a significant development in college sailing both good and bad. He has no doubt that college sailing is more competitive today with many more teams able to win championships. Ken is drawn to the beautiful simplicity of college sailing where the focus is solely on performance. There is no tinkering of shrouds in the boat park and theoretical discussion of rig tuning. Recruiting efforts and the number of college coaches has exploded while many teams have multiple coaches. Hence, professionalism in college sailing has skyrocketed, but in Ken's opinion, possibly at the expense of fun due to university pressure. Ken prepares sailors for life –not for 4 years of college. His team sails 16 different boats a semester. He also doesn't pamper them like some other varsity programs who have full-time coaches, athletic trainers, psychologists and nutritionists. When one of his sailors asked where they would stay at a regatta for the weekend he replied, "What am I, a friggin travel agent?  You're an adult now, figure it out." His sailors camp out on the athletic fields of St. Mary's College in Maryland for spring break training where they develop memories that will last a lifetime. My own cousin was caught crying as he departed the fields the last time senior year. There is plenty of fun for sailors at Tufts, but don't let that fool you —there are no slouches on the team.
Since he started Tufts has won 20 national championships including eight women's, five team racing, three dinghy, two men's singlehanded, one women's singlehanded and one match racing title.  Also during Legler's career, Tufts has featured 121 All-Americans, and 27 honorable mention All-Americans. His teams have also included three College Sailor of the Year recipients. All the while his recipe for a good sailor has never changed –he looks for sailors with talent, passion and intelligence. 
Ken Legler has made a permanent impact on the sport of sailing. His camera continues to chronicle sailing through the years, but what he doesn't realize is that he is integral to its story.