By Airwaves writer Mac Dickson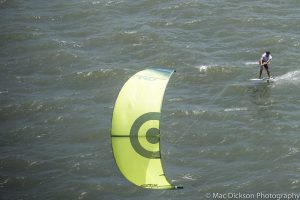 The CR:X, launched by Neil Pryde in October 2016, is a One Design kiteboarding platform that is convertible between foil and twin-tip modes. The system was designed with hopes to bring in a new generation of kiteboard racers while simultaneously providing those with plenty of experience with an inexpensive, easy to use package that doesn't lack in performance. This platform introduces the world's first one-design kite racing class. The CR:X equipment is seamlessly converted from an entry-level training platform to a competitive foil-racing kit using one set of hardware. The 7m, 10m, and 13m kites that Neil Pryde offers with the package cover a wide range of wind conditions. The class has a mission to become an entryway for all skill levels into competitive kite racing.
Since its inception, the CR:X has been present at numerous large-scale sailing and kiteboarding-specific events. The innovative package made its debut in the Sailing World Cup in 2016. The organizing authorities for SWC events in Melbourne, Australia and Miami invited Neil Pryde to showcase the CR:X as an exhibition for the kite racing class. Following that, CR:X has hosted and participated in many clinics and competitions at well-known venues and events. These include Key Biscayne Yacht Club, Eckerd College, the Charleston Fort2Battery, and most recently Buzzards Bay Regatta. The existing format for kite racing has been very openly structured, leading to a spending arms-race, and therefore inaccessible for many people. Neil Pryde has developed a class that makes entry into the sport much more feasible. College of Charleston sailor and entry-level kite racer RJ Porter had the opportunity to charter and race the CR:X in the 2017 Fort2Battery and Open Foil regatta. "It's a really cool concept. I'm fairly new to kiting in general, so I wasn't fully confident in my ability to race. I showed up, picked up my gear, and was able to make it around the course and finish races so that felt really rewarding," said Porter.


Last weekend, the class made an appearance at a very well-regarded sailing event: the 45th annual Buzzards Bay Regatta in New Bedford, MA. BBR has maintained a stellar reputation within the premiere summer sailing circuit in New England throughout its 45 years. Forrest Williams, the event's recently appointed regatta chair, exhibited focus on a modern, exciting, and relevant format for the 45th rendition of the event. As a result, a new element was introduced into the regatta this year: an officially recognized kite racing circle. Williams asked Neil Pryde to be an official regatta sponsor upon catching wind of their newly launched One Design kite class. Neil Pryde not only contributed charter gear for the CR:X division, but also a Principal Race Officer for the entire kiting circle: Brendan Healy. Brendan's contributions to BBR were not limited to playing the role of PRO. The format for the event designated Friday as a very constructive clinic day. Orchestrated by Brendan, the goal of the day was to encourage and introduce newer kite racers to the sport as well as providing an outlet for more experienced riders to refine their skills and get dialed in for the following two days of racing. Saturday and Sunday couldn't have been better; ideal conditions allowed eight races to be completed for the 18 competitors.
Already an accomplished sailor and kite racer in his own rite, Healy joined Neil Pryde in January 2017 and serves as One-Design Manager for North and South America. Brendan's major goals for the one-of-a-kind CR:X class include integrating the sport of kiting with sailing; introducing kiteboarding into youth programs; and providing a training platform for US riders to rise to the top levels of kite racing competition.
The fact that CR:X is a One-Design system sets it apart from all other approaches. "If you look at any successful, long-term class it's a One Design class. In terms of kite racing and windsurfing, in my mind, it's really the only long-term viable solution," said Healy. Kite racing is a growing sport. While the format is yet to be determined, it has been fairly well established that kiting is on its way to the Olympic level. Through a level-playing-field approach, financial accessibility, and ease-of-use, the CR:X opens doors for anyone who is interested to get into the sport of kite racing.
Check out our interview with Brendan here:
What are some of the things, besides being convertible from twin-tip to foil, that make the CR:X different than other kiteboarding options?
I think honestly, the underlying fact is that it's One Design. As it is right now, it's the only One Design kiteboarding class in the world. One thing we'd really like to do is bring kiteboarding into youth sailing and basically yacht club programs. Obviously, that works well in some geographic areas better than others. It's easier to launch and ride in some places for obvious reasons. That's really the one thing that the platform was designed for. Yacht clubs or any institutional program looks at a product, whether it's a 420 or a Laser or a Kite, and says "ok… are the parts easy to get? Is it durable? Can I race it against other things that are exactly the same?" I think it kind of ticks all those boxes. From a learning platform, the board is rather large… it's a 145cm board so it performs well in light air just because it has extra planing surface. It also caters very well to the first-time kiter because it is a little bigger, a little easier to get up on a plane, and get going sooner, you know? And then, everything packs down into one convenient little travel bag.
It's honestly a pretty good value in terms of brand new equipment. We purposely priced this lower than most kites on the market because we operate One Design from B to C… straight business to consumer… we don't use any dealer networks or anything. The whole idea is to keep it affordable for yacht clubs and for junior sailors.
I remember getting into it when I first started kiting ten years ago, and I had a Vanguard 15 and I sold my Vanguard for thirty-five hundred bucks and then… I bought all my kiting gear and spent an additional thousand bucks. This thing… if you get one kite… you can get it for $3100 bucks… a kite, a board, a foil, a bag, bar, pump… everything you need. I'm not only trying to sell Neil Pryde when I say this, I truly think the price point is pretty good.
You don't operate through a network of dealers; do you have any partners?
We do, but it's essentially all internal. We have a couple dealers in Europe and a few in Australia, but for the most part, in North and South America it's straight business to consumer, straight from Neil Pryde. It cuts down on, this is definitely not the right word, but it cuts down on middleman charges. There's no real markup. It's us. We get the products from our suppliers and then we sell. Again, it's just an effort to keep prices low.
What is attractive, in your opinion, about One Design Kiting?
I think it goes back to price point. If you were to get right into it [open foil racing] with full carbon everything, one foil kite brand new is about twenty-one to twenty-five hundred dollars. The foil board, brand new, is right around the same price. So together, with just one kite and one board, you're looking at around five grand. The foil kites wear out pretty quickly. They're like spinnakers; they're made of the same material. They stretch and there's no rigid structure in them at all, so they wear out pretty quickly. You have to replace them pretty often. If you're racing foil kites, you need at least four kites. So, immediately, you're looking at about ten to fifteen grand as just your entry point. With One Design, we can certainly keep the cost much lower. Like I said before, our package starts at about thirty-one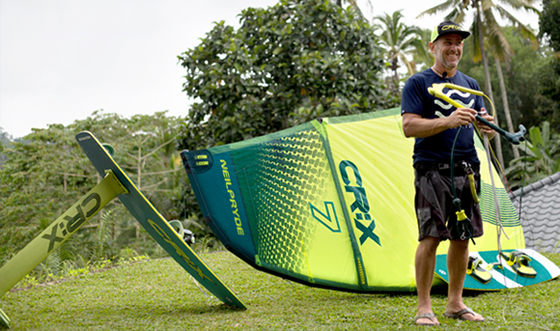 hundred dollars. Our package is attractive because: A) the price point for sure, B) when you're out sailing and riding against the people you sail against, you're always pretty confident immediately that it's you and not the gear that's making you faster or slower. With hydrofoil racing, the gear race is so aggressive. Foils are updated constantly… little things like lines and small kite improvements… so it really is a bit of an arms race. Keeping up with it monetarily is pretty tough. If it's all One Design, you got your stuff, you practice on it, you go out and sail with what you got.
"It's pretty fun man… it's wild how close the racing is. We did an event down here, pretty informal, this weekend where there were about ten of us out racing and people would be calling room on each other at the leeward mark… going like twenty, twenty-two knots asking for room."
The CR:X Class has had a number of events. Can you tell me about some of them?
I think the first place it really started was with the Sailing World Cup over this past winter. I believe that the SWC actually invited Neil Pryde and the CR:X to kind of tag along at a couple events. We were an exhibition event in Melbourne, Australia… and then we were an exhibition event here in Miami. That was kind of where it really started, and that was right around the launch of the CR:X, too. It technically launched in October of 2016. Since then, it's really been a little bit of a grassroots operation. We hold as many clinics as we can, and we're actually working with a couple yacht clubs here in Miami, like Key Biscayne Yacht Club and Coconut Grove Sailing Center for example. Key Biscayne actually has a Kite Program going on right now. They're doing two weeks of it with all their members. They have two coaches and it seems to be going pretty well so far. They seem to be enjoying it. I think it's just one of those things where it takes one or two clubs to really try it out to see how easy and feasible it really is. I think one of the big barriers-to-entry to kiting in a yacht club format is that people see kiting as something that's dangerous. You get pulled up in the air… you know, whatever. In the past ten or fifteen years, it's come such a long way that it's no more dangerous than bringing a group of Lasers out. You can launch from a sandbar, you can launch from a beach… if you're at a club where you don't have a beach nearby, you can take a boat out and launch from your boat. We did one program with a lot of coaches from this area; we called it "Coach the Coaches." We basically took the coaches out for two or three days of kiting. At the end of it, they were pretty overwhelmed with how easy and accessible it was. That sort of led into Coconut Grove Sailing Center and Key Biscayne coming back to us and saying, "we want to do it."
I think it's a one-by-one operation. I've put together a leasing package too, so if a club can't really afford the gear straight-up, we can lease it to them. We really want to get this going. We want to work with yacht clubs. We see things like the Youth Olympic Games coming up next year and there really is no training platform within the United States for it. Whether you would use our gear in that event or not is totally up to the individual competitor, but certainly training on a One Design platform makes practice and then moving up much easier. You know exactly what the difference is… you're not like "ah, man I gotta tune my kite just a little bit differently…" Developing form is just that much easier in a One Design platform.
I think we catch a lot of flak for our gear… CR:X in particular. People think it's just a little too simple maybe? Or not high-performance enough? But, that's not the point of it at all. The point of it is that it's a progressive, feeder platform. We want to bring people into kiting in a way that's more easy and accessible; we don't want to scare anybody away. It's a friendly package to do that.
Out of the events that you mentioned, in your opinion, what has been the most successful?
It's hard to say so far. When we went to Charleston for the Fort2Battery; that was pretty successful I think. I think it just highlighted the fact that, in year one at least, we're structuring it very similarly to a lot of One Design regattas. You go to a regatta, you don't have a boat, you charter a boat. We did the same thing with our gear. You can literally just fly in with your harness and a wetsuit, charter the gear for an extra fifty… seventy-five bucks, and you have everything you need. Three kites, foil board, twin-tip board… anything you would need. So, I think that Fort2Battery really highlighted that concept.
You make a good point about F2B. I personally know some kids who tried the platform out in that event. They liked it so much that they subsequently went to St. Pete and chartered your gear to do that regatta.
Exactly. We did a demo down there and kind of just had our gear available for anyone that wanted to try it. We were a little late to the game, so we didn't have a One Design division, but we just wanted to be there and be present for people to see the stuff.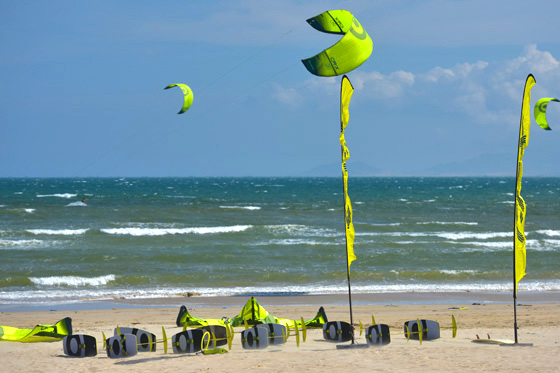 What we have coming up on the schedule will be really effective, I think. It'll start to generate some enthusiasm too. We partnered with Buzzards Bay Regatta, with me running the kite circle for that, including open foils, CR:X in foil mode, and twin-tip racing for Friday-Saturday-Sunday.
That brings me to another big goal of mine… As long as kite racing has been going on, there has been kite regattas and then sailing regattas; they've been completely separate. You never see them grouped together. I think one of the big things that I'm trying to do going forward is to work with several existing regattas. It's the same thing as the yacht clubs, it doesn't work in every location. For example, it definitely wouldn't work in like, Long Island Sound… but in some places, it works quite well. I think BBR will be sweet because all the kiters will be right there with all the sailors in the same place at the end of the day you know, and everyone will be hanging out together, and then go to the tent party, and generate the feeling that kiting is part of sailing. So that's a big goal of mine… to have that happen more often. I want to start working with a lot of larger events and start to group everything together. I just don't see any reason for them to be completely separate.
If you want to grow the sport… sailors will see that at events and be like, "oh wow that's sick I should be doing that." If there was kiting at Charleston Race Week for example, I would one hundred percent do it. I think a lot of guys would. I think there are a bunch of events where that could work out.
What would you say some of your biggest goals are going forward?
I think my biggest thing… I would personally feel really psyched with my job if we got to the point where there were like ten to fifteen clubs in the country running kite racing programs within junior sailing. That would be totally awesome. I think we're in a place now where a lot of clubs are losing young sailing members because they get burnt out on sailing. You see a lot of adventure sailing programs showing up. So, I think it's a pretty good time for this stuff. That, personally, would make me feel pretty pumped up.
Something else we're really trying to do is basically like a One Design Kiting tour within North and South America. I think that could be awesome too. I certainly don't want to get to the point where people feel like… this is hard to explain… but I don't want them to feel as if it's "elite". So, we want it to be very encouraging for people to come do it, but we also want our next evolution of gear to be very high-end and competitive at the same time.
How would you say that this format brings a new element to sailing as a whole? How does it grow the sport in tandem with kiteboarding?
I think that the whole One Design thing helps to really solidify, or legitimize kiteboarding in sailors' eyes. And that goes back to kiteboarding events being separate from sailing events. I think sailors identify pretty well with the One Design platform and the One Design idea. So, going forward, this whole concept meshes well with what sailors perceive as sailing. I certainly don't want kiteboarding to go on existing as a beach event where at the same time, it's one of those things where you can go out by yourself and have a totally awesome time. Recreationally, it's super fun… you don't have to be out there racing and competing all the time. Just going out with your friends and riding around is unbelievably fun. Honestly, it's multi-generational too. Parents can go out and ride with their kids. It's a super fun element of sailing, and I think that sometimes people misconstrue it or don't necessarily see it as part of sailing. They see it as something that's totally separate.
You can just be riding around on your foil and having a good time… then you can just say, "Ok… now I'm gonna see how fast I can possibly go. Or, I'm gonna go out and practice a bunch of tacks today… or a bunch of gybes." Or, you can just ride around, and it's still super fun. I think there are so many ways you can go with it that are all so fun.
It's a really cool community within itself too, wouldn't you say?
Exactly, yeah. You'll only be pissed at yourself that you didn't [get into kiteboarding] sooner, man. It's awesome, dude. Because the gear is so and transportable… you know, anywhere you go, you're like, "well, I may as well bring my kite with me." Just pump at the beach, and you're good to go. Also, kiters are all just super friendly. It's not like surfing where it's all territorial. Kiters just want to have fun, get to know kiters, and help each other… then, when the session's done, go get a bunch of beers (or appropriately-aged soft drinks).
Get yours today at:
http://adventuresportsusa.com/kitesurf/crx.html