By Airwaves writer Tyler Colvin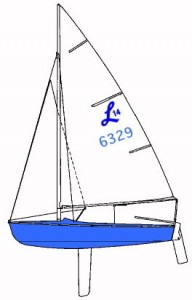 Hand building boats is an art overlooked by many.  Many of today's sailing dinghies were originally hand crafted in garages, barns and basements before they hit high volume assembly lines.  The Lido 14 is no exception.  Originally built by legendary boat builder Bill Schock, the Lido 14 came to life out of his Newport Beach shop in early 1958.  A year later, over 600 hulls had been cast and the one design class, as we know it today, started.  There are currently over 6000 hulls with more on the way.
The Boat: A Local Legend
There are many boats who's popularity is solely location based.  How many Cape Cod Mercuries do you suppose are sailing around Penobscot Bay? Likewise, the intensely Southern California concentration of Lido 14s is most likely due to the locality of the designer and boat yard, Newport Beach.
The Lido 14 stands a stately 14' long with a 6' beam at the widest point.  Dry hull weight is 310lbs, making it downright portly compared to the C420 or CFJ.  Not designed as a racing boat, the Lido 14 gained popularity amongst racers in California, Oregon and Washington State as well as several other smaller groups spread across the country.  It has a total sail area of 111 square feet between main and jib.
Designed for cruising, the Lido 14 comfortably sits 6 on its wide bench seats in a roomy cockpit.  Races are a two person affair however, similar to many other small sailing dinghies of its size and vintage.  Beamy and very difficult to capsize, it cruises comfortably and is very easy to set up.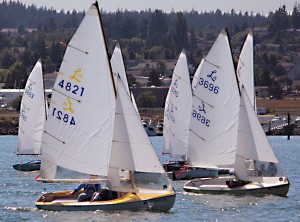 In 1995 the Lido 14 was updated to reflect the progress in technology and update the pre-1960s hardware.  These new Lidos, referred to as the 6000 series boats (as to that date, approximately 6000 hulls had been cast), were designed to be as similar as possible to the now "Classic Lido" with only updates to the construction and hardware on the boat.  Because of the effort to keep the boats as similar as possible, both Classic and 6000 series boats are still very competitive on the racecourse.  In fact, one of the first of the Classic Lido hulls won Lido 14 Nationals in 2014 (hull #2506, Cal State Long Beach Sailing Team standout Mark Ryan and crew Sarah Shaupeter).
Set Up and Sailing
The set up is straightforward and intentionally easy on the Lido 14.  Designed to span many age groups and abilities, it comes together quickly and can either be disassembled after use or stored on a dock, mooring, or cradle.  The deck-stepped mast is easily erected and stayed into place by two or more people.  On Classic Lidos, the boom slides into a track on the mast and should be fixed in place by either a stopper inside the mast track, or a pin through the front of the mast.  6000 series boats have a fixed gooseneck that is fairly straightforward.
Tuning the Lido is also not complicated.  Mast rake is the most easily adjusted mechanism and controls the power and helm of the boat.  A reliable tuning guide from Ullman Sails can be found here (http://www.lido14.org/).  Once your rig is set to the proper settings, the boat can be launched, sails raised and centerboard lowered.
Sailing upwind the Lido 14 has what is known as "weather helm".  Weather helm refers to the phenomenon where when sailing in a straight line on close-hauled, the tiller will tend to want to pull down and boat to head up.  This is completely normal for many boats including the J24.  As breeze increases however, this weather helm may become too strong and the boat should be depowered to decrease this pull.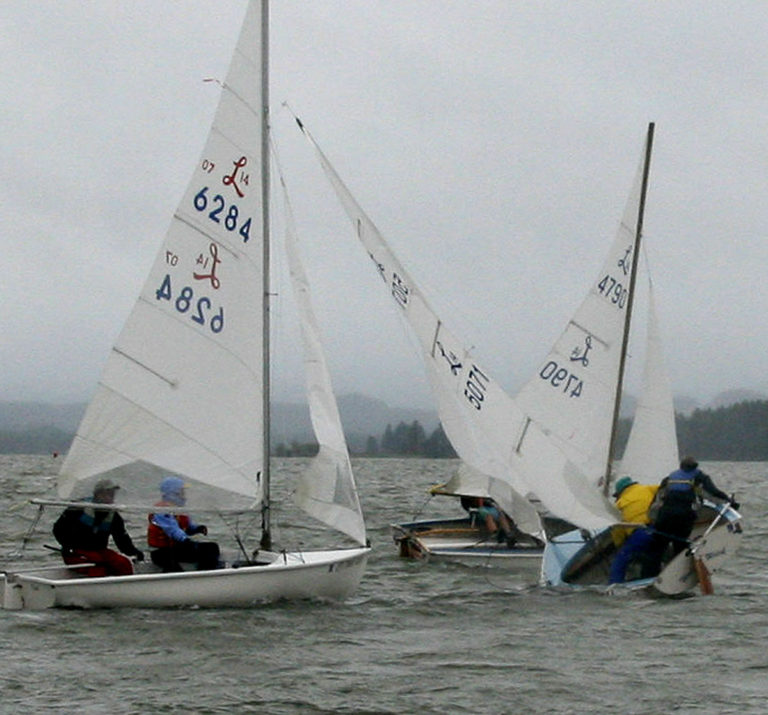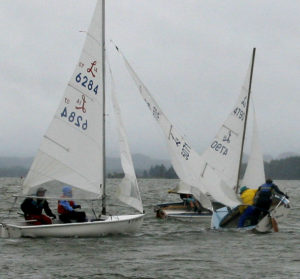 Downwind the Lido 14 is sailed wing on wing when breeze allows.  In racing conditions the centerboard can be raised slightly to help reduce drag on the hull.  The jib is put on a whisker pole to allow it to fly out and catch more wind like a spinnaker would in the same situation.  It is fast to heel the boat to windward slightly in order to rotate the main up higher and power up more.
Class Association
The Lido 14 class association (http://www.lido14.com) is an organized and helpful organization for such a relatively small racing community.  Class championships are popular and provide a mix of Classic and 6000 series boats, as well as sailors young and old.  The current Lido 14 National Champions, Mark Ryan and Sarah Shaupeter are perfect examples of a Classic boat with a young crew.  Mark and Sarah sailed the oldest boat in the fleet #2506, previously owned by their grandfather.  A recent graduate and Cal State Long Beach Sailing Team standout, Mark has a passion for Lidos and it is great to see a young skipper taking such interest in an older boat.
Why Sail?
Young, old, new or veteran, the Lido 14 has possessed the ability to maintain its status as one of the classic small dinghies in the United States.  Competitive fleets on the West Coast keep racing alive; while countless others are cruised on lakes, rivers and ponds across the Midwest.  Easily set up and easily sailed, the Lido 14 offers accessible sailing to many ability levels and age groups all over the country.