Hopefully most of you have been working out throughout the summer. Summer gets busy, but it's essential to continue your workouts between sailing practice and regattas. For those of you that have been slacking a little bit this summer, this 30 day challenge should help get you right back into it!
The push up a basic fitness move, most of us have done a lot of these in our workouts. This is a great move that you can do anywhere with no equipment. It's an exercise that engages your chest, shoulder, tricep, and core muscles. You need all these muscles to be strong in order to be successful out on the water, so the push up is a great move for sailing. There are also many push up variations to choose from to make it easier or more challenging depending on your fitness level. The key to any exercise is proper form so no injury occurs. Below are the proper steps to a push up and how to fix common mistakes made, then continue reading for the 30 day challenge.

Steps to the Proper Push Up:
1. Get into plank position. Place you hands under your shoulders or slightly wider. Your fingertips should be pointed straight forward. Your feet should be set in what is comfortable for you, they may be shoulder width or touching. The farther apart they are the more stable your push ups will be.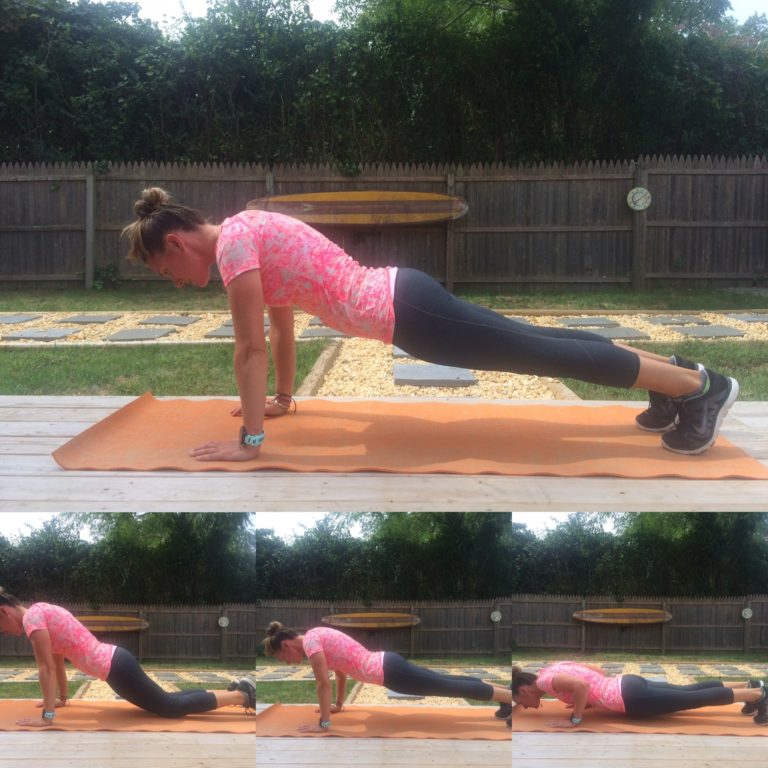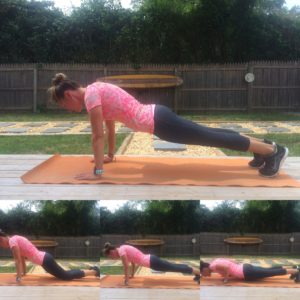 2. Lower your body, engage your core and butt. Keep your body in a straight line. Back should be flat and don't let your butt stick out or dip. Keep your eyes looking forward with a neutral neck. Lower down till your chest just touches the floor.
3. Push yourself back up. Exhale as you push back to plank position. You did it!
Common Mistakes And How to Fix:
1. Your arms flare as you lower down. Fix: Keep your arms in and make sure your hands are in proper position.
2. Your butt rises when you lower down. Fix: Make sure you are engaging your glutes by squeezing your cheeks together.
3. You strain your neck. Fix: Keep your neck in neutral position, pick a point on the ground in front of you to look at while you lower down.
4. Your lower back is sagging or arching. Fix: Remember to stay in a straight line. Engage your glutes to help with arching and sagging.
5. You forget to breath. Fix: Inhale on the way down and exhale on the way up.
If you are struggling with the push up there are way to modify to make it easier. Four easy way to modify are putting your hands on a bench or box for incline push ups. Or using a wall to do wall push ups. However, two simpler ways with no equipment or wall required is shifting one leg to your knee, or for more of a modification putting both knees on the ground.
Now lets get working on those push ups! I have a 30 day challenge for you to complete. For 30 days you are going to be doing push ups with 3 rest day every nine days. You will be increasing the number everyday to get to a total of 45 push ups. By the end of the 30 day challenge you will see improvements in your strength which will help you out on the water!
Key things to remember:
1. Form is key, once your form starts to lose quality take a break or go to modified push ups.
2. If you need to break the push ups up throughout the day do so.
Check out the video below on the proper push up and modifications to the push up. After the 30 day challenge you will see great results and major improvements in your strength helping you with your sailing. Good luck and tell us how your doing with the challenge!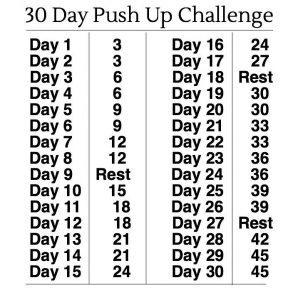 For more information on fitness for sailing contact [email protected] Also check out Sailorcise on Facebook, Twitter, and Instagram for daily tips on fitness, nutrition, and sailing.