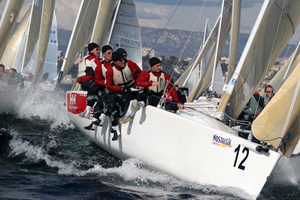 The Melges 24 hitting the scene in 1993, is a one-design class of sailboat commonly used for racing. With a very large asymmetrical spinnaker and retractable bowsprit, he boat is notable for its ability to plane over the water downwind in modest winds, and for its combination of a simple design that is highly tune-able. This is a fairly technical boat and has a very competitive class.
The boat's hull is made from lightweight fiberglass. The mast, rudder, bowsprit, and keel fin are made from carbon fiber for light weight. The hull is generally flat on the bottom, making it plane easily. The 630 pound (286 kg) keel bulb can retract up to the hull bottom to make it easier to put on a trailer.
The boat is generally raced with a crew of four or five. Because the boat sails faster with a heavier crew, class rules for racing limit crew weight to 793 pounds (360 kg) total. Unlike most spinnaker-rigged keelboats, the Melges 24 is designed so that no foredeck work is required to fly the spinnaker; it is launched, trimmed, and doused from the cockpit.
loa 24'    
beam 8'2"
sail area 390 ft²
spinnaker area 670 ft² (!)
hull weight 1783 lbs.
crew 4-5
# of boats built 700 +
active US fleets MD, FL, CA, MA, CT, RI, VA, NY, TX, LA
Class website:
http://www.melges24.com/