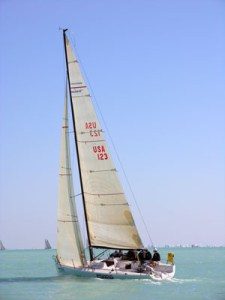 The Melges 32™ is a superior racer with a big, high performance attitude. It is the culmination of the finest in progressive sailboat engineering and design by Reichel/Pugh, the craft and professional talent of Paul Amon at SOCA Sailboats in Trinidad and Melges Performance Sailboats' incomparable experience and acumen. The Melges 32 takes one design racing to the next level.
The M32™ features a lean-and-mean, supersonic-sleek hull shape and sports a simple interior, very clean deck layout and rig making it truly the ultimate day racer. It is by far the most comfortable boat in the 30-foot range. If one prefers to race overnight, pipe berths can be added for sleeping comfort. It boasts a large, powerful sail plan that makes it a cinch to sail and seriously fast. Swept spreaders with a fixed backstay, 105% headsails and masthead asymmetrical spinnakers will remind you of another Melges phenomenon — the Melges 24™!
The Melges 32 is easily launched via ramp and when equipped with a gin pole, it can be rigged without the assistance of a crane to step the mast.
Strict one design class rules govern the M32s amateur owner/driver requirements, professional crew limitations and crew weight maximum to limit the number of crew.
loa 31' 10"
beam 9' 10"'
sail area 699 ft² w/100% jib
spinnaker area 1,302 ft²
hull weight 3900 lbs.
crew 5
# of boats built
active US fleets
Class website:
http://www.melges32.com/