By Middlebury Head Coach Thomas Tucker
Of the 41 registered teams in NEISA, the top 16 are given automatic berths to the New England Championships at the end of each April. The two remaining championship berths are contested in early April in the Spring NE Dinghy Tournament. The dinghy tournament is the most important regatta for teams outside the top third of the conference, similar to baseball's wild-card. The 12 tournament spots are selected via draft order. This is an annual event for teams regularly on the fringe of the high-teens such as Mass Maritime Academy, Maine Maritime, UNH, Middlebury, Bentley, Bates, Wentworth, etc. The Spring Tournament is the premier spring event for mid-sized teams occupying the middle of the NEISA rankings, and is often overlooked.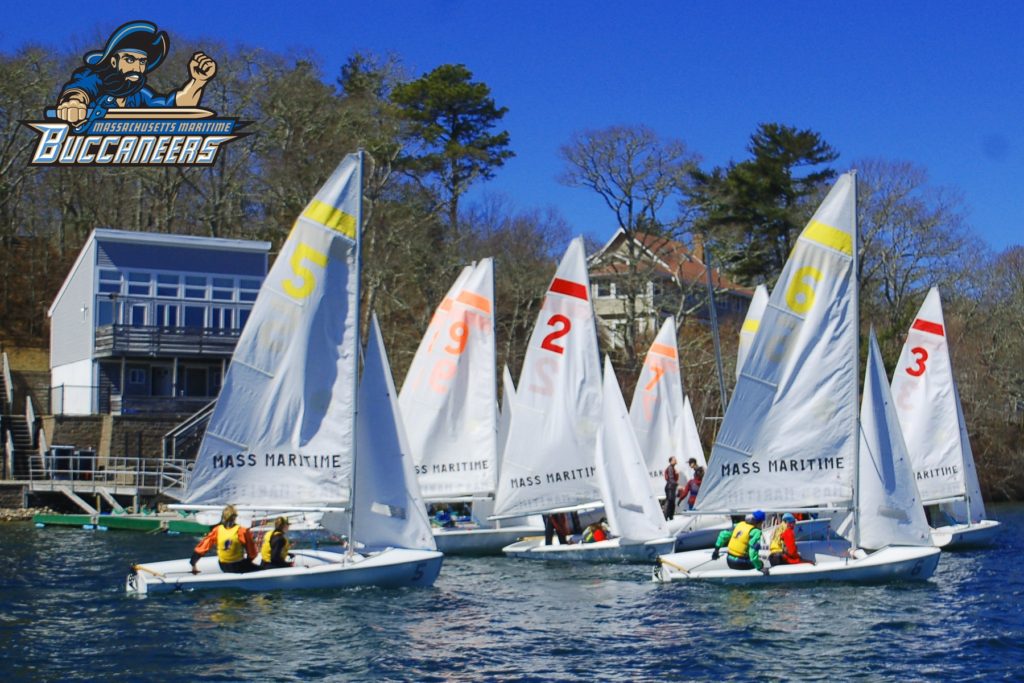 April 6-7 saw Mass Maritime Academy, Maine Maritime, Middlebury, Olin, UNH, UConn, Wellesley, UMass Dartmouth, and Williams vying for the contested championship berths. Notably absent were the mid-conference contenders of Bates, Bentley, Wentworth and UMass Amherst. All of which are usually fairly competitive and consistently ranked in the upper-teens and low-twenties.
The regatta was raced on Herring Pond, hosted by Mass Maritime, moved from the original venue at Middlebury due to lingering ice on Lake Champlain. Saturday saw sunny skies with a lack of wind. Despite the best efforts of the race committee only two races were completed for A fleet with nothing decided.
Sunday was again warm and sunny with sailable wind building throughout the day. What started as light and variable grew to a shifty and gusty 10-12 by early afternoon and the race committee was efficient in taking advantage of the conditions.
Williams failed to return for day two, UMass Dartmouth withdrew before the last rotation, and UConn missed a rotation due to injury. The last races saw only 6 schools. Although the nine schools were competing for two spots, the real competition was between three schools for second place. Mass Maritime took a dominant lead and locked down first place early, earning thirteen bullets in sixteen races, and impressive accomplishment in any fleet.
With first place on lock, the contest was for the second available spot and continued throughout the day in tight competition. There was little point spread between Maine Maritime, Middlebury and Olin who sailed the real contest and claimed second, third and fourth respectively, separated by only 10 points, with 30 between fourth and fifth. Middlebury took a small early lead over Maine, with Olin close behind. By halfway through Sunday, Maine had moved into second place with an 8 point lead. Middlebury had a late-day rally and closed the point deficit to only 3, and Olin rallied from a 15 point deficit to 10, with all three taking bullets and providing an exciting afternoon of close racing.
Ultimately Massachusetts Maritime was dominant with only 20 points in 16 races and certainly earned their spot in the NE Championship. They were followed by Maine Maritime (45), Middlebury (48), and Olin (55). Full scores and details can be found here:
https://scores.collegesailing.org/s19/new-england-dinghy-tournament/