By Airwaves writer Olivia Hennon
History and Mission
Since the launch of the WASZP in July 2016, the class has grown throughout the world with its accessible design and camaraderie among class members. Since the launch, over 1000 WASZP's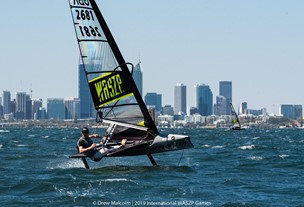 have been delivered to 44 countries as of 2020. Designer Andrew McDougall wanted to create a boat that was affordable and accessible, get new sailors into foiling, and change people's lives. As many people began to fall away from the Moth One-Design because of its difficulty and expensive cost, the WASZP offers a simpler and more affordable option for sailors to purely enjoy sailing without the extra complications and hassle.
The Boat
The WASZP was designed to be safe and simple to launch, sail, and handle in order to maximize accessibility. It is a single hand, one-design foiler that is known to travel well. The ideal sailor weight is between 40-95 kg, as the hull is designed with a hollow nose area to cater to the weight of the sailor. Heavier sailors can bury the nose while simultaneously not generating extra drag while lighter sailors won't lose waterline length. The WASZP is incredibly robust, travels well, and has a place for everyone in the class. Additionally, it has 3 modes that make for easy storage and allows for beginners to feel more comfortable in the boat. These modes include storage mode, learn mode, and race mode which each make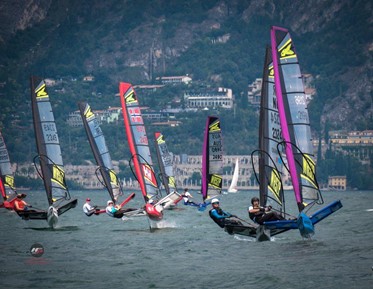 modifications to the boat to meet sailors where they are in their sailing journey.
How to Get Involved
While the WASZP is based in Melbourne with racers all over the world, it is sailed in the United States. The most common locations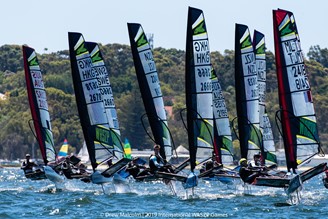 where the WASZP is sailed in the USA is in Toms River, NJ, Charleston, SC, Newport, RI, San Francisco, CA, Oyster Bay, NY, Miami, FL, and Honolulu, HI. In order to get involved with the class, orders for boats may be made online at the WASZP official website. The WASZP class has a place for everyone!
Events coming up in the USA:
WASZP Atlantic Coast Championship- Toms River, NJ- May 22nd-23rd 2021
Hampton Regatta- Hampton, VA- June 19th-20th 2021
Sandy Hook Regatta-Atlantic Highlands, NJ- September 25th-26th 2021
2021 US WASZP Nationals-Toms River, NJ- October 1st-3rd 2021
WASZP Swarm- Oyster Bay, NY- October 9th-10th 2021