The Life of a High School Racer in COVID-19
17 November 2020, by Airwaves Writer Olivia Hennon  —  I met Alli at my first ever high school regatta– her and her crew Sarina were the first people to come and talk to me and my skipper. From there, an instant friendship was created. Since that point, I have seen Alli succeed in many high school regattas and other junior events. Her humble personality combined with her competitive edge has made Alli an excellent sailor, friend, and role model. However, since COVID-19 struck the United States, I had not seen Alli for many months and wondered how her passion for sailing as well as personal life as a high school sailor had been affected just like mine. Alli graciously set up a phone call with me to catch up and discuss how she originally got into sailing, what it's like being a high school sailor, how COVID-19 has affected her, and her future plans.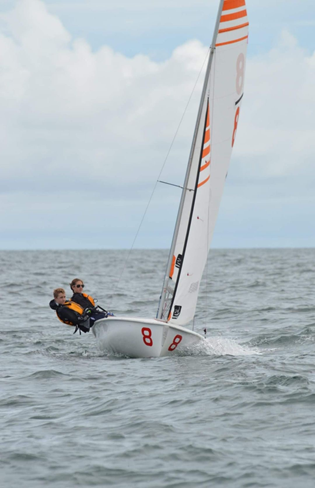 First Steps Into Sailing
Alli began sailing in 4th grade, when her brother had found an old beat up Sunfish that he bought and started to sail. As her brother enjoyed sailing more and more, he was sent to a sailing camp which he loved. After coming home, he wanted Alli to come and try it out. "My brother and I are super close," Alli notes, "so it was only natural for me to want to try it out as well." From there, Alli spent time in Sunfish until she decided to attend a camp in 6th grade which introduced her to Optis. Alli then spent 3 years in Optis until she joined the Pine Lake Prep High School Sailing Team as an 8th grader. From that point on, Alli was hooked on c420's and the competitiveness of the high school racing circuit. This was only the beginning of her journey through sailing.
The Life of a High School Racer in COVID-19
Alli sails on the Pine Lake Prep Sailing Team that practices out of Lake Norman in North Carolina. Being on the high school team means spending time after school and on the weekends on the water and at regattas. "Typically practice is 2 times a week, Wednesday and Sunday with regattas on the weekends," she notes. But it is clear Alli wouldn't want to spend her time doing anything else. When asked how she feels about high school racing, Alli responds with an enthusiastic "I love it!" and goes on to mention how she feels successful when she races both in high school events and other club regattas in 420's. "I love 420's because they are the most comfortable and super fun to race," she adds. However, COVID-19 has not made it easy to keep racing and practicing like Alli wishes, especially in 420's. Practice was gone for several months, and even as her team began to practice again, single handed boats were recommended.
Alli then began to experiment with Lasers, enjoying her time just getting to work on her skippering skills, although she "still loves the 420." The pandemic hasn't just meant being forced to practice in new boats, though– there's no SAISA racing or high school events, which obviously has been very hard for Alli and her team. "I miss seeing friends and other kids from other schools that we see when we race," she says when asked the hardest part about COVID and sailing. She also mentions the difficulty of keeping her sailing skills sharp as she is a "hands on learner." However, thankfully Alli's yacht club has held socially distanced club regattas that she has gotten to participate in, and high school practice is being held more regularly which gives her a chance to work on her skills. She has even started to experiment with more boats, such as the Vanguard 15. Most recently, Alli sailed in the Hewsons Club Championship in a Vanguard 15 as a representative for junior sailors at her club and additionally won the Lake Norman Hospice Regatta in a 420.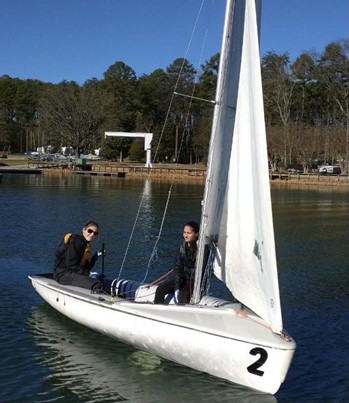 Future Plans
Even with COVID-19 cancelling many events, Alli plans to definitely keep sailing past high school and into college, which she knows will be a welcome challenge. "A lot of college sailing is team racing, which I honestly don't know a ton about, but I'm excited to learn," she says. As a highschool senior, Alli has recently been spending time visiting colleges and their sailing teams. She plans to pursue sailing in college in both 420s/FJ's as well as possibly in Lasers and is looking forward to the prospect of getting to even further her skills and have fun in a new environment.
As our phone call was wrapping up, I wanted to ask Alli if she had any advice for any younger sailors or those who plan on joining a high school team. Her advice was simple– "crew before you skipper, then get behind the tiller. Confidence is one of the most important things in racing."
Editors Note. A previous version of this article mentioned erroneous information: Allie did not sail at Old Dominion on her visit. This has been removed.
____________________________________________
About the Author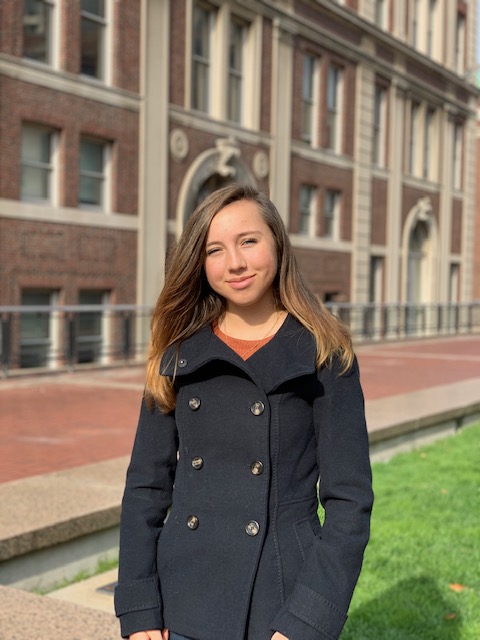 Olivia Hennon     Airwaves Writing Intern, Calendar Manager
I am a junior sailor from Asheville, North Carolina who has been surrounded by the sport of sailing my whole life. Growing up with a family racing Jet-14's, I was first introduced to sailing by racing in regattas with my parents across the Midwest and east coast. As I got older, I helped establish the first high school racing team in my region of Western North Carolina. From there, I began racing c420's competitively in the high school circuit as the Team Captain, as well as other c420 events. I also have dedicated a lot of time to creating and improving a junior program at my local sailing club and volunteer as a counselor during the summer. Currently, I race both Jet-14's and c420's at the regional and national levels, and have raced at the international level. I have a lot of passion for writing and journalism, and hope to pursue my love for racing as well as for journalism throughout college.
You can reach Olivia at    olivia @ sail1design.com