Rachel Miller arrived at her vacation cottage on an island in the Gulf of Maine and flew into action.  Disgusted by all of the marine debris in the water and well above the tide line, Rachel spent the entire first day of her vacation doing a beach clean up.  Her husband, James Lyne, quickly recognized what roused Rachael's passion and ire more than anything – ocean trash.  Not long after that October day in 2009, The Rozalia Project, a 501 c 3 non-profit, to develop real world solutions to our ocean pollution problems, was born.


Since 2010 Rachael, James, and Rozalia staff, crew, interns, sponsors, and supporters  have been championing healthy oceans education, remediation (cleanup), innovation, and doing solutions-based research.   Rozalia focuses on urban and coastal waters believing the source of the pollution is at the land-sea interface.  "Reduce, reuse, and recycle" is among the organization's mantras.  Armed with data from numerous expeditions and collaborations with a variety of organizations, scientists, researchers, and STEM programs, Rozalia Project has just launched NoFish2048.  Believing that all of the fisheries that are currently fished for food will collapse by 2048 unless we take direct action quickly, NoFish2048 works to stop overfishing of our oceans.
The sexy part of the Rozalia Project's efforts is its ocean expeditions aboard  American Promise, an environmentally-friendly ocean research sailing vessel, in New England's coastal waters.  Rozalia Project uses these two, three-week-long expeditions collect data and imagery,.  While spaces for crew, scientists, researchers, and ocean advocates aboard American Promise's 2015 expeditions are nearly full, Rozalia Project would love to hear from grand prix and seasoned sailors to volunteer to lend their skills to the expeditions as captains and chief mates so the researchers can dedicate more time to their on the water research.  Energetic, flexible, dog-loving, ocean-loving people are invited to apply.


Miller gave a compelling TEDx presentation in May 2014 in which she provided shocking statistics about the quantity of trash in our ocean waters.  It's common practice for sailors to check for kelp and weed on their keels, centerboards, daggerboards, and rudders, but if a seal in Boston Harbor encounters a piece of trash ever 100 feet and a dolphin in Marina del Rey encounters 33 pieces of trash every 100 feet, we had better keep our eyes peeled for trash too.
Right now, 50 million tons of trash and plastics are being added to our oceans every year.  Trash is covering the sea floor and smothering the marine environment.  Much of the trash is entering our watershed as runoff from urban areas.  The concentration of trash in the coastal waters off of urban areas is 2 to 10 times greater than it is in the ocean trash gyres that we've all heard and read about.  That's why Rachael and the Rozalia Project focus on the interface.
The Rozalia Project has worked closely with US Sailing's Reach initiative in developing its STEM Module 6.  Rozalia analyzes the data collected by the STEM programs to help them understand the source of their localized pollution and implement long-term solutions.  Miller makes it clear, "Rozalia is an equal opportunity marine debris program, we're not just about eliminating ocean plastics."  She is particularly excited about the Point Loma High School Sailing Team's Spring Cleaning Challenge.  News and photos of the Challenge appear in ISSA News and on the High School Sailing Clean Ocean Facebook Page.  Point Loma is challenging all high school sailing teams to clean a shoreline near them, collect data, seek solutions and post pictures on the Facebook page.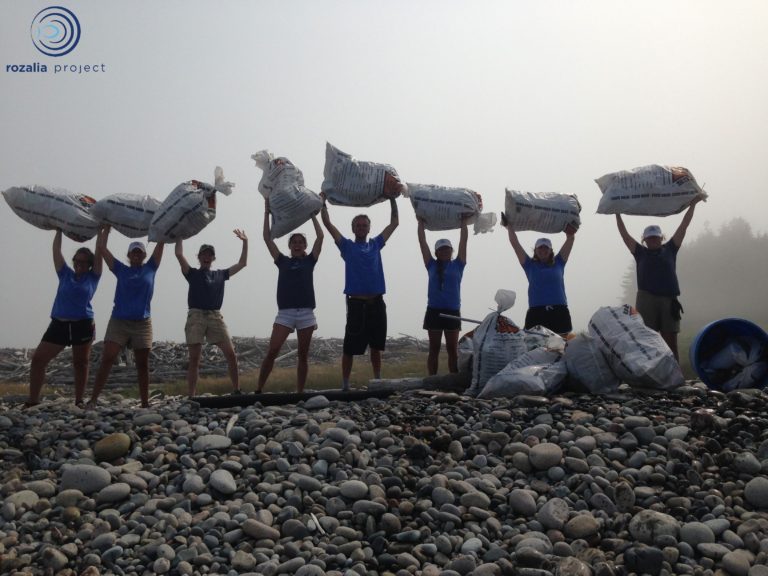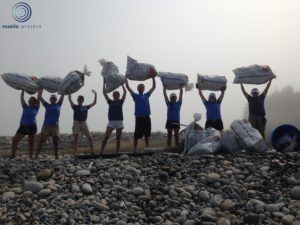 Rachael and the Rozalia Project have identified the land-sea interface as the location where all of us can focus on.  That's why participating in beach clean ups and picking up trash along the beach, gutters, and trails every time you take your dog for a walk are so important. Once we find those wrappers, plastics, cigarette butts, and broken pieces of foam, retrieve them and dispose of them properly, even if it means carrying the extra weight back to shore.  Take it from Rachael, "Every little bit counts."
Thank you Rachael Miller for taking action, networking, collaborating, and inspiring sailors everywhere to become better ocean stewards. Listen to Rachael and learn more about the Rozalia Project.
Watch her TEDx talk
Check out The Rozalia Project website
Learn more about 2015 expeditions aboard American Promise
Learn more about Point Loma Spring Cleaning Challenge! 
Share your Spring Cleaning Challenge News and Photos on Facebook