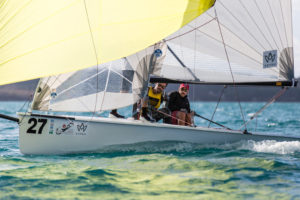 By Airwaves Senior Writer Taylor Penwell
Zeke Horowitz is a familiar name in the sailing world dating back to his junior sailing days, college and now as a member of the North Sails One Design team. Zeke attended The College of Charleston in South Carolina where he was selected as an Honorable Mention All-American twice, as well as an Academic All-Conference All-American. Zeke was team captain his senior year and led the Cougars to their first-ever ICSA Team Racing National Championship. Zeke's sailing resume includes two World Championships titles –  J/22 and Viper Classes. He also holds nine North American / National championship titles in various classes and disciplines. Check out what Zeke has to say about his life full of sailing.
-Where are you from Zeke? 
I was born in Cleveland, Ohio but my parents moved our family with my two sisters and myself down to Sarasota, FL when I was about 8 years old. Still a Cavs fan but I'm glad we made the move!!
-How did you get into sailing? 
My dad, Jay learned how to sail when he was a Scrub Nurse in Cleveland. One of the surgeons he worked with had a Tartan 10 and said that nurses make the best crew because they're detail-oriented, careful, and do well in high-stress situations while being yelled at! He fell in love with sailing and bought a Force 5 and a Phantom to sail on Lake Erie right behind our house. He took my sisters and me out sailing in those boats which is where I first learned how to sail. When we moved to FL, I enrolled in learn to sail and learn to race programs at the Sarasota Sailing Squadron.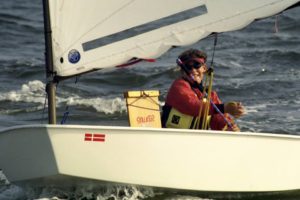 -What types of boats did you sail in your youth? 
I was fully committed to Opti sailing from age 9 to 14 and traveled all over the world for it. When I sized out of the Opti (at 155 pounds…) I moved on to sail mostly Lasers but I dabbled in Club 420's a bit and did High School sailing all 4 years. I also did a couple of Sears Cup campaigns in High School so I was able to get a crack at some small keelboats as well as J22's, Flying Scots, Ultimate 20's, Thistles, and Lightnings.
-What are some of your favorite drills you practiced growing up?
I was lucky to sail on some extremely high-level teams in Optis and Lasers so our practices were often as competitive as the big regattas! My favorite drill was always the "King of the Box." This was a team race drill where the coach would set up 4 marks – a box – and everyone at the practice would have to be inside the box. You would try to either sail someone out of the box or draw a foul at which point they'd be DSQ'd and have to leave the box. At the end of the drill, there was only 1 boat remaining – the King. It made us practice boat handling in tight quarters, thinking 3 steps ahead and understanding the rules.
-What schools did you look at for college? 
I knew sailing was going to be the priority and I didn't want to freeze! I applied to Old Dominion University, University of South Florida, and the College of Charleston.
-Why did you decide on the College of Charleston? 
That's easy…. I visited!
I very much enjoyed my visits to the other schools but after spending a weekend in Charleston it was an easy choice for me. The town and the College have so much unique character and so much beauty that it became a very easy decision. Not to mention the weather is incredible and the sailing program is in the absolute top tier. The coaching staff was phenomenal and I just knew it was the place for me. Also the food….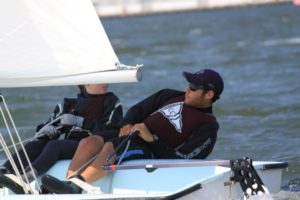 -What were some of the important lessons and skills you learned in college? 
Other than keg stands and which spot to get late-night pizza?? 😉
It's easy to talk about boat speed, tactics, boat handling, etc. But for me (and I believe for most people) college sailing is the biggest opportunity to grow mentally as an athlete and a teammate. No matter how you skin it, it is SUCH a team sport from your crew(s) to your team race teammates, to your coaches. Figuring out how to be a leader and communicate so that the team can be successful can be one of the most profound yet rewarding experiences you can come away with. Beyond that, the mental challenge of managing your place on the team as a leader as well as your ranking can be a big struggle. Then you have to deal with doing a huge number of races in some extremely challenging venues where momentum can crush you. Being the fastest sailor or best starter is certainly important but I would take being the toughest mentally over that any day. I tried to learn how to race unemotionally so I could make low risk, conservative decisions every time. Consistency is the name of the game!
-What were your college sailing highlights? 
I had a decent College Sailing Resume but I was never the best at fleet racing. I excelled as a team racer and under the guidance of our team race coach, Nick Ewenson, I really found my stride where I could help my team the most. It broke my heart when Nick left before my senior year to be the head coach at URI (though I was happy for him!). We had a phenomenal team my senior year and I was able to continue with the momentum we had from Nick to help the team become a very disciplined group. Our Head Coach, Ward Cromwell, embraced what I had to offer and the two of us really worked together on a lot of the coaching – not a lot of coaches can do that and I respect Ward immensely for having an open mind and accepting approach. I had been in the final 4 at the Nationals the previous 3 years but the College had never won the Team Race Nationals – in fact, it was literally the only trophy in College Sailing that the program had never won. We won the Team Race Nationals that year for the first time in history in a winner take all final against a very talented St. Mary's team. Sharing that with the entire team who had become my family is one of the most profound joys of my life.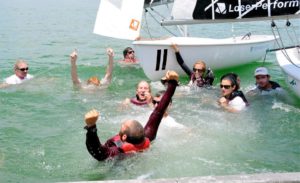 -After graduating, what did you do for work? 
I was extremely fortunate to land a job as the Sailing Director at the Indian Harbor Yacht Club in Greenwich, CT. It's a beautiful club with rich sailing history. I was also an Assistant Coach at Yale University where I was really lucky to coach one of the best all-around teams in College Sailing History. In my final year there, we won all three Spring Nationals!
-How did you end up working at North Sails? 
Greg Fisher became a very inspiring mentor for me in my last 2 years at the College. He was/is a North Sails legend. After graduating, I did some sailing with Greg and his wife Jo Ann in Lightnings and I also raced a Flying Scot where I got to know Brian Hayes (another North Sails legend). The two of them (who worked together for decades) gently nudged me for sure, but at the end of the day, the opportunity to go sailing full time was impossible to turn down!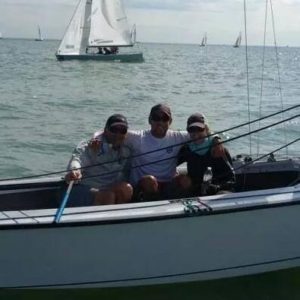 -How long have you worked at North Sails now? 
I've been with the North Sails One Design team for almost 6 years now.
-In your own words, tell us what is like to work at North Sails? 
Working for North Sails allows me to make a living doing what I love. But beyond that, it's an opportunity to work with and learn from the absolute greatest minds in the sport. Everyone from design to sales, to top-level management is a legend in their own right and we focus hard on being a cohesive team. The ability to develop technology, from the biggest superyachts in the world right down to Optimist dinghies is unparalleled and like any company, it's only as good as the people working there and North Sails has the best in the business. I have learned SO MUCH about sailing from my colleagues and mentors and I consider myself very lucky.
-What classes/fleets do you focus on for work? 
I'm part of the One Design group so most of my focus is on small keelboats. These days I'm most active in J70's, J22's, J24's, Vipers, and Flying Scots. I also do some Lightning sailing and even some J111's.
-What kind of sailing have you been doing the past few years? 
In the last few years, I have taken a small step away from helming and focused more as a Tactician. I'm extremely lucky to get to be a part of some fantastic teams where it's easy for the tactician to look good! I would say most of my sailing has been in the J70 class as a tactician/main trimmer. It's one of the most competitive classes in the world and it's been a fun challenge. It's really fun to drive the team and have a lot of control over the speed, starting, and decision making  – without the tiller in my hand. It's an immense challenge but one that is really rewarding and fun. My dad and I own a Flying Scot together and we try to race it as much as possible. It's cool to balance out the high budget pro sailing scene in the J70s with a grassroots, family-oriented class like the Flying Scot. That class has a rich history with a lot going for it and we absolutely LOVE being a part of it. I also try to steer the J22 with my wife Emmy crewing for me as much as possible. We've got a great fleet here in Annapolis and we love sailing together.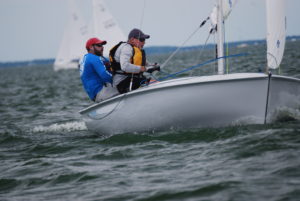 -What are some short and long terms goals you would like to accomplish for your sailing? 
One of my colleagues at North is often quoted as saying, "how do you spell fun?…. W – I – N."  I think the greatest sailors in history are measured by World Championship wins. So my big picture goal is to put myself in a position to win as many Championships as possible. With that said, it's not lost on me that this is supposed to be fun. I believe that winning is so much sweeter when you're doing it with people you care about. Every major event I've ever won has been done with a team that I consider as family. I try to keep that in mind and make sure that everyone on the team shares that attitude. I believe strongly that results improve as the fun factor increases. We participate in a sport where there are far more factors out of our control than in our control so keeping it light and fun is the only way in my book. In the next couple of years, I've got my sights set on competing in World Championships in the J70, J24, and J22. My dad and I are also chasing down some legends of the sport in the Flying Scot class!!
-What would you say are some post-college sailing highlights for you? 
2018 was a big year. We won the Flying Scot North Americans, Flying Scot Midwinters, Viper Winter Series, Annapolis NOOD, Soiland Trophy Team Race, and the J22 Worlds. I was runner up for the Rolex Yachtsman of the Year. We also won the first-ever Viper World Championship back in 2016 in Bermuda. Winning the Lightning North Americans with Greg and Jo Ann Fisher was definitely a highlight as well as the 3 Flying Scot North Americans with my dad. But it's definitely hard to beat that 2018 J22 Worlds in my hometown of Annapolis sailing with my wife, Emmy, Jo Ann Fisher, and one of my oldest and best sailing friends, Jackson Benvenutti. I've been very fortunate for sure.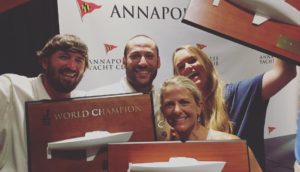 -What are some tips you can give to the average racer who's trying to improve their results? (In addition to buying fast sails from you at North ?) 
By 2 sets of fast North Sails from me 😉
I think that any successful racer will tell you that boat speed is far and away the most important thing. Being fast allows you to be conservative in the starting area as well as in your tactical decisions. If you can be fast and stay out of trouble, you'll have a shot at winning. So spend your time figuring out how to get faster! Ask lots of questions and take good notes. Take time to learn about sail shape and tuning so you can start to assess your set-up and make improvements. Don't be shy about asking your fleet experts for help or even to go sailing with you. A lot of boat speed comes from developing feel and that only comes from time on the water. So go sailing! Lastly, understand that this is a complicated and dynamic game and that you can only do so much. Rely on your teammates and trust that they're doing their job. If you focus on your job, theirs will be easier and the whole team will find more success. Don't forget to have fun!
You can get connected with Zeke by clicking this North Sails link. https://www.northsails.com/sailing/en/experts/zeke-horowitz