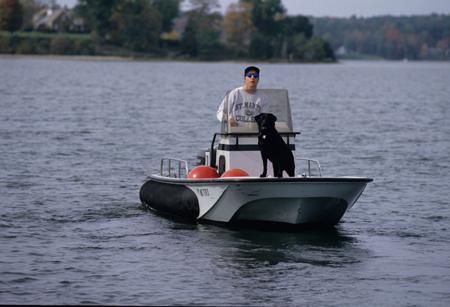 Adam Werblow will be entering his 28th season as the head coach of the St. Mary's sailing teams during the 2015-16 season. During his tenure, the team has amassed 15 national titles, while Seahawk sailors have earned over 150 individual All-America honors.
A 1988 graduate of Connecticut College, Werblow was the captain of the sailing team. From 1989-1992, he was a member of the U.S. Sailing Team in the Flying Dutchman class.
Werblow has been the head coach for U.S. Youth Worlds Team eight times and led the team to two gold and two silver medals in 1991, the best record ever at those world championships. In 1999, he was named the Developmental Coach of the Year by the U.S. Sailing's Olympic Sailing Committee.
Werblow is married to Amy Moore and the couple resides in St. Mary's City with their two children, Meredith and Michael, and their labrador, Fluke.
What, in your opinion, is the very best thing about our sport?
At the most basic level I love the sea and playing in the wind.  Beyond that, as a competitive beast, I enjoy the competition itself and sailing against people who have the same passion for the sea and quest for excellence.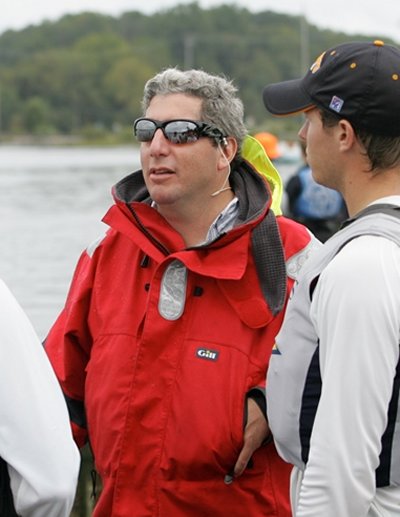 England "Knights" people. Elton John, Paul McCartney, and of course Ben Ainslie (I mean, Sir Ben Ainslie). If you could "Knight" 3 American sailors, who would they be? 
Carl Buchan
Paul Foerester
Jonathan McKee
Are pro sailors ruining, or saving, One-Design sailing in fleets like the J/70, Etchells, etc?
Racing against the very best people is fun.  The fact that there are people in our sport in a variety of classes who dedicate themselves to elite performance is terrific. But the manner in which "professionals" has developed in our sport has forced me to ask the question. . . "What if Jerry Jones wanted to be the quarterback of the Dallas Cowboys instead of just the owner and general manager?"  The obvious answer would be that could never happen because the product on the field would be significantly diminished.  Why, therefore, is it ok in competitive sailing for the least talented and experienced person on the boat to be on the helm?
What is your absolute top, favorite, one-design class?
I spent a lot of time racing an FD (Flying Dutchman) and really thought the boat was a performance machine upwind.  Learning how to foil is clearly the next calling.
Many people, including players, say that Pro Football will be gone in 25 years. Where will college sailing be in 25 years?
The best thing about College Sailing are the college sailors.  Sailors traditionally have a strong belief in the value of education–intellectual curiosity is inherently valuable to success in our sport.  The founders of College Sailing wisely recognized the value of higher education yet wanted people to enjoy competing at the highest levels of our sport while they attended college.  Our short course format and passion for team racing has made for an intense game that is fun for all involved.  In recent years, college sailing has become better funded, more competitive and yet, the essential core mission remains the same–study first and sail next.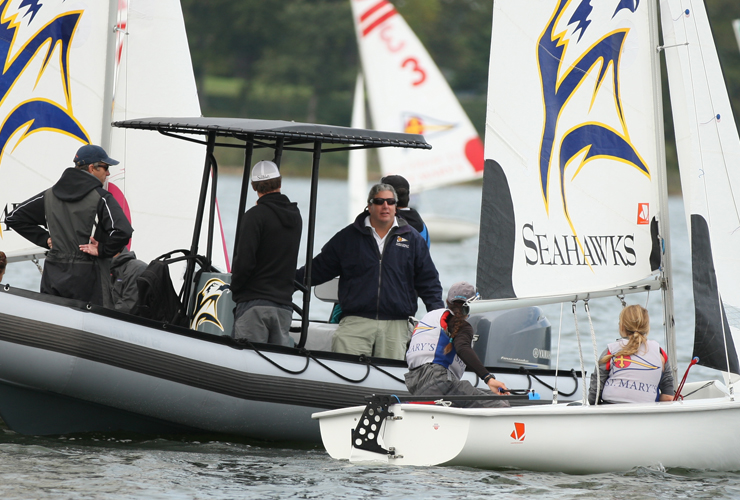 The America's Cup is in AC foiling Cats. Good thing, or bad thing? If bad, what should this event be sailed in?
There are a lot of intelligent, passionate people who work hard to promote and sail for the Cup.  I do not feel qualified to answer that question.
Should the sport of sailing continue to try to get on TV? Why or why not?
I think given new technologies with tracking and drones, when edited, sailing can have some broader appeal.  Additionally, there are about a million channels for every niche out there–why not sailing?
US Optimist Class: Great for the sport, or too much, too soon?
My children are about to enter the Opti circuit so give me a few years before I can give an educated answer.  I learned to sail on a terrible boat that was really hard to keep out of irons–the Dyer Dhow.  I am hopeful the Opti will be a better performer and my children will fall in love with our sport.
ON COLLEGE SAILING
On a scale of 1-10, how would you rate the competency, professionalism, and the overall state of US Sailing Umpires and Judges? Why?
I am very pleased with the caliber of the umpires we get in at our top level team races in MAISA.  We have a committed group of people who love the game of team racing and commit thousands of hours to help make the game fair.  I believe we are lucky to have them and don't thank them enough.
Overall, what is the weakest thing about college sailing? In other words, where, or in what realm, can the ICSA improve the most?
I would like to see College Sailing re-align the seven conferences to make for more efficient travel.  We are too tied to the traditional regions and should instead look at where the specific colleges and universities are located and make leagues based off that data.
ON COACHING
As a coach, how do you fit in your own personal sailing? If your answer is "I don't", then do you miss competing, or does it not bother you?
It is a tricky thing. . .  I spend most of my time helping others to be prepared to race.  I have not, therefore, found it terribly much fun to go race completely unprepared.  I am, however, looking forward to sharing sailing with my family this summer.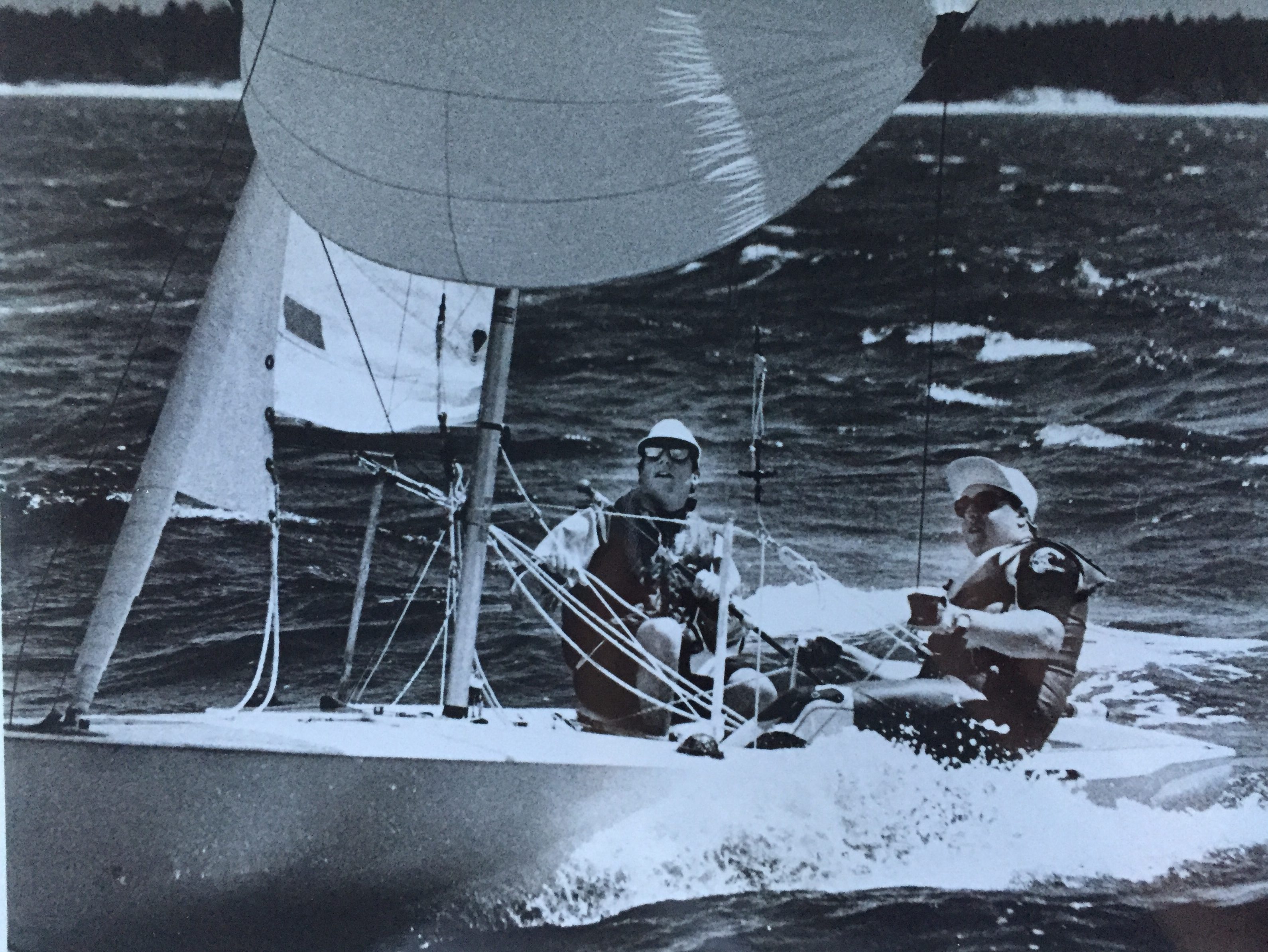 College sailing is a sport where women can compete with men, on equal footing. This is rare. Does this affect how you coach?
We try to help each sailor to push themselves to new heights–skipper, crew, male, female.  Whatever the skills of the individual, we hope to help them to turn their weaknesses into strengths and their strengths into weapons.  The only real difference for us is that some members of the team can compete in women's only events and some can't.
What problems, if any, can this create on a team?
Because women have the opportunity to compete on two different circuits (women's and coed); sometimes it is difficult to give outstanding sailors who are women enough time off.
What positives, if any, can this create on a team?
People are recognized for their skill.
PERSONAL STUFF
Do you remember the very first time you went sailing? If so, tell us about it.
I was fortunate enough that my father taught me how to sail and together my parents provided the amazing opportunity for me to grow up sailing with my friends at Larchmont YC (Long Island Sound).  People with whom I am still exceptionally close today.
Why have you been with St. Mary's for as long as you have?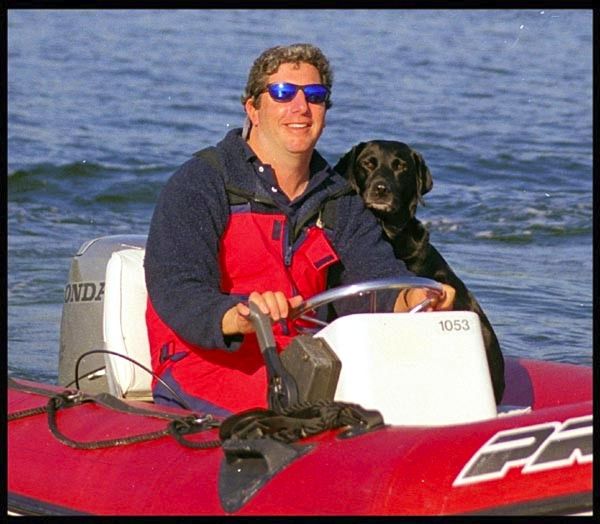 In short, I love it!  If I were to win the lottery tomorrow, I would be back with the Seahawks the next day (ok–maybe there would be a wild bender first, but I'd be back within days).  I believe in small class sizes and an enriching environment for students to explore their intellectual selves.  As The Public Honors College for the State of MD, St. Mary's is set in an idyllic setting on the water. In this manner, St. Mary's provides an academic utopia for motivated athletes that is really unique.  The Chesapeake has beautiful long fall and spring seasons making it ideal place to train for College Sailing.  Our central location amongst the most prestigious hosting venues means that the major national regattas are often in our backyard.
Based on your experience in the sailing industry, what advice might you give to those seeking a similar career path?
I believe College Sailing was the best game in the world.  For those who want to help student-athletes achieve, it is the greatest job in the world.