Editors Note- As part of our mission to support the sailing community, Sail1Design is pleased to unveil our new series, Profiles in Pro Sailing. This series is designed to give our community thoughts, ideas, tips, and reflections on how some of the best in the industry made it to where they are today. We hope these articles are informative, and maybe even inspirational. As always, we invite comments and feedback.
By Airwaves writer Tyler Colvin
I race sailboats for a living.  There isn't a single sailor who hasn't dreamt of uttering these words at one point in his or her lifetime. For a small sport, there are an even smaller number who make a living solely from sailing regattas year round.  In the professional sailing conversation, names such as Ainslie (GBR), Coutts (NZL) and Spithill (AUS) come up.  Enter Andy Horton (USA).  Professional sailor.


Andy grew up in upstate Vermont and learned to sail on Lake Champlain and Lake George (NY).  Not exactly a hotbed for the next who's who of Olympic hopefuls, the Northeast often features water that is frozen almost as much as it is not.  "First time I ever dreamed about it was before I was 10 years old," recalls Horton, "(at that time) it was rare for people to just get paid to go sailing. I would read every article in Sailing World and just try to learn and absorb as much as I could from anyone I could.  It wasn't until I got to high school that the America's Cup was a place where people could really make a good living, but the path wasn't clear."
Horton attended Tabor Academy in Marion, Massachusetts and went on to Hobart College in the Finger Lakes region of New York State.  At Hobart, Horton was a three-time All-American, and the thoughts of making a living on the water started to form.  It was after graduation that he began his Olympic Soling campaign. "I lived out of the back of my car, sailed as much as possible and tried to meet as many people as possible." Said Horton.  " (It was) in college I started to think that maybe I could do this full time."
The year was 1999.  Freshly out of school with an Olympic Campaign underway, Horton was beginning to figure out the game.  "(In) 99/2000 we had 38 Farr 40s at Key West Race week, there were a ton of opportunities.  This was my dream and it was working." With the economy still strong, there were a glut of owners with a wad of cash and empty boats.  "I tried to learn as much as I could and tried to sail with as many people as I could.  In the beginning of your career, learning from them (is crucial)."


One of the people he met was none other than Ed Baird.  "I met Ed Baird and jumped on the World Match Racing Tour with him.  (In 2003 and 2004) We won back to back World Championships, did a lot of awesome sailing, and tried to absorb as much as I could."  In addition to his match racing, Horton also still had his Olympic campaign. However, with the discontinuation of the Soling class after the 2000 Olympics, his focus switched to the Star Class where he would podium numerous times, including a 1st at the Miami Olympic Classes Regatta in 2005 and a 2nd in 2006.
Around this time Horton was asked to try out for the Italian America's Cup team, Luna Rossa.  "My senior year of college I gave myself until age 30 to try and make (professional sailing) this work.  I was at my America's Cup tryout on my 30th birthday, having a beer in Spain saying, "We'll see."  Luna Rossa went on to lose the Challenger Series that cycle to Emirates Team New Zealand, but this wasn't the end of the road for Horton.


Fast forward to 2015.  Based out of Vermont with a family, Horton continues to sail at a high level.  At events, his day starts before sunrise and ends well after dark, getting weather forecasts, regatta information, racing, boat work, and debriefing the crew.  When not competing all over the world, he spends his time at home getting caught up on emails, setting up team travel and staying in shape.  Recently he has forayed into the world of foiling Moths.  He had just gotten back from Moth Worlds when this interview was conducted and the excitement was palpable through the phone.
TC: What is your favorite class and why?
AH: Moths.  Just got back from Moth Worlds.  I sailed one for the first time a year ago, and with other people for the first time about two weeks ago.  It was the coolest experience I've had in 20 years of sailing.  I've sailed a lot of cool boats and this was by far the coolest."
Even professional sailors still get giddy.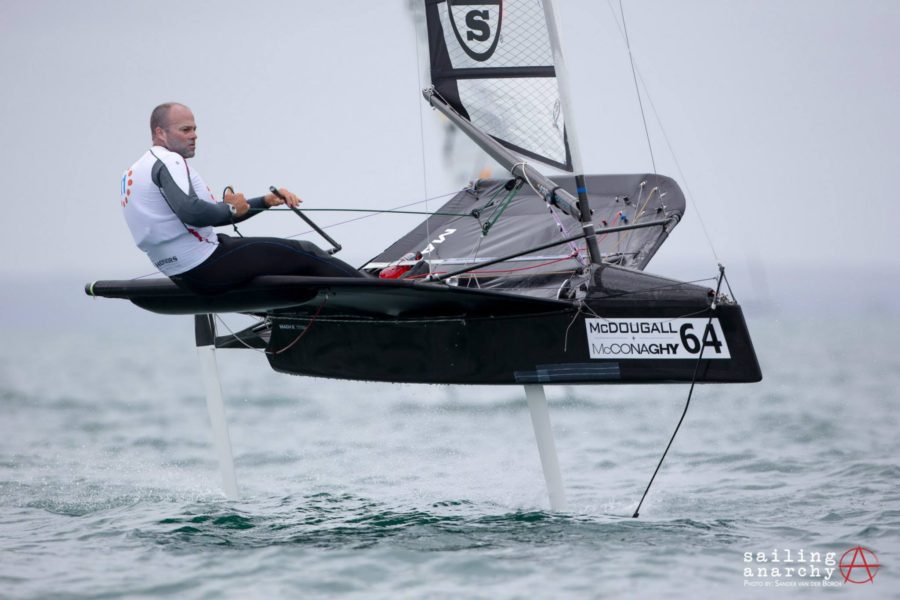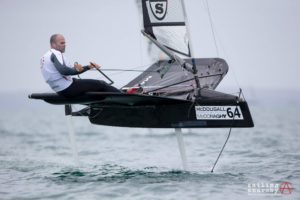 Despite all the successes, Horton doesn't hesitate to downplay his role in the programs he has been involved with. "Its amazing thing and I'm lucky to be able to do what I do and meet all these different people.  It is amazing to see how people from different walks of life approach the same age old problem, how do we make the boat go fast.  It puts a smile on my face when I can think of all the people I've had the privilege to meet and sail with."  It is this approach that has gotten him to where he is today and when asked about it, his top two suggestions were along the same lines.
Number 1, be humble.  No one likes to work with people who aren't.  You would be surprised at how many of these relationships you revisit year after year. 
Number 2, do any job, do every job, and do it well.  Move every sail and sponge every bilge.  Never let anyone work harder than you work.  Be open minded.


From FJs to AC72s, the dream of a 10-year-old Vermonter is being played out almost 30 years later around the world.  It is not without challenges though.  "The most challenging part has been being an "independent contractor".  You don't know where the money will come from next.  When you're young, keeping expenses and overhead to a minimum makes it possible."  In addition he adds, "Time management is another stumbling block…knowing where to go, what to do, and who to turn down.  Picking what direction to go can be the most difficult.  Getting to know the community is pretty important if you want to make it in the industry."
It is no lack of hard work, humility and the drive to live his dream that allows Andy Horton to say, "I race sailboats for a living."