Written by Chris Klevan
Sailors are artists. They have a vision towards which they spend thousands of hours refining their craft. Though sailing is an extremely demanding sport physically, it is equally strenuous mentally. How sailors operate on a day to day basis is as influential to how they operate when something as big as an Olympic dream is on the line. You can learn a lot from these small moments. This interview series is a window into minds of the best sailors today, how they work, what makes them tick, what about them, as people, has turned them into the sailor they are today.
It has been quite a year for Erika Reineke. She was named the Quantum Women's Sailor of the Year, the Intercollegiate Sailing Association's award for the best woman's sailor in May of 2017. A couple of months later, she was named the Rolex Yachtswoman of the Year. She was the Noshima Olympic Week Champion. Many see her as the favorite to represent the United States in Tokyo in the Laser Radial, where she will be a legitimate contender to medal. However, Erika will tell you that her mission is to, simply, be the best she can be everyday, inspire those around her and enjoy the experience along the way. Her love of the game is truly inspiring and after watching her sail in the college game for four years at Boston College, it is hard to doubt she isn't up to the challenge.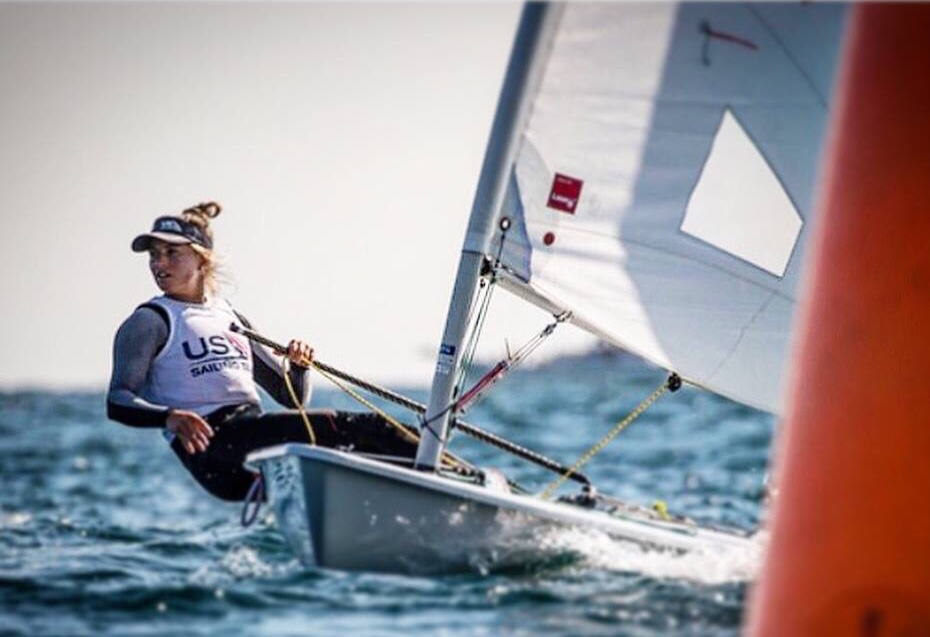 You can find more information on Erika's Olympic Campaign at http://www.erikareineke.com/.
Hey Erika! How's it going? Thanks for taking the time to talk. How's Spain?
Hey Chris! Palma is beautiful right now. My training partner from Canada, Sarah Douglas, and I are here for enjoying some winter training before the Princess Sofía Event starts up in April. We had a few glamour days at the start of the camp with sun and warmer weather but yesterday was a bit of a shock. There was no sun, it was pouring down rain, and the air was so cold that we didn't take our jackets off the entire practice. Even the girls from Finland, Sweden, and Great Britain were chilled to the bone. With icicles forming at my finger-tips, I was still so excited to be out there training with my competitors, all of us trying to out work each other. Nothing is better than that.
 Question: What's the first thing you think about when you wake up in the morning?
Answer: Well, mornings are my favorite! Big time morning person. The first thing I think about is getting my hands on a cup of coffee and some Crispix cereal. After I satisfy my stomach, I put my speakers on to get ready for the first gym session of the day.
Q: Do you like sushi?
A: Sushi is definitely one of my absolute favorite foods. Anything with avocado and salmon is high up on my list.
Q: What has been the most rewarding part of your experience? 
A: The most rewarding part through this whole experience is that I feel like I am finding myself and who I really am while I am pursuing my Olympic dream. There are so many sacrifices, setbacks, heartbreaks, doubts, and fears that run through an athlete's mind that you are able to really to get know who you are through it all. You learn what makes you tick, what excites you beyond measure, and how you are able to bounce back after a loss. I feel extremely blessed to be able to find out who I am through this experience.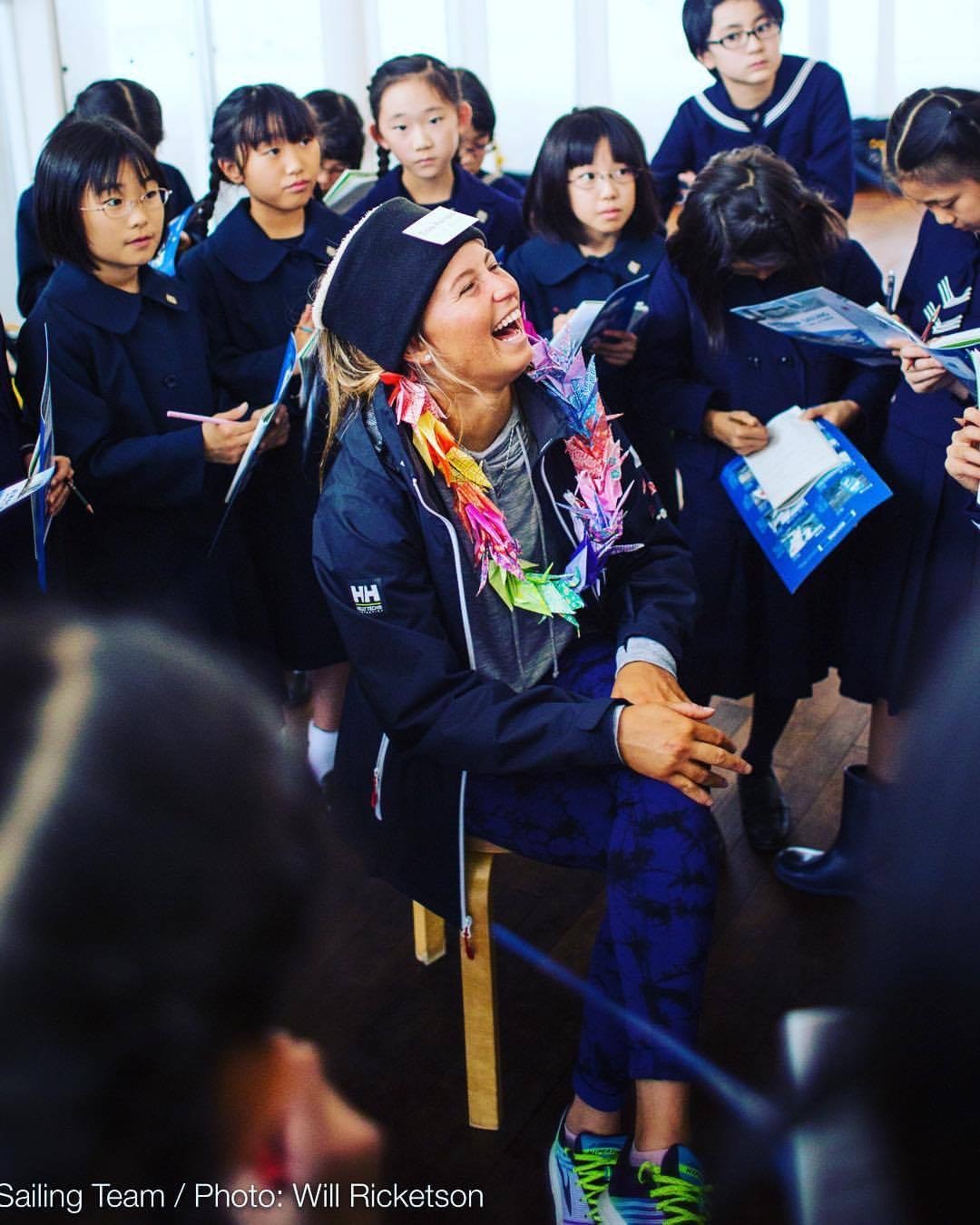 Q: You just were honored as the Rolex Women's Sailor of the Year. What does that mean to you?
A: Honestly, it is an award that I never quite thought I could achieve. Just the other day I was looking at the past recipients and I couldn't believe that my name was going to be added to a list containing some of the most outstanding women in sailing's history. Though I am being recognized for the award, there are so many people that helped me to achieve it. There is nothing like winning an award with a team of people behind you. What seems like a solo victory actually extends out further than you can even imagine. I view this honor as a team victory for the Boston College Eagles and College Sailing who have pushed me to be my absolute best, the US Sailing Team and Staff who have supported my endeavors , and my friends and family who have stood by me through all the hardships that come with having an Olympic dream..
Q: What's your earliest memory sailing? What has been your hardest moment, is there anything about campaigning that your currently struggling with?
A: My earliest sailing memory is going to the ocean for the first time and being absolutely terrified. I thought a shark was going to eat me. Now that I am older, my fears have moved on from sharks and towards the possibility of not achieving the goals I set for myself. I think that whether you are an athlete or not, everyone has this fear and the reason why it is so scary is because you are putting everything you have into it what you believe is you purpose in life. There's a chance you might come out with a medal or victory but there's also a chance you might have nothing at the end. Losing the 2016 Olympic Trials was a tough moment in my life. I didn't know what to do with myself in the next few months. Everything I had worked for the last seven years dissipated in two events. The next hardest moment was the 2017 Laser Radial Worlds in Arrhus. I didn't perform or feel like myself the entire regatta. Doubt settled in and I wondered if I had what it takes to be an Olympic Champion. On my 2020 campaign I am learning that there are going to be highs and lows. However, it is the athletes that can remain objective when it seems like the world is caving in around you that come out on top at the end.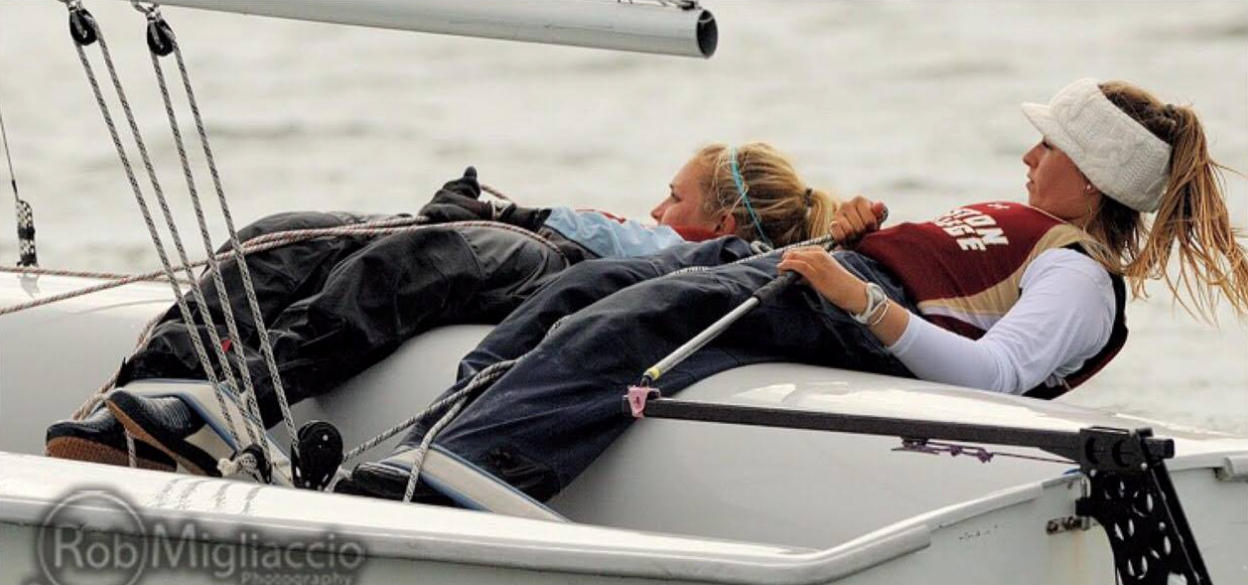 Q: Talk to me about how you got into sailing growing up. 
A: My parents, who do not sail at all, signed me up one day at our local club, Lauderdale yacht Club. While they were enjoying cold beverages at the patio bar on the weekends, I was out in the ocean crying begging the coaches to take me in.
Q: You've done some pro sailing, won the Melges 32 Worlds in Newport in 2016… How did that experience add to what you;re doing now?
A: The Melges 32 Team, Volpe, brought hope and light back into my life. I had been asked to join their team after the 2016 Olympic Trials. After such a devastating loss, the last thing I wanted to do was be anywhere near a boat so I was a bit hesitant to join their program. However, it was one of the best experiences of my life and it helped me find my way again. That summer I fell in love with sailing all over again and I will be forever grateful to the DeVos family for giving me that experience and my Volpe teammates for showing me what it means to give your life to the sport of sailing.
Q: What does it mean to you to represent your country?
A: It's an honor and a privilege that comes with sacrifice and responsibility. Waking up in the morning and putting on my red, white, and blue gear with USA engraved across my back and on my heart is a surreal feeling. Everything you do is a reflection of your country and your responsibility is to make your country proud.
Q: Do you have any rituals when you sail?
A: I love listening to music before I go out. Having a song stuck in my head while I'm sailing makes being alone in a boat WAY better.
Q: How do you think your experience at Boston College and College Sailing, in general, helped you? How might it have hurt?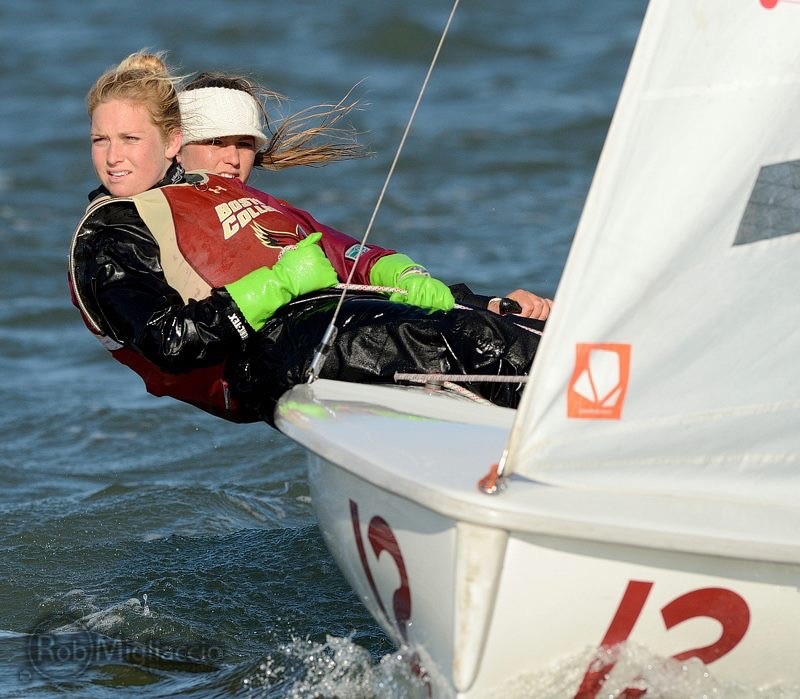 A: College sailing showed me what it meant to be part of a team and put others above yourself. It has also helped me in tactical situations while racing on the Olympic circuit. I feel like I am extremely confident about where to put my boat when other competitors are near. It might have hurt me because some of my international competitors that I raced against in high school went straight into training full-time for the Olympics after graduation. They were able to get a leg up on me while I was pursing my college sailing goals simply because they put more time in in the boat. Overall though, if I could go back, I would have done it all the exact same way.
Q: You took a year off from Boston College, describe to me the thought process there.
A: This was never in the plan. I had performed extremely well during the summer of 2014 and the US Sailing staff believed that I had a shot at the 2016 Games and wanted me to take a year off to commit full-time. My initial response was, "No way." I wanted to continue to sail with team and earn my degree in four years like I had set out to do. However, coach Greg Wilkinson and I looked at the bigger picture. The Olympics had been my dream since I was 12. If there was a chance I could make it, I was going to go all in.
Q: What was your high school experience like at St. Thomas Aquinas?
A: Overall, I hated high school. Everyday I'd be sitting in class staring out the window wondering about what it was like out in the ocean at that moment.
Q: What are you thinking when the boat is going well? When it's going slow? (or does it never go slow anymore?) What's your thought process after a beat with a net loss in boats/ after a bad start?
A: When the boat is going well, I'm usually singing in my head or thinking, "this is sweet!" When the boat doesn't feel right, I start making adjustments immediately until I feel on pace. The biggest thing for me is to trust myself when something doesn't feel right and not to make excuses like, "It was just a bad race or there was a wind shift." After a setback, I hit the reset button and act as if the race had just started. Sometimes I make a goal for myself like, "okay, I am going to try to get up to boat 'x'." After I set the goal, I get in the zone and usually when I check back in later in the race, I have surpassed boat 'x' by a ton.
Q: What advice would you give a 13 year old with lofty sailing goals?
A: Have fun, smile, and remember how lucky you are to be able to such an beautiful and incredible sport.
Q: What would it means to represent America in the 2020 Olympics?

A: It would be a dream come true.
Q: I just finished watching the movie Creed, I'm so fired up right now. What motivates you?
A: I love watching movies or videos of athletes leaving everything out on the track. I feel a connection with them. Even though they aren't next to me in the flesh, watching them comforts me because it is like seeing someone else who is going through everything I am. I feel like I am looking into a mirror image of myself. I highly recommend the movie Art of Flight. It show the excitement, hardship and beauty of sports with little words; images and possibilities flood the screen.
Q: It seems to me like you always have one of the best attitudes on the racecourse, why is that? Can you think of a time where you've had an advantage due to this?
A: I am definitely far from perfect but I do try my best to stay positive out there when things may not be going my way. I think what I have learned is to put things in perspective. I am in a sport where I get to be on the water every single day and most of the venues I sail in are absolutely beautiful. It's really easy to get caught up in all the pressures and expectations but whenever I take a step back and admire where I am at and how lucky I am to be able to do what I do, it clears my mind and allows me to stay positive and chip away at races.
Q: How would you describe your workspace?
A: My room at home doesn't have a desk so I rely on Starbucks' coffee, tables, and jazz music to help me hammer out my work. If you are also inquiring about the cleanliness…I am annoyingly organized. I LOVE highlighting and tabs and notebooks and sticky notes. My view on the whole thing is that no one likes work so why not make it a little more fun with some fun colors? Office Depot has got to be one of my favorite stores.
Q: If you could spend time with a person, living or dead, who would it be?
A: Tom Brady.
Q: What do you like to do when you're not sailing?
A: So many activities! I love skurfing, going to the beach, hiking, paddle boarding, swimming, snorkeling, walking my dogs, trying new restaurants, participating in my city's local events like 5ks or sprint triathlons, learning a new song on the piano, and hanging out with friends and laughing about nothing.
Q: What advice would you give yourself 10 years ago?
A: I'd tell myself to play some Bob Marley and remember everything is going to be alright.
Q: What would you say is the Culture of your campaign?
A: My campaign is called the Amerikan Dream Campaign. I chose this title because I believe that investing your life in something you want to pursue is what the American Dream is all about. I want my journey to inspire others to take on their dreams.
Q: What's your sailing philosophy?
A: Remember to smile.
Q: What inspires you?
A: My dad inspires me the most. He goes through so many battles every day at work. Sometimes he gets a victory and sometimes a loss, but he always keeps the big picture in mind and never gives up. Even on a day that he lost, he always able to smile at the end of the day.
Q: Do any books/ movies have an impact on your sailing?
A: Movies would include Art of Flight, Whiplash, Chasing Mavericks, and the 2017 CrossFit Games Documentary.
Q: How long can you do this?
A: That's the great thing about sailing, you can do this sport forever. I am not sure what my path is after my 2020 Olympic Campaign. I just plan on living in the moment right now and seeing what happens down the road.
You can find more information on Erika's Olympic Campaign at http://www.erikareineke.com/.