Sail1Design Interview with URI Coach Skip Whyte, by Airwaves Senior Writer Taylor Penwell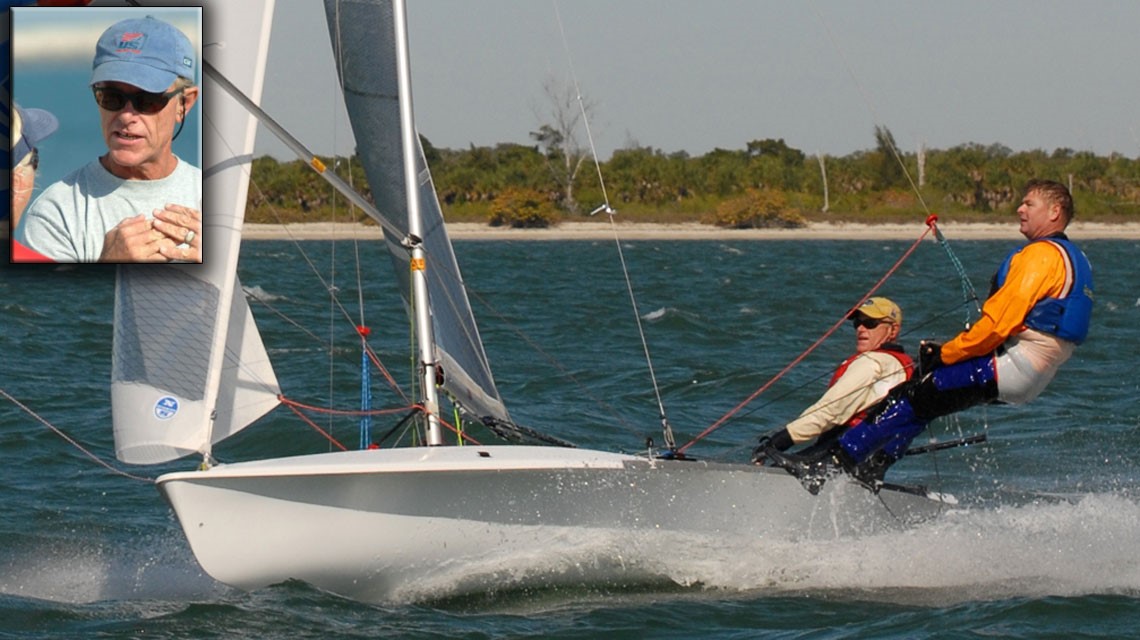 Skip Whyte Bio
Whyte has a long résumé of college coaching experience. The Wickford, R.I., resident served as the head sailing coach at Boston University twice (from 1976 until 1985, and again in 1992 until 1995), leading the team, which was slated to be dropped, to six national titles and numerous regional championships, as well as improving the co-ed and women's team rankings to "top 10" and "top five" positions. In addition, from 1989 to 1992, Whyte served as both head sailing coach and assistant sailing master at the Massachusetts Institute of Technology, directing all freshman and varsity activities as well as teaching physical education classes each semester to 120 novice sailors.
Whyte also spent 17 years as an Olympic sailing coach for the United States Olympic Yachting Committee. During that time, he coached the U.S. sailing teams to five Olympic medal performances, including gold in 2004. From 1975 to 1989, Whyte served as vice president and general manager of Can Am Sailcraft, Inc., a sailboard and sailboat dealership out of Cambridge, Mass. Most recently, he coached and consulted as the sole proprietor for 1st Place Sailing, working with various clients including Olympic aspirants, collegiate sailing teams, and semi-professional sport boats.
Where did you grow up Skip?
I grew up in Wickford, Rhode Island. I moved back here about 13 years ago after spending about 25 years in the Boston area and another

10 in the East Bay area of Rhode Island.
How did you first get into the sport of sailing?
My dad has sailed for his entire life. I first sailed in his Star boat when I was about 4. I remember taking my nap under the aft deck.
What type of boats did you learn to sail on and first compete in?
I was a passenger for my early years, first on a cruising boat and later on dad's Ensign. In middle school I started frostbite sailing in Wickford competing against adults.
What drew you to competitive racing?
It was always around me and dad set a great example. Unfortunately, there was no junior program available at that time, so I never had any lessons.
Where did you sail in college?
I sailed at URI from 1967-71.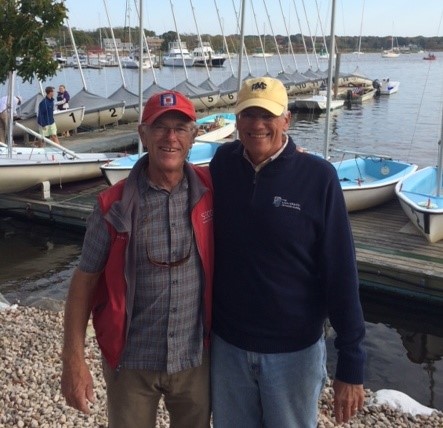 Tell us about some of your college sailing career highlights?
We had a great team in my last two years, winning the New England Championships both years and finishing 3rd in the Nationals in my senior year (I won A Division at the Nationals). We also won the Danmark both years and won the Schell, McMillan, White (sloops champs), and BDC in my senior year.
After college what did you do?
I started teaching chemistry and physics, bought a Laser, and waited for the announcement of the new 2 person dinghy event to be announced after the 1972 Olympics. I bought my first 470 the day the announcement was made and began my first Olympic effort.
When and where did you start coaching sailing?
My first experience was a tiny, self-organized part time summer program in Wickford in my sophomore year at URI. The next year I became the head instructor at Black Rock Yacht Club in Bridgeport, CT. I was there for two summers, then became head instructor at Seawanhaka Corinthian in Oyster Bay, New York in 1972. After the 1976 Olympic Trials where I finished second I was persuaded to "help out" BU by Hatch Brown, a BU grad and the coach at MIT. It was a very part time thing at first, but it gradually consumed more and more of my time despite the fact that I was running my own business at the time.
You had a very accomplished record with Boston University, leading them to six national championships. What factors do you attribute this success to?
The biggest factor was talent. I was very lucky to have 4 or 5 very talented, but inexperienced sailors magically show up in the first years. I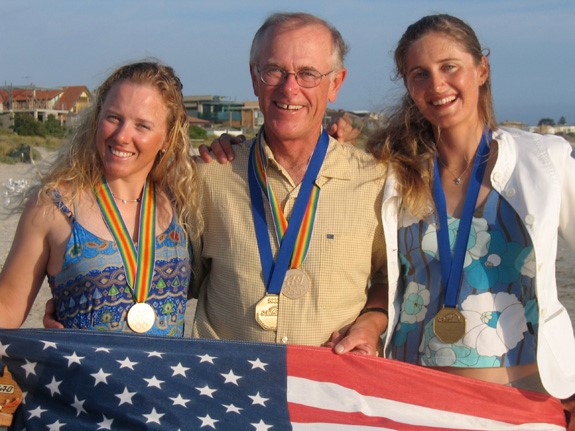 was very part time in those years, so recruiting didn't really happen. I have always stressed boat handling and good decision making in my coaching. I guess we did OK.
What are some of the most important characteristics you look for in sailors?
Talent and desire are essential qualities.
Tell us about your experiences with coaching US Olympic sailors to podium finishes.
When you get to the Olympics everyone is super talented and highly motivated, but getting there is a long climb spanning many years.
When you spend years with people going to many international competitions and training camps you develop an intimate understanding of their strengths and also of their challenges, and everyone has them. I find that everyone prefers to work on what they are good at while avoiding the things that hold them back. I found that overcoming weaknesses while simultaneously fostering confidence was the most challenging aspect of Olympic coaching. Every individual had to be approached in a unique and personal way. I found that to be both challenging and extremely rewarding.
You coach competitive racers in college but you also oversee the beginner and intermediate sailing classes at the universities. What things do you enjoy about getting these new sailors into the sport?
I don't have those responsibilities at URI, but did when I was at MIT in the early 90s. It was an interesting challenge that made me focus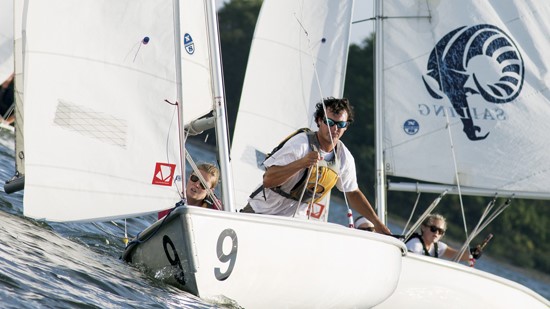 on the basics of the basics. I realized that learning to cross the boat correctly was difficult for many and frightening for some. I found that all sailors could improve by further refining their basic moves and eliminating some of the bad habits that they developed along the way.
These days I still do a lot of coaching with elite level juniors in 420s. I really enjoy working with them because they are in a position to learn a great deal in a short period of time.
When did you start coaching at University of Rhode Island?
Fall of 2013.
What is your process for recruiting new sailors?
Most sailors recruit themselves, but I get to meet lots of junior sailors at clinics and 420 events. Interested sailors come for visits and have an opportunity to meet the team. Then there is email follow up. In the end the goal is for the sailor to find the school that is the best fit. URI is a great choice.
Where do you see the URI program in the coming years?
We have come a long way in the four plus years that I have been at URI with a new fleet of FJs, a small fleet of 420s coming in a few weeks and the team has become much more dedicated. We have nearly 50 on the team now with a fairly wide range of experience. We typically compete in 3-5 events every week which provides opportunity for sailors at all levels to improve.
So far, we have built the team by developing relatively inexperienced sailors. We hope to attract a few of the more experienced juniors coming into college sailing and I'm confident that we can compete and succeed at all levels.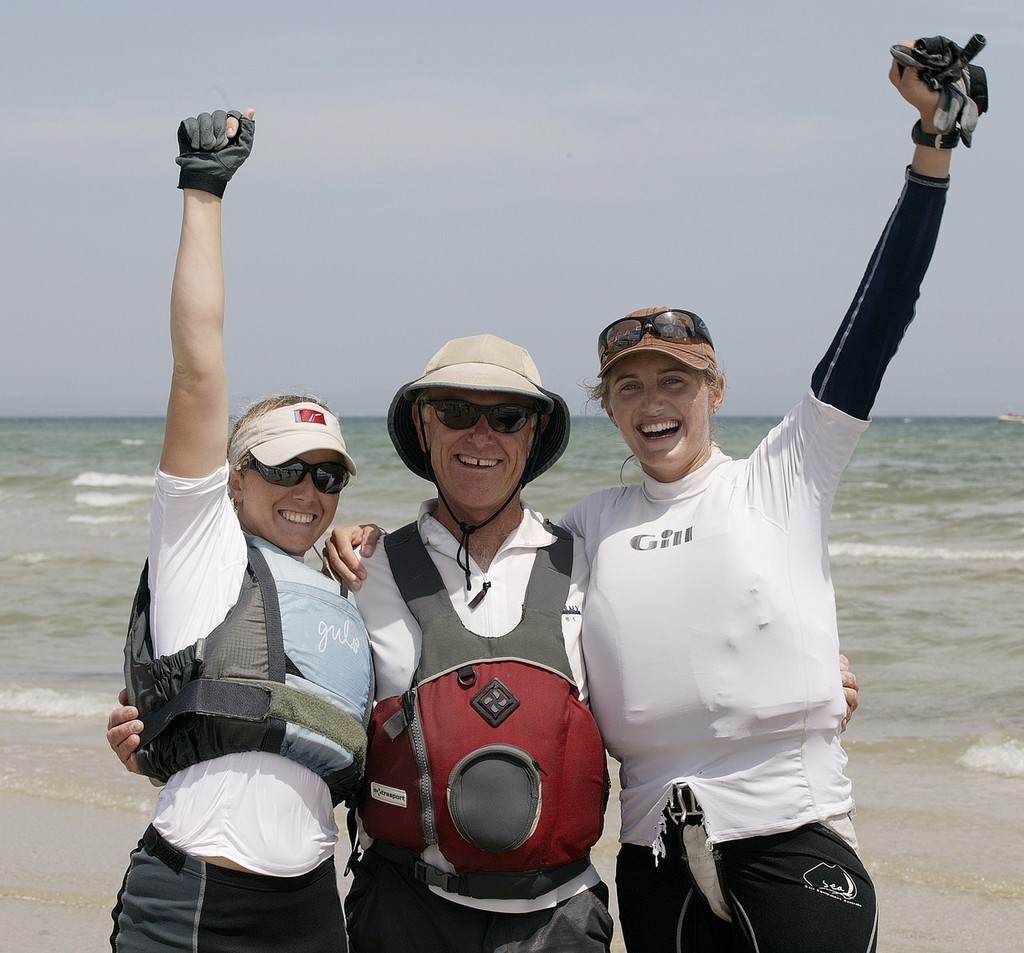 What classes of racing do you enjoy competing in?
I bought an F-18 catamaran when I turned 65. It is a pretty challenging boat for an old guy with no cat experience, but I've found my way to the podium. Going fast is fun!
What keeps you coaching after all these years?
I love being around young people and sharing discoveries with them both on and off the water. People change a lot during their college years. The experience of being on a team and striving to achieve big goals shapes everyone. It is both a responsibility and a pleasure to share that experience with the team members.
When you are not coaching or sailing, what other things do you enjoy doing?
I'm a pretty serious mountain bike rider. I ride with a great group all year round. Coaching still consumes most of the time, so there isn't much room for anything else.