1) Chasing the 1st place boat – You see it in every regatta; one teammate fighting to catch the first place boat when the play is behind them. If you aren't in first place, you are either losing or going for a play 2. If you are going for play 2, the other team should have first place – don't sweat it! A lot of the time that first place boat will panic, over commit, and lose the 1 anyway. You can always convert to a play 1 when the time is right, and your teammates are ready. Bottom line – be aware that the play is often behind you, so don't focus on catching the 1.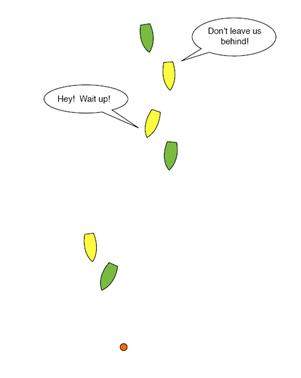 Diagrams by Martha Pitt
2) Ducking a teammate – If you cross behind or 'duck' a teammate who is covering an opponent, you expose yourself to be able to be covered by the opponent, which makes your teammate's job much harder. Instead of sailing your way to victory, your teammate has to complete a passback in order to get you back in the game! Tack before the pair and lee-bow your teammate and the opponent. Bottom Line- Do not cross behind a pair of boats when an opponent can tack on you!
3) Over-killing an opponent – In team racing there are often times where you need to stop an opponent dead in their tracks to make sure your teammates have a winning combination. This is often referred to killing. One boat 'kills' another boat by ragging on them and pinning them not allowing them to tack into clear air. Knowing how to kill an opponent is a very important skill to have, but it is equally important to know when to stop! You see this particularly in a 2-3-4 combination where the 3rd or 4th place boat is trying to balance and goes too far making their pair the 5th and 6th place boats. Although being the 5th place boat in a 2-3-5 is not an emergency, it is not good to have an opponent in between teammates. Being in last or second to last makes the race much harder for your teammates. Bottom line – Know when to balance by ragging and pinning an opponent, but know when to keep the race moving towards the finish line.
4) Fouling by tacking at the windward mark – On a digital N course, the windward mark has to be left to starboard. This presents some interesting rules situations, most notably that rule 18, mark room, does not apply to boats on opposite tacks. In order to round the windward mark coming from the starboard tack layline, you need to tack. Once your tack is complete, you go from a right-of-way boat to a give-way-boat regardless of if you had mark room or not. Often people forget that when you are on opposite tacks, you are in a simple starboard port situation regardless of proximity to the mark. Bottom line – When you go to tack make sure that a starboard tack opponent cannot reach your boat because you will have to spin!
5) Not clearing-out opponents at the leeward mark – A traffic jam at the leeward mark can make any winning play unstable and scrambled. Often times, if a team is losing the race, but has the 1st place boat, that boat will set a mark trap at the leeward mark. The first place boat can, and will, cause a lot of damage to a stable play 2 combination if they are not cleared out. Get the opponent to round the mark by sending one teammate, usually the first of a pair, around the outside of the opponent sailing fast, and breaking the overlap when needed. The other teammate should be inside the zone, but stopped ready to round when the opponent has rounded the mark or space has opened up to round. Bottom Line – Keep the race moving, and get the opponent to round the leeward mark before it gets congested.
Maggie Lumkes grew up outside of Chicago, Illinois sailing out of Chicago Yacht Club. Maggie graduated from St. Mary's College of Maryland in 2008. She sailed on the varsity dinghy team all four years of college and served as a team captain both her junior and senior year. In 2007, she won the Team Racing National Championship and in 2008 she was awarded All-American Crew honors. After college Maggie worked in public relations in San Francisco, and then became the Sailing Director at Chicago Yacht Club. In 2011 Maggie, her boyfriend Ted, and their dog Chessie sailed their Tartan 30 to the Bahamas for the winter. Today, you can find Maggie on Martha's Vineyard working as the new Waterfront Director at Sail Martha's Vineyard, a non-profit community sailing program.