In the past 5 years there has been an explosion of small high performance keelboats.  Going back to the J-70, Sailing World 2012 Boat of the Year, it was clear that there was a demand for a manageable, quick, one-design boat.  People wanted an update on the Mumm 30, an older class with a slowly declining ownership and an outdated design.  They may have gotten what they were looking for in not one, but two designs, Sailing World 2015 Boat of the Year Farr 280 and Sail Magazine Best Boat 2015 C&C 30.
Farr 280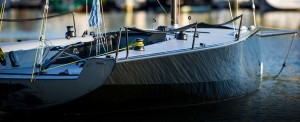 The brain child of the high performance Farr Yacht Design, the Farr 280 comes from a long lineage of successful one design classes like the Mumm 30 and Farr 40, both of which are still popular today.  Fat and flat, she has a wide-open cockpit and a flush mount deck in the grand-prix style.  Built in Dubai with an E-Glass/M-Foam core construction, she is light, quick and ready to race with an ISO-C designation for inshore buoy racing.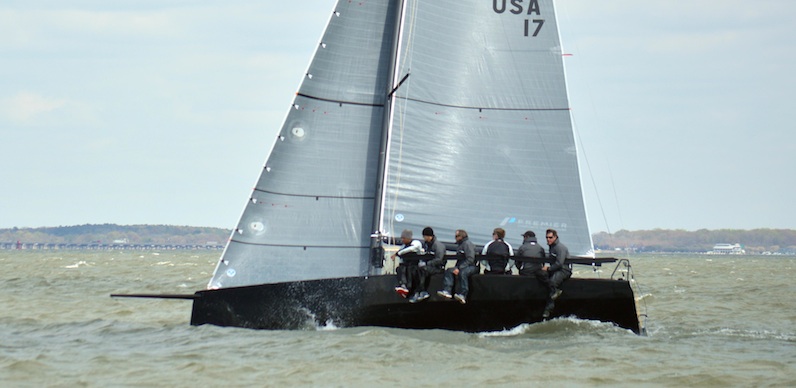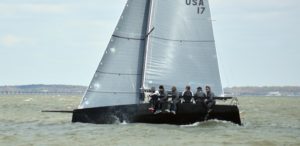 At 28'7" long, she has a 26' water line, a 9'5" beam, draws 6'11" and displaces 3600lbs.  To power this hull she has 550 square feet of sail with a 990 square foot asymmetrical spinnaker (flown off a fixed sprit) and a Lombardini 20-hp diesel sail drive.  The rig is adjusted hydraulically (headstay, mast butt), making it easy to see and feel the effect of tightening and loosening rig tension.  All the adjustments make light air sailing a pleasure, responsive and quick.   Built into the foredeck is a spinnaker sock making retrieving that massive kite quick and easy.  Hull design features high freeboard and a high chine that flares out into a rounded transom, getting the corners out of the water in light air and providing stability downwind in big breeze.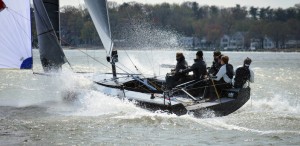 The Farr 280 is first and foremost a One-Design grand-prix design.  It is most happy when raced around buoys with lots of its friends.  At 3600lbs, it is easily trailered from event to event, keel on or off.  Recently at Charleston Race Week, five Farr 280s raced in their own one-design class.  Also on the docket in 2015 are the Annapolis NOOD, NYYC Annual, BIRW, and Martha's Vineyard/Round the Island Race.



C&C 30
More known for their performance racer-cruisers, C&C Yachts decided to make a foray into the world of grand-prix one-design with their latest offering.  C&C teamed up with Mark Mills to design this lightweight rocket ship.  Also featuring a flush mount deck and a wide, flat hull, she is remarkably similar to the Farr.  Built in the United States at US Watercraft where thousands of J/24s and J/22s have been built, a high level detail goes into each boat.  She has an ISO-A designation and is ready to go offshore as quick as she goes around the buoys.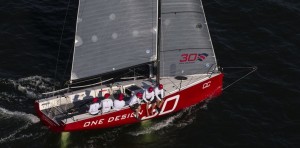 The C&C 30 comes in at 30' long with a 28.7' waterline, a 9.84' beam, a 7.5' draft and displaces 4000lbs.  Upwind she has 640 square feet of sail with a 1,250 square foot spinnaker and a 12-hp Volvo sail drive.  To support this enormous amount of sail area, the rig is a carbon double swept spreader from Hall Spars with split backstays led to stern winches.  In light air, the backstays aren't needed, but as the breeze picks up they help to depower the rig and keep it upright downwind.  The massive kite is flown off a fixed sprit with a bobstay.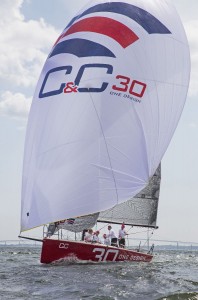 Set up to go as quickly offshore as she does around the buoys, the C&C 30 is in essence a Honey I Shrunk the TP52.  Just as happy running the 330 miles from Chicago to Mackinac Island as she is rounding the cans, the C&C 30 is dual purpose racer.  Getting from place to place is easy, the carbon finned keel lifts for trailering and the under hung rudder can be removed and stowed inside the boat.  Recently at Charleston Race Week two C&C 30's sailed in PHRF A, and a one-design start is planned for the NYYC 161st Annual. Below are some comparisons.
Hull/Deck design:
On paper these boats look very similar, both in renderings and deck plans.  However North Sails Chris Larson, class sail developer for both boats, says the feel is significantly different.  Larson commented that despite having nearly the same length, the higher freeboard and full lifelines of the C&C 30 make it feel like a big boat.  In contrast, the Farr 280, with its lower free-board and partial lifelines, feels small.          Advantage: Push

Sail Plan:
Despite having nearly 400 lbs on the Farr 280, the C&C 30 has a higher upwind SA/D ratio of 40.6 (Farr 280=37.5), and even more significant downwind power with a nearly 300 square foot advantage.  Both classes will look to limit sails as the classes gain traction, with initial sail inventories at five for the Farr 280 and three for the C&C 30.  Both feature flat-topped mains and 7/8 fractional headsails.  Despite the small sample size, it would seem the C&C 30 has the speed advantage, rating a PHRF 30 compared to the Farr 280 PHRF 54.  The C&C also has the option of an offshore reacher, useful for distance races.          Advantage: C&C 30
Power plant:
It is refreshing to see two sport boats featuring diesel sail drives.  Both boats have foreign diesels, the Farr 280 featuring an Italian and the C&C 30 Swedish.  The Farr 280 has a powerful Lombardini diesel sail-drive, which may be overpowered for the boat, but no one's ever complained about being first back to the dock.  The C&C 30 features a 12hp Volvo Penta that will power the boat at a respectable 8 knots.  As with all foreign engines, both will be expensive to fix and maintain, when/if they break.                                                           Advantage: Push

Rig:
Both boats feature carbon fiber rigs with swept spreaders and split backstays.  Both backstays are run to winches aft of the skipper.  The Farr 280 has a two-piece Southern Spars mast while the C&C 30 has a one-piece Hall Spars mast.  In the Melges 32 vein, the Farr 280 two-piece rig breaks down for easy transportation.  Coupled with hydraulic headstay and mast butt adjustment, the Farr brings a lot to the table.      Advantage: Farr 280
Bottom Line:
These two 30' are some of the most exciting new designs to hit the water.  Production performance is trendy and both of these boats fit the bill perfectly.  While they appear to be similar on paper, they are in fact completely different boats.
The Far 280 is a performance one-design racer that by all accounts, excels around the buoys.  It packs up well with the carbon two-piece rig and travels easily behind an SUV or a pickup.  With one-design starts popping up at seemingly every major regatta, it shouldn't be hard to find friends to sail against.
The C&C 30 is a mini Grand-Prix in the vein of a TP-52 or a GP 42, designed to win the Block Island Race and stick around for a class start at Block Island Race Week.  Initial numbers have been low, however with a half-dozen already signed up for both BIRW and the NYYC 161st Annual Regatta, it's only a matter of time until the class reaches critical mass.



At the end of the day, both of these boats are in the $117,000-$125,000 range ready to sail.  Their specs are very similar on the surface, but serve different purposes all together.  Early numbers make it difficult to determine which has more traction as a class, and numbers certainly help the case for either boat.  The Farr 280 will flourish where it can find its own kind to sail against. This is a boat built specifically for one-design and so far it has been more than satisfactory.  The C&C 30 can survive in an area with fewer C&C 30s because of its offshore capabilities.  It can do the Ft. Lauderdale to Key West feeder race, sail the buoys at KWRW and cruise back up the coast.  Pick the boat that fits your regatta schedule the best.
To learn more:
Farr 280 Class Association
C&C 30 Class Association