These extremely well maintained and
perfectly matched Fireflies
were built in 2010 and delivered in 2011. They are cored with closed cell foam and vinylester infused resin was employed with a vacuum bag in the building process. These boats have been far more durable than any other race fleet at MIT in our 85 years of existence. To see the full listing and to contact us, please see our
FULL LISTING HERE
.
Boats were built robustly and have a slightly modified rigging systems from conventional Fireflies. The luff of the mainsail was shortened, foot of the mainsail lengthened and vang is a gnav to provide ample space for the crew. A rudder blade drops in vertically into a cassette for easy usage.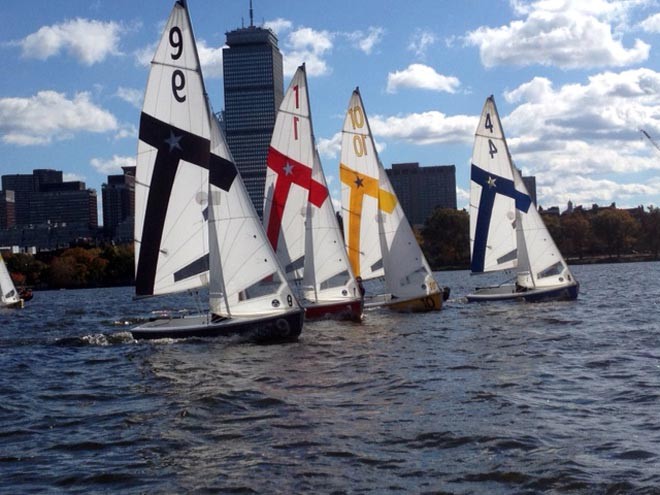 The Firefly has been extremely versatile for competitions in both fleet racing and team racing because of the boats' close tacking angles, ease of acceleration and responsiveness in both breeze and light conditions. Unlike other collegiate dinghies, the Firefly is not nearly as weight sensitive because of its very round hull characteristics. Heavier teams are not at a disadvantage in very light conditions compared to FJs and 420s. Light sailors can sail with finesse and remain very competitive in the strongest wind conditions imaginable as its tapered masts afford easy flattening of the mainsail with gnav tension.
No other boat has given us fantastic flexibility for the uninitiated rec sailor to sail solo with just mainsail, either reefed or not, as well as sailing sloop-rigged with full sails of main and jib or with a reefed mainsail and jib. Sails were made by North Sails and are 3 years old with no usage last year at all.  See our
FULL LISTING HERE
.