Sail1Design is thrilled to announce our newest partner, and Title Sponsor of our High School Team of the Year Award, LON GUNDIE!!  We sat down and caught up with them so please read on and learn more about this great company. Do NOT forget to get your next shirt order from this incredible place!!
Could you tell the story on how you and your brother settled on the essential idea that led to the founding of Lon Gundie? / What drove you there?
Seth and I (Dori) have been in business together for quite some time. Our first company sold women's functional yet stylish workout apparel. Seth was tired of investment banking and I couldn't find great looking running gear for the marathon I was about to run. At that time, the big box labels: Nike, Adidas,Champion, etc. really only catered to their male legacies. Women's assortments were pretty much monochromatic, drab, men's t-shirts and shorts cut down to size. The idea to combine fashion and function is hardly a new concept today, but 20 years ago, we were ahead of our time!
In that business, Seth had the idea to do a base layer program. He saw an opportunity in the market not only for women, but men and children as well – we liked the idea of creating something for the entire family. We are a family of skiers, so we knew exactly how we wanted the gear to function and perform.
Do you remember the first product you did? How was that feeling?
Yes. The very first product we created was a double-faced, reversible running bra… Super comfy and very cute.  At the time, we could not afford a fit model so I went with one of my besties. She put the sample on and we immediately burst out laughing. The "cups" completely missed the area they were supposed to support – somehow our spec's didn't take into account the fabric was stretchy and the cups were literally at her belly. And so we learned… By the time we started Lon Gundie, we had considerably more technical knowledge behind us and were able to transfer many of the processes we developed the first time around into our new product lines.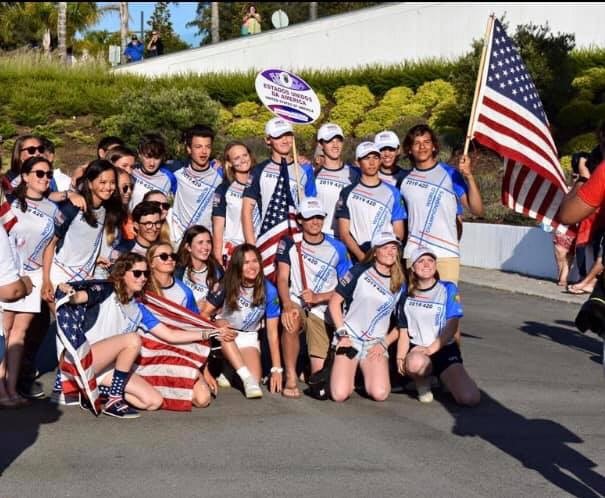 Why Lon Gundie?
Do you mean why the name? When we grew up, we literally wore "long undies" under our ski pants. Cotton, waffle-like, sweat-absorbing pajama bottoms disguised as base layers. There was no such thing as base layers! I know… I've just really, really dated us. Anyways, the name Lon Gundie, is a playful twist on the idea of a long undie.
How challenging is to do unique designs all the time? Why not to do just one?
That's the fun part! Seth and I work very well together creatively.  Seth designs the majority of custom projects and together we collaborate extensively on our branded work. We constantly challenge each other to create the best possible artwork.
The artwork speaks to the personality of our customer or team. Sometimes you feel bold, other times, classic, maybe racer-like… The point of Lon Gundie design is to deliver a unique base layer every time. The gear is fun, happy, interesting, and smart and when you wear Lon Gundie, you are part of a team – our team – and we want you to feel like anything is possible. We want you to feel that you have the power to create "no ordinary moments"!
What's your connection with the athletes knowing you can make a difference in their performance?
We have many athletes wearing Lon Gundie; we have Olympians and Olympic hopefuls; world-class sailors, coaches, high school and collegiate sailors… all the way down to the Opti green-fleeter. We continually get feedback – a lot of feedback!! – on our fabric and functional performance. We welcome all the comments and love to hear what our customers think. It allows us to control our manufacturing process and develop a better product for them.
How has the Lon Gundie journey been? Has it been rewarding?
Yes, it has been rewarding. The experience is both exciting and fun. We have met so many great people along the way. Our goal is to build a lasting brand. We approach our business with a mantra of "customer first".
What was the best part of founding Lon Gundie?
It's very exciting to create something out of nothing and see your ideas come to life. But, the best part of Lon Gundie is working with family to create something lasting. Also, the people. We have met some truly, truly amazing people.
Why partnering with Sail1Design? (Both are high performance and all about having fun on the water, etc)
We are committed to the sailing community and find no better source that shares our commitment like Sail1Design.