Teamwork. Chemistry. Dedication. Cooperation. Being on the same page as your partner and/or teammates is never easy, especially when that shared vision has to endure, and not simply be a statement of purpose on the dock. These characteristics are requirement in youth sailing team success. Sail1Design is proud to recognize the top North American Youth Sailing Team, each year, with this prestigious award.
The award is presented annually, in January, and reflects the efforts of a youth sailing team throughout that previous calendar year.  This is YOUR award! We require written submissions of nomination; in fact we only choose from nominated sailors, and do not suggest nor solicit specific nominations. If you'd like to nominate a team, please write a 200 word minimum letter, with regatta results, to [email protected]

Well, this is a first. We have never had 3 nominations for the same person/team before! Although there were many other great nominations, the team of Stephanie Houck/Camille White stood out. We at Sail1Design admire their stellar 2015 results, to be sure; we were even more impressed, however, with their team chemistry, hard work, and dedication to their goals. This is a great recipe for long term success, in any endeavor, and we are very proud to have Camille and Stephanie win this award!!
Please enjoy reading excerpts from our three nominating letters:
Nomination letter #1   I would like to nominate Stephanie Houck and Camille White for the 2015 Youth Sailing Team of the Year award.  These two young ladies have put in a tremendous amount of work and energy into their sailing this year.  When I first met them, Stephanie and Camille were sitting on a couch in my office trying to work through some skipper crew communication issues.  They were smart enough to realize a major problem before it happened and sought help to come to a healthy solution.  Less than a year later, with lots of practice and help from many coaches, Stephanie and Camille won the Ida Lewis regatta.  This was a huge accomplishment for the both of them and it made them work even harder to stay at the top of their game and the top of the C420 circuit.  After another month and more rigorous training, this duo won top female honors, top junior boat, and 1st place overall at the largest ever Club 420 National Championship.  As a young team, there is plenty of time left for these two to continue to develop and get even better.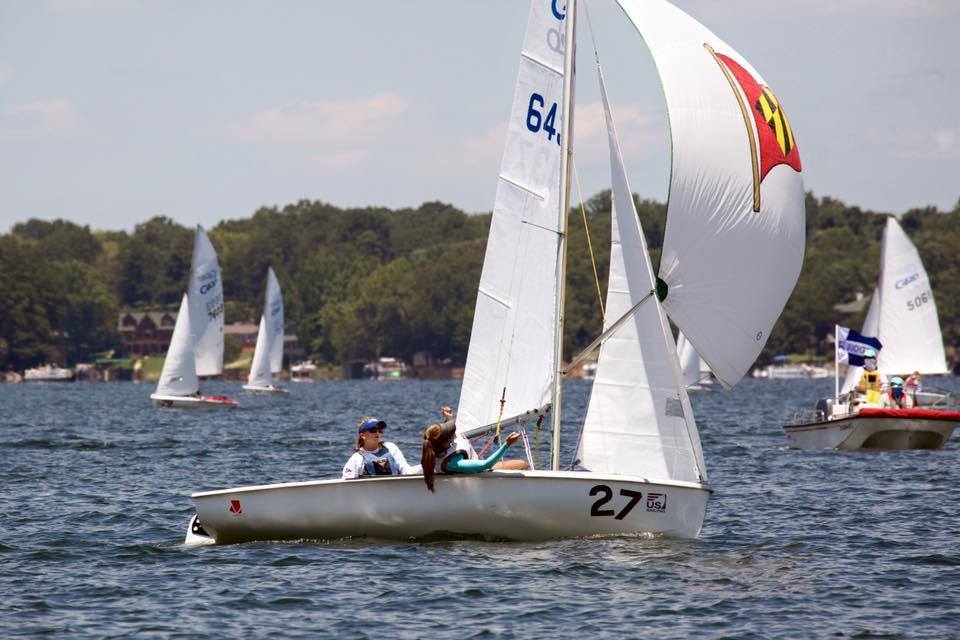 Nomination letter #2    I write to nominate Stephanie Houck/Camille White to be designated as Sail1 Design's 2015 Youth Sailing Team of the Year.  Here are my reasons.
In June, Stephanie and Camille did not just win the US Sailing Jr. Women's Double-handed Championship (aka the Ida Lewis Trophy), they dominated the 39 boat fleet.  Over the ten races completed, they had five bullets, two seconds, two thirds, a fourth and a fifth (that was their drop) and won with 16 points, an average finish of 1.77.  They did not need to sail the last race, but of course, did.   
 Roughly three weeks later, Stephanie and Camille won the 2015 Club 420 National Championship at Sail Newport. One hundred ninety-four teams raced in the event which is, I believe, the largest double-handed one-deign regatta in the US and probably the most competitive fleet this summer as it included, amongst the 193 other teams, skipper Ivan Shestopalov, winner of an IODA South American Championship and 2nd in an IODA North American Championship.  They were only team with all single digit finishes!
I do not recall another all women boat winning the Club420 national championship. Perhaps even more impressive they were "Club 420 juniors" at the time, that is not turning 17 before 12/31/15.
I note that your criteria are as follows;
Teamwork. Chemistry. Dedication. Cooperation. Being on the same page as your partner and/or teammates is never easy, especially when that shared vision has to endure, and not simply be a statement of purpose on the dock. These characteristics are requirement in youth sailing team success.
These results are not by accident nor attributable to the skipper or the crew.  These results at this age reflect a lot of hard training in the spring and early summer and more importantly, a willingness to work together and listen to each other. I think it is pretty clear that these were championships won by "Stephanie/Camille."
Nomination letter #3    Stephanie Houck, 16, and Camille White, 15, from Annapolis, MD, began sailing together in the Club 420 in 2014. Stephanie, a year older than Camille, crewed in the Summer of 2013 for Julia Lambert; Camille joined Stephanie directly from the Optimist dinghy class.  Stephanie and Camille had been close friends even before they started racing Opti's in the Green Fleet, as they would tag along to the regattas of their older siblings.  They definitely had friendship and chemistry off the water, but had never sailed together as a team.
In preparation for their first summer racing together, Stephanie and Camille attended clinics including the 2013 Warm Up Clinic Pre-Orange Bowl, 2014 CISA Advanced Racing Clinic, and the 2014 Neill Advanced Sailing Clinic.  They also competed together throughout the summer of 2014 on the Chesapeake Bay as well as in New England.
In 2014, Stephanie and Camille's results were not particularly impressive, and they even overcame some rather embarrassing experiences.  For example, at the 2014 C420 North American Championship in Brant Beach, NJ the breeze picked up to 20-25 kts. In big breeze, due to their inexperience, the girls spent a lot of time "upside-down." Unfortunately, it was so shallow on Barnegat Bay that in addition to their mast getting stuck in the mud, their boom did too! After racing that day, they spent over an hour washing their sails and cleaning out the mud inside the mast, but they didn't get it all.  The next day, a ton of muddy water was dripping out of the boom and getting all over Camille; huge chunks of mud remained lodged inside. Stephanie's idea was to stick the spinnaker pole in the end of the boom to try to get the mud out, but then the pole got stuck in the boom! Meanwhile, the Race Committee blew the warning signal, Camille was absolutely covered in mud, and Stephanie was frantically trying to get the spin pole out of the boom! Luckily they sorted it out before the start.  They still laugh about all the funny looks they received from fellow competitors!
Stephanie and Camille didn't give up and continued to work hard, and in 2015 their dedication produced amazing results, as referenced above.  As a team, they both improved in communication, boat handling, and in making tactical decisions. Stephanie credits Camille as an amazing crew who is extremely athletic and is able to learn new things incredibly quickly. Camille is always adjusting things to make sure their sail shape is perfect, and Camille is great at communicating pressure, shifts, etc.  Often interaction between skipper and crew can complicate a relationship off the water, but Stephanie and Camille have actually become even closer friends thanks to sailing.
For any team to win a single national championship such as the Ida Lewis in a given year is tremendous; but winning two national championships is extremely rare.  And, 2015 Club 420 Nationals was the largest Club 420 regatta ever held!  Finally, Stephanie and Camille were the first ever all girls team to win Club 420 Nationals.  This victory in particular is outstanding for women's sailing, and the future of the sport.  This proves that girls can compete and beat the boys!
2015 Regatta Results
US Sailing Junior Women's Doublehanded Championship (Ida Lewis Trophy), Columbia Yacht Club, SC.
o   1st Place (39 boats)
Club 420 Association National Championship, Sail Newport, RI
o   1st Place (196 boats)
o   Top Girls Team
o   Top Junior Team (16 years old or younger)
Brooke E. Gonzalez Advanced Racing Clinic Regatta
o   3rd Place (20 boats)
Learn more about our S1D Youth Sailing Team of the Year