13 December 2012, Annapolis- Heading down to the launch site in downtown Annapolis to meet the Farr team of Ian Gordon and Keith Carew, as we crossed the bridge we saw a light northerly and flat water. Since the temperature was not much above 50 degrees, this was going to be just fine.
The Farr Bavaria One (known as the B/One) is a new boat being built by Bavaria Yachts in Germany, and designed by the Farr Yacht Design team. The design parameters were set by Bavaria, and our sail test sought to get a feel for how well they did:
economical

one-design class

impress advanced sailors with excellent performance

easy to handle

and operate for the weekend sailor and his/her family
Economical?
With a sail-away price quoted at $36,250, Bavaria & Farr Yacht Design seem to have achieved their first goal. When compared to similar boats, such as the J/70, this price is competitive, and attractive. The boat appears solidly built, and the deck hardware, with a few easily fixed exceptions, is simply, ergonomically and thoughtfully led. Costs are further held in check by strict class rules, written by Farr Yacht Design, limiting modifications, allowing only a single sail supplier, and all boats built by Bavaria.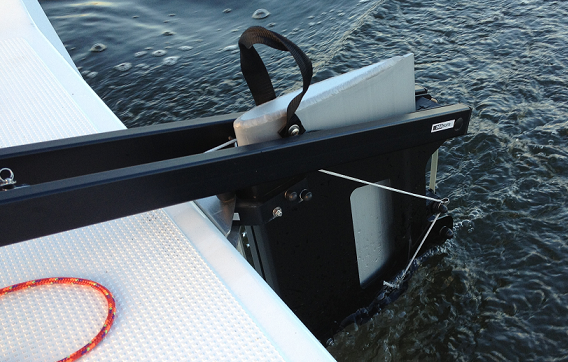 Furthermore, the foils do not need to be, and indeed cannot be, faired. Since the cassette-style rudder and keel foils are both finished aluminum, this saves expensive and necessary "fairing" costs required by other manufacturers and other classes. It is true that the B/One keel bulb requires finishing, so there is some "out-of-the-box" expense, but this is small when one compares this to fairing a rudder and keel.
The spars are aluminum, which, while not quite as attractive as carbon from a performance point of view, help keep costs in check. Also, the asymmetrical 4. 3 ft. sprit is recessed in the deck (see photo)
and while this for some is not as stylish or aesthetically pleasing, it is a very functional solution that keeps things simple (and eliminates the possibility of water entering through the sprit pole aperture, a common problem among sprit boats.)
Another interesting concept that also allows price flexibility is optional, removable interior accommodation. Virtually all interior accommodations, including pipe and v-berths, are removable to keep the interior open, and light for racing. These were not on board for our test sail, but photos from the manufacturer tell the story of how this hybrid interior can be race-serious or weekend-cruise friendly. I like being able to race-mode the boat, and then easily make it weekend cruise-friendly.
Excellent Performance?
As we left the dock, I noticed right away that with such a high aspect foil, it takes just a little bit to get this boat tracking. When one is down-speed in light air, it is necessary to allow extra leeway room for the B/One. However, as soon as the boat gained enough momentum, we were off. By the time I finished sorting myself out, trimming the jib and looking around, only then did I realize how fast we were going. This boat is deceptively quick, and effortlessly so. In the few puffs we had on our sail, the boat displayed more-than-ample power, and while a bit tender (crew weight will be important), it also feels very solid, and easy to depower with the main & jib sheets.
The modern grand-prix style square-top mainsail provides plenty of power, and unfurling the jib creates a well-balanced sail plan of 377 ft2 on a single-spreader aluminum tapered rig, easily controlled by calibrated turnbuckles. I am sure that time in the boat on the race course will help create a detailed tuning guide; the nice thing about this performanc
e one-design boat is that the tuning guide will be short and sweet, since there are limited controls available. Getting the most out of this baby grand-prix design will largely require actually sailing the boat, rather than tuning and inspecting different sail brands, rig tensions, fairing shapes, etc. If sailing is the goal, this boat is a compelling choice. Think Laser-simple here.
From the designer:
The B/One design features combine to provide exceptional speed, optimal balance and solid, dependable handling in all conditions. The maximum beam limit for trailering (2.5m) is seamlessly integrated into the hull and deck detailing to conceal fittings, provide a smooth, rounded deck edge and maximize crew weight stability. Inspired by the sleek look of larger, modern high-performance one designs such as the Farr 400, the deck is flush with only a slightly raised cabin top to create the necessary headroom down below and contain the required sailing functions on deck.
When we were done sailing, and as I watched the hoist lift the boat out of the water, I was able to get a real look at the hull form. This is one really cool looking boat. The relatively narrow entry, aft-chine, broad powerful stern section and nearly plumb bow are developments taken directly from Farr's Volvo Open 70 and Farr 400 draft boards. For the overwhelming majority of sailors who love these designs, but likely won't sail them, the Farr B/One is like a fantasy come true.
As the boat lifted further out, I was able to study the keel. This is one high aspect foil, with a T-style configuration featuring a 700 lb. bulb, found on most of today's grand-prix racing yachts. What is really innovative, and simple, is the retracting design. Just unlatch the keel lock-strap in the cabin, and the keel literally pushes itself up as you place the boat down on its trailer. Simple!
Performance boats need to be stiff. In studying the construction details, here's what we found:
The hull shell is hand laminated using E-glass chopped strand mat and multi-axial fabrics over Coremat with additional uni-directional reinforcements used in high stress areas. The deck shell is hand laminated using E-glass chopped strand mat and multi-axial fabrics over a PVC foam core with additional uni-directional and multi-axial reinforcements used in high stress areas. The hull shell support is provided by a simple one-piece structural liner composed of transverse floors and a centerline longitudinal. The keel trunk is integrated into the structural liner allowing for easy movement through the interior.
At press time, The B/One has a PHRF rating of 120. For an historical perspective on PHRF, the J/24 rates 171, so the B/One, slightly shorter than the J/24, is almost a minute-a-mile faster. A more relevant comparison is the new J/70's current rating of 113. According to the Farr team, the B/One has been competing very favorably against J/70 competition in the Annapolis Frostbite sailing series. While this series does not allow the use of spinnakers, the sailing results so far sound very encouraging. This is a fast boat, and at 120 PHRF, it is a very competitive handicap racer as well.
Easy to Handle? Family Friendly?
I noticed right away that this boat is simple. There are no winches! There are also not a lot of lines, and there are no complicated parts, even with the lifting keel system, which can be intimidating for some. With no backstay (and therefore no backstay adjustment), and minimal sail controls (remember that the asymmetrical pole-out control line is also the tack line!), it really comes down to sailing the boat. The cockpit is thoughtfully laid out and comfortable for day sailing, and with no traveler to crowd things up, and with footrests for skipper and crew, one can imagine sailing for hours and enjoying every minute.
With one relatively easy pull of the main halyard, we were ready to go. The mainsail is relatively high aspect, and with a full batten up top, the sail is very easy to control. Un-cleat the furling line, and pull the jib sheet, and we had both sails up in no time. While headsail furlers compromise performance slightly, in my opinion, especially when one looks at the goals for this boat, the furler is a perfect choice for the B/One. We were off the dock in no time, and it is a very comforting feeling knowing the jib can disappear in a moment's notice if need be. Also, docking with family is made so much easier with a jib furler.
Main and jib sheet controls are simple and efficient, with a swivel cleat on the cockpit floor for the mainsail, and 2:1 purchase jib sheets controlled by tracked fairlead blocks led to cleats on the cabin top.
Tacking, trimming, and moving about is a cinch.
We had a very light breeze for our test sail, so we did not need to hike. With more than 8 knots, hiking on this boat looks like it is, well, like hiking on other keelboats of this size. This is not a sit-in boat when racing though. The boat is powerful and crew weight, I suspect, will be a very significant factor in one's performance in this class. Without detail on the maximum allowable crew weight yet, I again suspect it will be critical to be at the maximum. The hiking rails show some empathy for the crew, as the lifelines are adjustable, padded, and allow lots of leverage!
Off the wind, we pulled on the sprit pole control line, hoisted the asymmetrical spinnaker halyard, and trimmed the sheet. The class spinnaker looks powerful, and at 517 ft2 extended on a 4.3 ft. sprit, it should allow the B/one to sail good downwind angles in breeze. An interesting simplicity innovation here is that the sprit pole line is also the spinnaker tack line. While this will restrict tuning the spinnaker tack height for racers, this means one less line one the boat for day-sailing and simplicities' sake.
As for storage and trailering, again the retractable foil system, both for rudder and keel, is a big plus. The keel's maximum draft is 5.4 ft., and minimum draft, with both the rudder and keel foil raised, the boat draws only 1.31 ft. This is an advantage for trailering and storage, since the boat is very low-profile on its Triad single-axle trailer (not sold with the boat).
Final Thoughts
Pros
Without doing a great deal of comparison, this boat offers an enormous amount for a reasonable price. In a sense you are getting a Farr Grand-Prix design, in some senses a baby Farr 400, with sails, ready to go, for well under $40,000. Added to that is ease of use, low cost maintenance and upkeep.
This boat seems to be as happy daysailing around with family as it is on the race course. The nice thing is that one need not spend a great deal of time or money getting it ready to race. The daysailer is the racer, and vice-versa, and what a cool design to boot.
Cons
It's really hard to find one. My sense in driving the boat (again lets remember that it was 4-7 knots, shifty, and a dying breeze) was that this boat could use more feel. It tracks beautifully, it is quite fast, but could use more tuning and tweaking to make the boat more performance-driver friendly. Having sailed only 505's recently myself, it is a bit unfair to the B/One to hop out of a 505 and compare driving.
Summary
The B/One faces a lot of competition, from established classes and from new designs with somewhat similar goals. That competition here in the USA may be the boats biggest challenge. The boat seems to be quite popular in Europe, but will that translate across the Atlantic? This boat seems perfect in many ways for sailors, or sailing clubs, interested in a simple platform that is both fun to sail and easy to sail. Basically, this boat is a grand-prix caliber design with grand-prix performance potential, with a non-grand-prix price. Add in comfort and ease of use for family day sails, and the B/One could well be the perfect choice for a new 21st century club one-design.
Specifications
LOA: 7.09 m/23.26 ft
DWL: 6.36 m/20.86 ft
Beam: 2.50 m/8.20 ft
Draft: 1.65 m/5.41 ft
Displacement: 1,030 kg/2270 lbs
Ballast: 340 kg/749 lbs
IM: 8.80 m/28.87 ft
J: 2.61 m/8.56 ft
P: 8.76 m/28.74 ft
E: 3.48 m/11.42 ft
ISP: 9.00 m/29.52 ft
TPS: 3.91 m12.83 ft
For more information on the B/One, contact:
Farr Yacht Sales, LLC
Ian Gordon // Sales & Marketing
613 Third Street, Suite 22
Annapolis, MD 21403
W: +1 410.267.6550
F: +1 410.268.0553
M: +1 443.994.3978