Sightsailing of Newport is the oldest, locally-owned company offering sailing cruises in Newport. We strive to give you a fun sailing experience and show you the best of Newport Harbor and Narragansett Bay! For more information and to apply for Licensed Captain and Unlicensed Day Crew positions, click HERE.

Sightsailing of Newport is a 30 year old company located on Bowen's Wharf in Newport, Rhode Island. We offer public sails and private charters aboard three boats ranging from Starlight, an O'Day 34 which sails with 2-6 guests, Sightsailer, a custom one off which sails with up to 13 guests and Aquidneck, an 80′ schooner which can sail with a whopping total of 49. All boats offer sails ranging from 1 1/2 hour to 2 hours 4-5 times a day.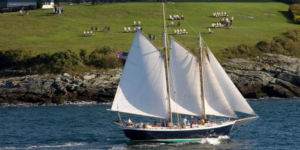 Come sail Newport, Rhode Island and Narragansett Bay, where you'll find some of the finest sailing in the world. We offer daily scheduled public sailing cruises, sunset sails and private sailing charters aboard three beautiful vessels. You'll see stately seaside estates, world famous yachts and America's Cup racers all against the stunning backdrop of a historic colonial town and picturesque, rocky shoreline.  Sailing in Newport is fantastic.