For Immediate Release- November 11, 2015
The South Carolina Yacht Club presented an idea to bring six teams from across North America to Hilton Head Island.  With the help of Zim Sailing and the Westin Hilton Head Resort and Spa the concept of "OPTI" was born.  The Optimist Pram Team Invitational (OPTI) was a team racing regatta that matched sailing skill and abilities rather than who had the best equipment or newest sail cut.  This event, unlike traditional Opti team racing was 3 versus 3 which is a more synonymous team race format used across the world.   Modelled after the New York Yacht Club Invitational, this regatta pit yacht club against yacht club and all members of the team must be club members.
Zim Sailing donated 18 brand new and equal Zim ZForce Optimists to include custom team race sails.  We can actually call this a true One Design regatta where no parts were allowed to be swapped out or exchanged.  The South Carolina Yacht Club sent invites out to Fishing Bay Yacht Club (VA), Chicago Yacht Club (IL), Florida Yacht Club (FL), Royal Canadian Yacht Club (Ontario), Edgewater Yacht Club (OH) to make the trip to Hilton Head South Carolina.  Not normally known for its Optimist sailing events, but more for its vast beaches and popular harbors for snow bird yachtsman sailing south on the Inter Coastal Waterway just feet from the entrance to Windmill Harbour.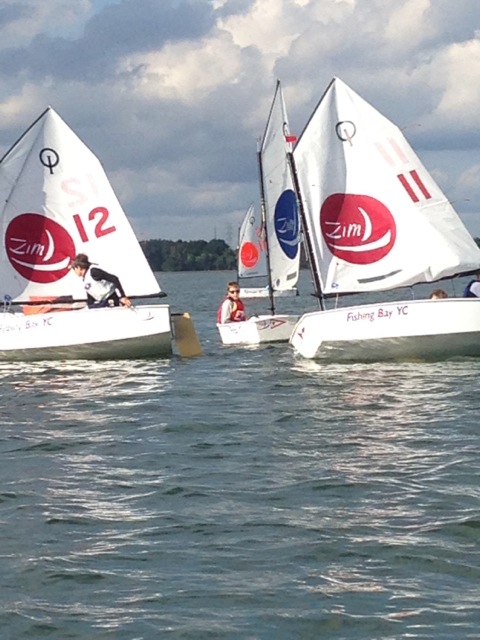 The racing conditions were challenging with a strong current and 15-25 knots of breeze on Sunday tested each sailor's boat handling in the tight confines of team racing.   Saturday the race committee headed by PRO Kevin Keogh was able to get only 3 races off in the light and shifty southerly.  For the first time it could be said, "If you're not first you were last", as the top three teams with one victory; South Carolina Yacht Club, Fishing Bay Yacht Club, and Edgewater each had one victory.  Racing was called as a thunderstorm began building and moving in from Savannah and the sailors were able to spend some time at the Westin pool prior to dinner at Local Pie which is the best pizza on the Island!!!
Sunday's conditions were the complete opposite of Saturday's light air.  The temps dropped from 78 degrees from the previous day down to the low 60s.  The northern teams felt a bit more at home while the southern teams put on every piece of spray gear they owned.  The round robin left the race committee with two teams in a knock out round best of three.  Fishing Bay Yacht Club with zero losses and Edgewater yacht Club with one loss were the top two team racing teams.  Fishing Bay was able to get out in front at the start in race 3 and was able to finish in a winning 1, 2, 3 combination making them OPTI's inaugural champions and the first recipients of the Paul Miller Trophy.  The victory guarantees an invite to return and defend their title next year.   The knock out round was a nail bitter as Fishing Bay won the first and Edgewater with a come from behind victory took race two.


OPTI, a one of a kind experience that the sailors will remember forever.  Teams were only responsible for travel and breakfast, as the Westin Resort and Spa provided complementary rooms for the sailors and their families.  The South Carolina Yacht Club was able to provide a great kid oriented buffet Friday night as well as Local Pie on Saturday where kids ate free Pizza together at a communal table.  The parents spent time catching up on the football scores and catching up with the other Opti parents discussing their summer travel schedules.  The true essence of comradery and the Corinthian spirit was portrayed during OPTI.
The one of its kind event was developed by Bob Adam of Zim Sailing, Lee Lucier of the South Carolina Yacht Club, Kevin Keogh PRO, and the SCYC Yachting Director Mark Newman who brought a vision of a true one design regatta where competitors could compete for their yacht club pride, and do so without breaking the bank.  Thank you to the Westin Hilton Head Resort and Spa for supplying the accommodations, Zim Sailing for the boats, Local Pie for the Saturday dinner, and The South Carolina Yacht Club for the support needed to put on this event.  Complete event coverage and photos can be found on the event Facebook page.  https://www.facebook.com/OPTI1SCYC/?ref=bookmarks