NEWS FLASH: Stanford WINS COED National Championship!!
From ICSA:
KINGS POINT, NY (2 June 2023) – Stanford University took a historic win at the 2023 Open National Championship out of the U.S. Merchant Marine Academy after four days of racing on the Long Island Sound. The Open National Championship was the last of three high-caliber spring College Sailing National Championships that took place over a marathon 11 days back to back. The Cardinal won with a 13-point lead above Yale University, and Harvard University rounded out the podium in third place behind Harvard by six points.

"We're super overwhelmed," said Stanford A Division Skipper, Michelle Lahrkamp. "We are a predominantly female team, and we did a great job these last few days getting everything out of every day; we never gave up, we had our heads in the game the whole time. We really wanted it, and I am wearing my pink shirt for all the girls out there – you can win a National Championship!"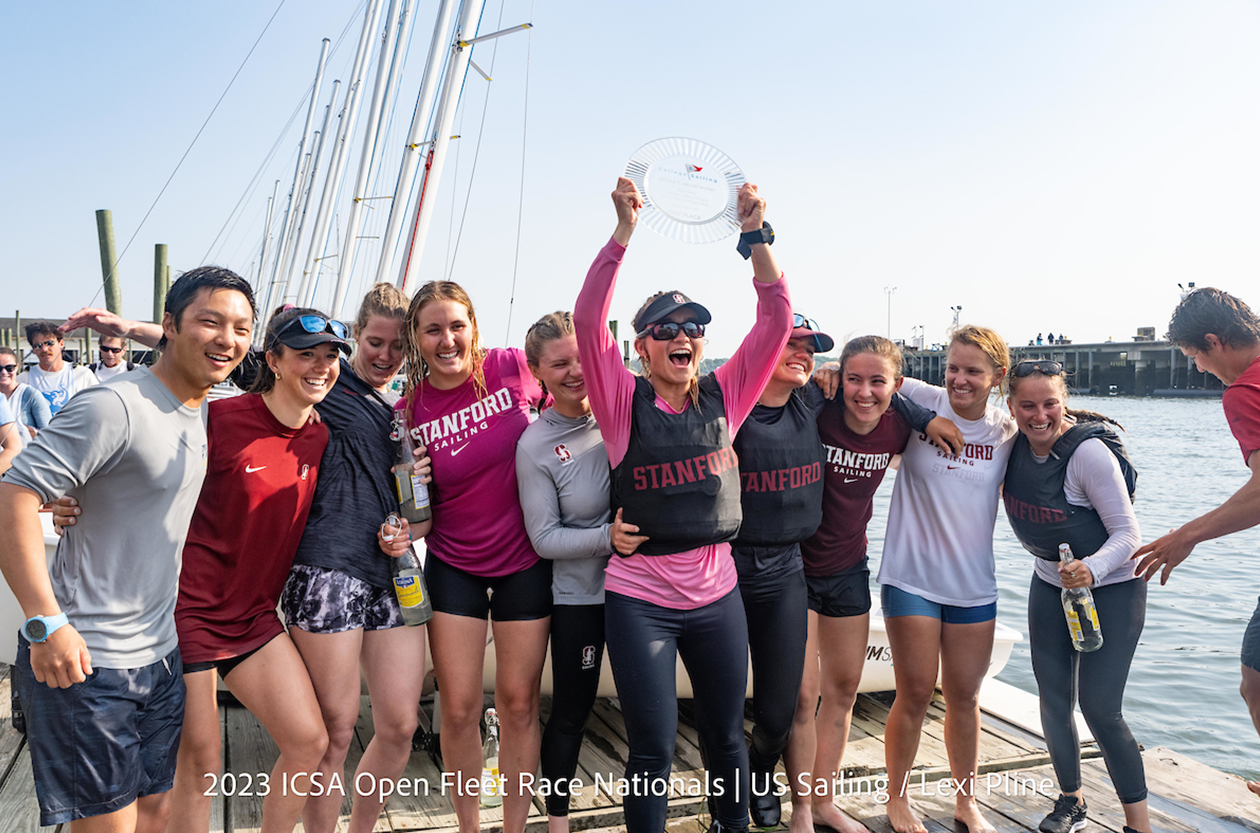 She told all the girls out there, "Never give up, don't tell anyone you can't do it, and always see yourself as equal."
For the first time in the championship's 77 -plus year history, an all-female team won lowpoint in both A and B Divisions, achieved by Stanford University in A Division and Yale University in B Division. 2023 is also the first time the overall championship has been won by a team of all-female sailors.
Sailing for Stanford: Michelle Lahrkamp '23 (A Skipper), Ellie Harned '26 (A Crew), Vanessa Lahrkamp '26 (B Skipper), Abigail Tindall '23 (B Crew)
Sailing for Yale: Jack Egan '25 (A Skipper), Catherine Webb '23 (A Crew), Carmen Cowles '25 (B Skipper), Anisha Arcot '23 (B Crew)
Sailing for Harvard: Lachlain McGranahan '24 (A Skipper), Christopher Wang '23 (A Crew), Justin Callahan '26 (B Skipper), Kennedy Leehealey '26 (B Crew)
Yale's Associate Head Coach, Bill Healey, commented on the second place finish, "The team never gave up. We were hoping for one more race for one final push but the time had expired. Congratulations to Stanford for an amazing week."

The ICSA's Coed Dinghy Championship (now called the Open Fleet Race Championship) has been sailed in some format since the formalization of college sailing in 1937  The winner is the school with the best combined scores for the two divisions – high point scoring was used through 1968 and low point scoring has been used since that time.

The event has been coed since its inception in 1937, but 2023 marks the first time an all-female team has claimed the title.

The early competitions were sailed at MIT on the Charles River, but since 1946 the site has been rotated throughout the member conferences of the Intercollegiate Sailing Association, being held this year by the US Merchant Marine Academy in  Kings Point, NY.
Daily recaps:
Day one started with very little wind, leaving the sailors ashore to pass the time. Teams took to kayak races on the water and board games to keep their minds sharp and ready to race. Sailors finally hit the water at 3:30 pm with a not-so-strong northerly breeze. Race 1 of A division got called off as the southerly quickly filled. To get as many races as possible, teams rotated on the water. Sailors battled it out until well past sunset with six races in each division, and finally derigged at 8:30 pm. At the end of the first day of Finals, Stanford University held first place by 6 points, Yale University sat in second, and Dartmouth College held third.
Day two kicked off with a postponement for similar starting conditions to day one. A mild southerly kicked in at 3:15 pm and teams hit the water for the last day of Finals. Current proved to be a relentless factor yet again, with sailors focusing on holding their lane, maintaining speed, and executing clean boat handling. Athletes had to sail course side left to get out of the current where many sailors jibed around the windward mark. Unfortunately, with the light breeze, RC could only get three races in each division; Race 10A was attempted but ultimately abandoned due to time constraints. History was made as Stanford University won with an all-female team, and Stanford's Michelle Lahrkamp '23 and Ellie Harned '26 won A division by an impressive 12 points.
About the host school:
The United States Merchant Marine Academy (USMMA) hosted all the events at  the Yocum Sailing Center in Kings Point, NY. They hosted the national championships in 2000. They put on an amazing event with trying winds at times. Brendan Feeney, Assistant Director of External Relations at USMMA, said, "It was 12 months of planning that flew by in what felt like 12 hours. I've been privileged to work alongside a tremendous United States Merchant Marine Academy staff who put together three fantastic championships. Challenging conditions through the 11 days allowed the best teams to rise to National Champions. I want to congratulate all teams for making it to the 2023 National Championship on a great season. It has been jokingly suggested that Kings Point hosts next year… we'll think about it."
Quick links:
Score summary