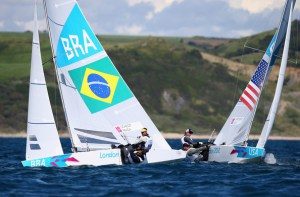 The venerable, elegant Star. This boat for years has attracted the world's best one-design sailors. The Star is one of the most prolific keelboats in the world for a reason: it is an incredible boat to sail. Designed in 1911 by Francis Sweisguth, it has proven to be a classic in every sense. It is the oldest Olympic class, having first been used in competition in 1932, and still at the heart of that competition today. Supported by a worldwide association the Star as a class is one of the best organized in sailing, with over 7,500 yachts built over its 80 year history, and 2000-plus actively racing today.
The Star has evolved into the consummate craft for all ranges of competition and performance sailing: its equipment and rig is simple enough for the novice, yet versatile enough for those on the forefront of sailing. It's large, powerful sailplan, combined with a sleek hull and light weight, propel the boat in the faintest of airs, while the flexible spar can be tuned to "de-power" when the breeze kicks up. The large main is infinitely adjustable, allowing the sailor to completely control the driving surface of the sail.
Starts today are generally constructed of fiberglass, with positive flotation and an integrated keel. The design, sails, and equipment of the Star are governed by stringent class rules, created to improve competition on the basis of skill and control cost . This has also served to help the longevity of the design, keeping older boats competitive through careful evolution.
Please visit Sail1Design's Class profile on the Star: https://www.sail1design.com/airwaves-sailing-news/one-design-classes/1095-one-design-profile-star-class
loa 22'7"
beam 5'7"
sail area 285 ft²
spinnaker area n/a
hull weight 1479 lbs.
crew 2
# of boats built
active US fleets MD, FL, CA, MA, CT, RI, VA, NY
Class website:
http://starclass.org/