By Airwaves Writer Tyler Colvin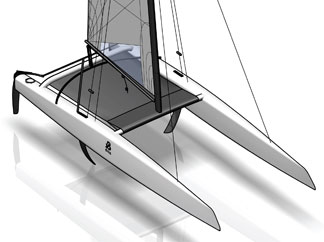 In 1956, the International Yacht Racing Union (now the International Sailing Federation, ISAF) created a four-tiered developmental catamaran system with the categories as A-D.  It was an attempt to split up the high performance catamaran world into classes and limited very little about each class.  In the beginning, only length, width and maximum sail area were limited.  The A-Class Catamaran (A-Cat) is the largest remaining of the classes. (See the A-Cat Class Association webpage HERE)
(First photo credit to Bob Orr)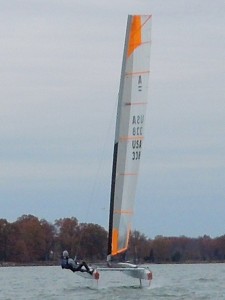 The Boat: Taking to Flight
The International A-Class Catamaran (A-Cat) is an ISAF international development class.  It has a length of 18', a 7.5' beam, a minimum weight of 165lbs, and 20 square meters of sail (Peter Johnstone).   Power-wise, the A-Cat is among the leaders for its size.  Upwind comfortably at well over 10 knots and downwind over 20 (knots), the A-Cat is one of the quickest boats around.  All major components are carbon fiber allowing it to weigh in less than almost any other boat of its size or smaller, multi or mono-hulled.  Larger than a Laser at nearly the same weight, the A-Cat is easily rigged and launched in less time than it will take to read this article.
The rig is a single square top main on a carbon mast with a single trapeze wire.  Sails are usually made out of carbon or Kevlar fiber laminates to maximize stiffness while maintaining its ultra light status.  Hulls are typically (on modern boats) with a carbon skin over a nomex honeycomb core.  All of the current advancements, carbon fiber parts, square top mains and hull design, stems from the developmental nature of the class.  Owners are encouraged to experiment with designs on the boat in an attempt to achieve even more speed.  For these reasons, amongst others, the A-Cat is widely regarded as the fastest single-handed dinghy currently in production.
Recently A-Cats have followed the high performance catamaran track and started foiling.  The trickle down effect of technology from the America's Cup has resulted in the ability to consistently produce high quality, reliable foils that make foiling significantly easier than many other foiling boats (such as the moth).
 A Class Worlds Video: 

Set Up and Sailing: Too Easy
From a trailer to the water, the A-Cat can be launched in 20 minutes.  From a dolly it can be done in less than five (minutes).  Peter Johnstone on the boat, "The A-Class is really easy to sail.  If you can sail a laser, you will find the A-Class to be easier to sail, and much more pleasurable.  The trapeze works your abs so you feel great afterwards."  Peter is a huge proponent of the boat, having owned three hulls over the past 19 years and sailing them as much as possible.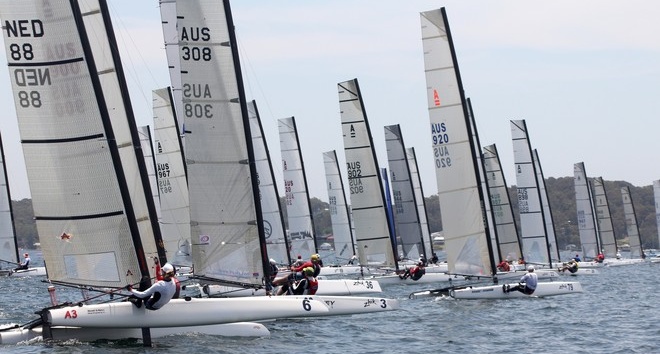 "Last summer I learned how to foil, and it turned out to be much easier than I feared.  To fly while sailing is simply incredible.  It gets quiet, and really fast!" And fast it is, with speeds unlike any other boat of its size.  One of the other benefits of the boat is the inherent stability of a multihull.  "When I got tired, I could simply take a break, which is something that cannot be done while sailing a [foiling] Moth."
As has been extolled, the weight of the boat is unparalleled.  This means that it is quick to get going in light air and an absolute riot in bigger winds.  The boat will lift (on its foils) in 10-14 knots of breeze and, "the sensation is like flying."  The A-Cat excels upwind and when foiling out on the trapeze it is hard to find a boat that can keep up.
Class Association: Growing Together
Although the A-Cat has been around for several decades, the class associations are constantly growing and changing to adapt to the new design innovations and the demographics that they attract.  Recently the class has started expansion to South America to join large fleets in Europe, Australia, New Zealand and North America.  The boat is an ideal size for a shipping container, so there is a core group who ship their boats around the world for European and World Championships (Peter Johnstone).  In addition to expanding location-wise, the class has started to become more female friendly, but could use some work to expand the appeal of the boat to more women.  Flatter sails and shorter rigs could make the boat friendlier for a smaller frame and are currently being looked into.
Why Sail? Speed, Speed, Speed
If you get a chance to go sail with someone in 12-15 knots of breeze, take it.  "The A-Class is truly one of sailing's best-kept secrets," said Peter, "I know many renowned sailors who say it is simply the best all around sailing experience they have enjoyed," lofty praise by an expert in the field.  A combination of the ease of rigging, the user friendly set up and the pure joy of foiling in 12 knots of breeze make the A-Cat a tough competitor in the sport dinghy category.  The A-Cat puts high tech, cutting edge technology at the hands of the every day sailor.
Thanks to Peter Johnstone for his extensive commentary on the A-Class Catamaran and all around praise for the boat.