KO Sailing to Offer Complete Solution for Youth Performance Sailing Development
FOR IMMEDIATE RELEASE
October 24, 2013–Seabrook, TX– KO Sailing, the nation's leading youth performance sailing experts, announced today their agreement with Sport-Sails Center to be the exclusive North American distributor for the Blueblue International 420 (I420). The I420 is the most widely utilized youth development boat worldwide and holds international class status with ISAF as the performance two-person trapeze and spinnaker racing dinghy. With over 56,000 boats built worldwide, this popular dinghy is sailed at school, club, open, national and international levels.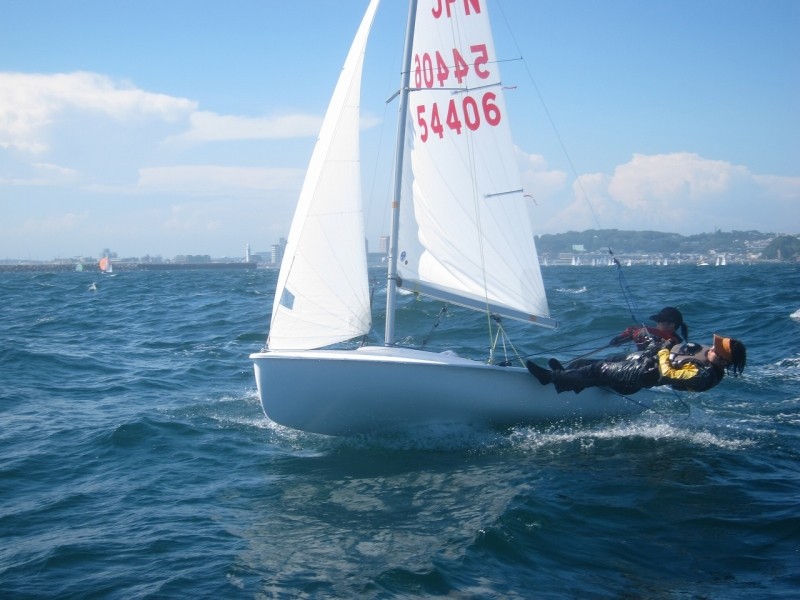 The I420 has served as the development boat for many international champions worldwide across many classes with sailors Spithill, Outerridge and Burling beginning in I420 to refine their boat handling and boat tuning skills. Many of the most successful sailors around the world developed their skills in the I420 before moving on to their respective championships in the star Class, Finn, Laser, 470, AC 45 and America's Cup.
"We are delighted to have been appointed as the exclusive North American distributor of this proven, durable and dependable product" states Mark McNamara, President of KO Sailing. He continues, "With a slight redesign of the cockpit area and integral jib cunningham system, we have successfully built more room into the boat for the crew and enabled easier adjustment of the sails for the sailors. We know the hull shape is very fast as proven with finishes of 2,3,4,5 and a Gold Medal in the Youth (U18) at the 2013 World Championships in Valencia Spain, so we decided to work on ergonomics of the boat to make it easier to sail."
Manufactured by the world renowned, Sports-Sails Center of Poland, the Blueblue I420 from KO Sailing features a fully rigged Superspars M7+ mast (with adjustable spreaders), boom and spinnaker pole; custom KO line package; complete set of custom covers, fitted dolly from Dynamic Dollies and ISAF Class measurement certification. Optional equipment includes additional Superspars M7+ Spar Set and choice of Olimpic or North (Japan) sails.
As the exclusive North American distributor of the Blueblue I420, KO Sailing will stock a complete line of hulls, sails, spars and foils as well as all related hardware and accessories beginning January 2014. "The International 420 class dinghy is the most popular high performance two-person trapeze and spinnaker racing dinghy in the world," commented Steve Keen, Head Coach, LISOT 420 Program and US Sailing's 2012 Development Coach of the Year "It provides for the development of higher boat tuning, boat handling and race management skills while still remaining accessible to beginners."
Designed in the 1960s as an inexpensive, all-purpose, two person dinghy, the I420 currently has a large multinational class association. US Sailing's Olympic Sailing Committee (OSC) has endorsed the I420 as one of its six Olympic Development Classes for athletes identified as future Olympic prospects. The future of the I420 in the US includes more internationally attended events held here in the US with the pending application of the I420 Worlds in 2016. The 2014 I420 Worlds will be held at Lubecker YC in Travemunde, Germany.
KO Sailing is the largest small boat dealer on the Gulf coast of the United States with a specific focus on youth performance sailing and its development. KO Sailing is a Gold Partner of the US Optimist Dinghy Association, Sponsor of the US Laser Class and Platinum Sponsor of the Orangebowl International Youth Regatta and Sponsor of the US I420 Class. Kosailing.com is a website dedicated to the support and development of youth sailing in the US providing parts accessories and expertise to the developing youth performance sailor. KO sailing will debut its 2014 Blueblue I420 at the 2013 Orangebowl International Youth Regatta in Miami FL.
Here's a great deal on the Blueblue: Click HERE
About KO Sailing
KO Sailing is the nation's leading provider of sailboats, kayaks, paddleboards and accessories for the water sport enthusiast. With a specific focus on youth performance sailing KO Sailing offers a wide selection of products by brands such as Musto, SLAM Sailing Gear, Sail Equipment Australia, Zhik, Magic Marine, Harken, Ronstan, JCD Custom Race
Parts, North, Quantum, Olimpic, and J Sails. In addition, KO Sailing carries a full line of kayaks, catamarans, and paddle boards by The Hobie Cat Company, high performance sport boats and skiffs by RS Sailing as well as Laser Performance products.
Whether it's a pair of hiking pants for your Laser sailor, a comfortable lifejacket for your kayaker, or your child's first Optimist, KO Sailing will ensure your water experience is a success. For more information about KO Sailing or our products, please visit www.kosailing.com.