Press Release from Quantum Sails:   On Monday, June 3, 2019, Quantum Sails powered the groundbreaking ClubSwan 36 for its official launch and first round of sea trials. Quantum Sails is proud to be involved in making this boat-of-firsts fly, and in helping Nautor's Swan disrupt the world of sailing with this new one-design class aimed at giving the amateur sailor access to extreme performance. Using Quantum's iQ Technology® design tool, the Quantum Sails team worked closely with Nautor's Swan and Juan-Kouyoumdjian to develop a high-performing rig and suite of sails fitting of the innovative, high-tech platform. The result of the collaboration spoke for itself as hull #01 ripped around the waters in Scarlino, Italy, with out-of-the-box sails that fit perfectly and worked harmoniously with the unique, versatile rig.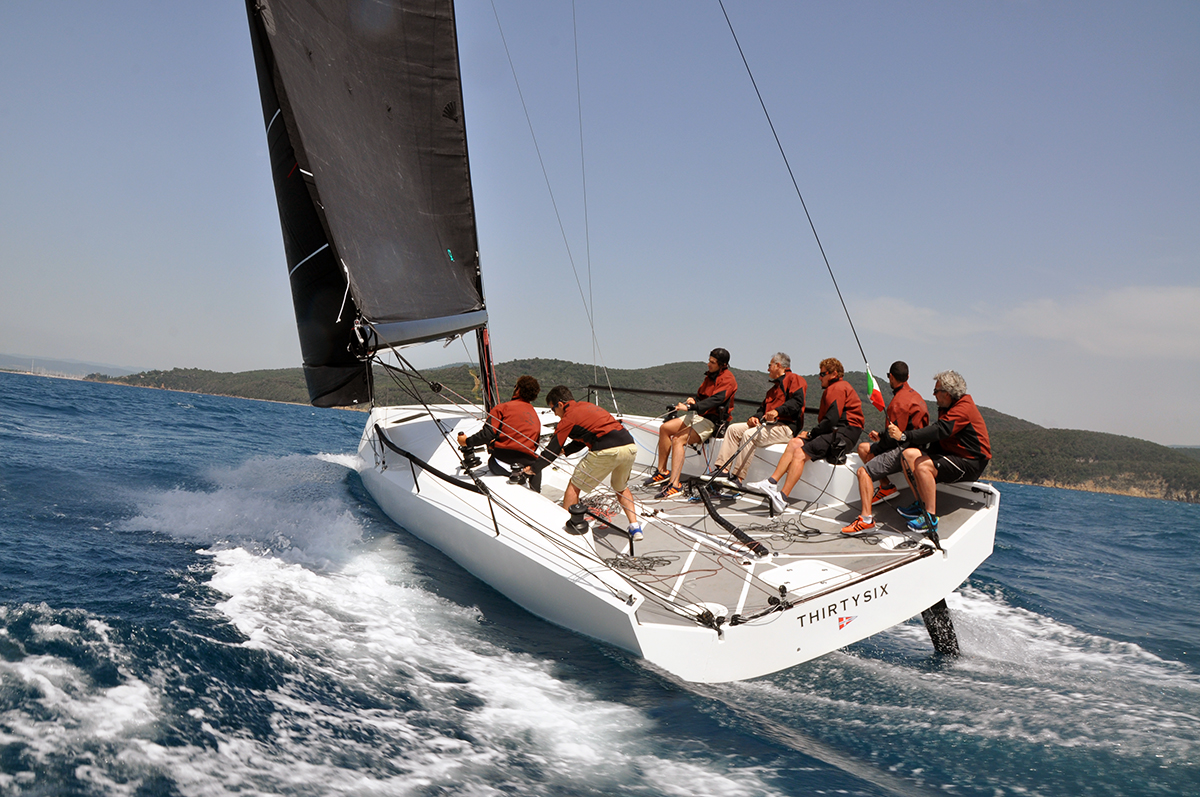 "It is an honor to be part of such an exciting program from its inception," says Ed Reynolds, president of Quantum Sails. "Quantum Sails is all about total performance and design. Our data-driven approach to sail design and desire to continually push boundaries and make sailing more accessible fit perfectly into the Nautor's Swan philosophy on this project. With this new ClubSwan 36, you no longer need to be an America's Cup level sailor to experience this level of extreme performance," continues Reynolds.
The foil-assisted ClubSwan 36 makes the fun and excitement of high-performance dinghy and keelboat racing accessible to a wide range of sailors. The innovative design boasts a flush deck, open cockpit and retractable bowsprit, chamfered bow, and transverse sliding C-foil. Above the deck, the Juan K Office designed carbon rig provides plenty of tuning opportunities while racing this innovative entry-level sports boat.
"This truly is a sailor's rig," says Chris Williams, Quantum design lead on the ClubSwan 36 sails. "The carbon rig is unique. It has a lot of control and it's very light. Sailors who enjoy the technical aspects of rig tune and sail control will get a lot out of this class, especially using the Quantum setup. We used our powerful iQ Technology design tools to develop a suite of sails with unprecedented shape without sacrificing the wide range of trimming capacity required with the limited sail inventory dictated by the class rule and the target sailors who will be using them."
In working closely with Nautor's Swan and Juan Kouyoumdjian, Quantum Sails found in these teams the same passion and commitment to performance, design, and technology. Additionally, Quantum Sails felt an aligned belief in the importance of helping to elevate every sailor's performance to maximize the experience and meet their challenges. Quantum looks forward to continued collaboration with Nautor's Swan and Juan Kouyoumdjian throughout the ClubSwan 36 sea trials as well as in the future.
www.nautorswan.com   www.QuantumSails.com
Contacts
Mark Chellis
MChellis@QuantumSails.com
About Quantum Sails
At Quantum, we're connected to sailors everywhere through our love of sailing and our belief that facing every challenge head-on is infinitely rewarding. For us, that means challenging convention – especially if that's what it takes to help our customers and the sailing industry get to new, better places. as a company and as individuals, we embrace every single challenge you bring our way as our own.
Since 1996, we have focused on providing the best-performing products in sailing. today, we're equally relentless about delivering a higher standard of service, customer care, education, support and mentorship. it's how we'll continue to help sailors at all levels pursue their passions and achieve their aspirations.
https://www.facebook.com/QuantumSails
OUR COMMITMENT STARTS WITH OUR DEDICATED EMPLOYEES AT MORE THAN 50 SAIL LOFTS AROUND THE WORLD AND INCLUDES HUNDREDS MORE WORKING BEHIND THE SCENES TO DESIGN, BUILD AND SERVICE QUANTUM® SAILS.
Nautor's Swan Press Office
About Nautor's Swan
Nautor's Swan has more than half a century of experience in building performance sailing yachts, which are recognised the world over for the perfect combination of style, quality, performance and reliability. Exceptional sailing performance will always define any Swan and, while the more traditional Swan Yachts will retain the familiar element of cruising comfort along with their ability to compete when required, ClubSwan Yachts will be more distinct in their role and direction with the specific objective of leading the yard's development of high-performance yachts based upon cutting-edge design principles.
More than 2,000 yachts have been built over five decades, between 36 and 131 feet, and with the latest generation of Swan yachts like the Swan 120, the Swan 65, the Swan 48 and the outstanding ClubSwan 125 and ClubSwan 36.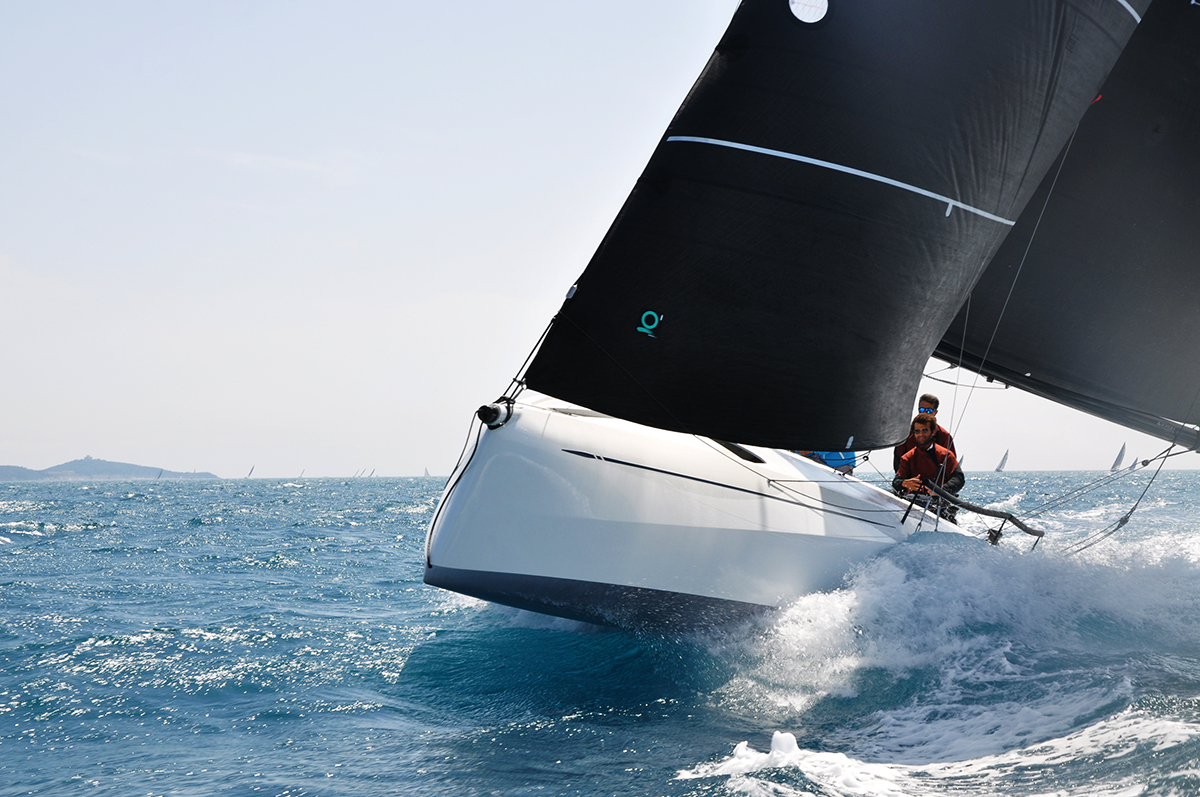 Jewels in the crown of the ClubSwan calendar are the Rolex Swan Cup, organised by the Yacht Club Costa Smeralda (Porto Cervo), and the Nations Trophy, dedicated to the Swan One Design yachts (ClubSwan 36, ClubSwan 50, Swan 45, ClubSwan 42).
Swan Yachts
Swan 48, Swan 54, Swan 60, Swan 65, Swan 78
Maxi Swan Yachts
Swan 98, Swan 120
ClubSwan Yachts
ClubSwan 36, ClubSwan 50, ClubSwan 125
 Nautor's Swan Photography|
Nautor's Swan photography is available for editorial use, royalty free. For access to the Nautor's Swan photographic archive, please register at https://nautorswan.photoshelter.com/signup/signup/free then visit the Nautor's Swan galleries http://nautorswan.photoshelter.com/gallery-list to download photos.
Follow Nautor's Swan
F  https://www.facebook.com/nautorswan
T  www.twitter.com/#!/nautorswan