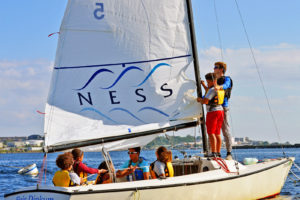 New England Science & Sailing Foundation (NESS) is an ocean adventure nonprofit that provides STEM-based education programs, on and off the water, for students from all walks of life. NESS uses sailing, marine science, powerboating, and adventure sports as teaching platforms. They engage everyone in experiential learning that builds confidence, teamwork, and leadership skills vital to their futures.
Over the past twenty years NESS has come a long way from its beginnings and stands out as unique place for many different types of learning. This learning is centered around their four core values. As of 2018, they've taught over 9,000 students!
Inclusiveness- Opening doors for on-the-water learning for all students regardless of ability or financial need
Experiential Learning- Actively engages students through inquiry-based learning by doing, seeing, and feeling first hand
Personal Growth- Taking students out of their comfort zones for personal discovery and empowerment
Stewardship-

Building connections between students, their communities, and a sustainable natural environment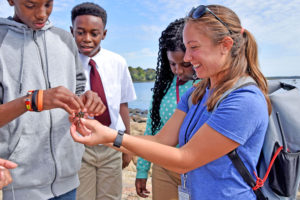 What was the vision the founder Spike had for starting the program?
NESS was founded on the core value of being inclusive. Spike wanted to get people from the community out on the water sailing. At its start, NESS was part of the Stonington Harbor Yacht Club. As NESS expanded, we separated from the yacht club and started using sailing, marine science, adventure sports, and powerboating as platforms.
What was the size and scale of the programs when it first started and how many staff members are currently involved?
When we first started in 2002, we had 14 children sailing in nine dilapidated Optimists purchased from the Ida Lewis Yacht Club. At that time, we had two seasonal instructors. Now NESS has 26 full-time staff supplemented with 15 AmeriCorps members and during the summer we add another 30 seasonal staff.
Before the science was added in 2008, what types of programs were being offered at the organization? Where did the idea for involving science come from?
Marine science was added in 2008 to reflect the fact that not all students wanted to sail. In fact, the opportunity to take a marine science program in the morning and sailing in the afternoon gave students a wonderful full day experience. We were one of the very early adopters teaching STEM (Science, technology, engineering, math) on our water-based platforms. Now we align our school offerings to the Next Generation Science Standards (NGSS) supporting curriculum in schools. It's important to know that our science program really encompasses all aspects of sailing. We are very pleased to be the only program in the region that is teaching on high-performance sport boats and foiling sailboats. Science is critical in high performance sailing.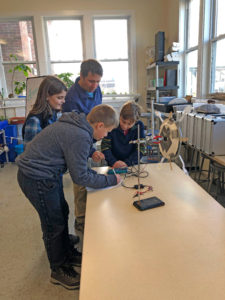 How has the addition to science changed the organization?
Science has never really been a standalone aspect of NESS's curriculum. Not only is sailing a great way to build lifelong skills such as teamwork, confidence, and leadership, but is also an educational experience. NESS educators use US Sailing's REACH curriculum to guide our own sailing adventure programs. REACH is a curriculum that helps teach STEM (science, technology, engineering, and math) principles through the unique platform of sailing. It is associated with National Education Standards (NES) in science and math, which is a second set of curriculum standards that NESS educators use to create quality programming. Research has even shown that REACH curriculum has helped participants increase their STEM based knowledge by 13%! We can teach students about STEM principles such as wind, buoyancy, sail area and perimeter, simple machines, and more in just one field trip!
As students learn about how weather impacts sailing through wind and waves, they discover the physics of wind lift and learn about how parts of the boat such as the sail, keel, and movement of sailboats use wind to function. Geometry is effortlessly incorporated into sailing!
In short, we have always taught science on the water, whether that is through sailing, kayaking, powerboating, paddle boarding, or marine science.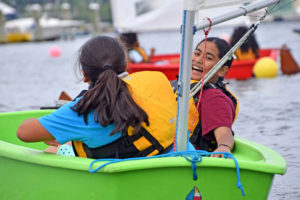 How does NESS reach out to students and schools?
In terms of schools, about 80% of our programs come from a combination of referrals from other teachers and general word of mouth. Other ways we reach out is through emails, phone calls, and mailings. Many teachers and organization directors look through our website and get an idea about our programs from our Education Program Guide. From there we can further coordinate aligning their curriculum to our programs with guidance from one of our NESS educators.
A large number of students at the organization attend the program with the help of financial aid, how important are donations to NESS for this?
Donations provide a critical 70% of our operating budget and help make NESS accessible to students from all walks of life. Additionally approximately 50% of our school students cannot afford the full tuition for our curriculum, so we rely heavily on fundraising to offer scholarships to enable them to attend.
What are some of the biggest changes has the organization gone through in the past few years?
Probably our biggest change was as we became accredited. As an organization, we spent 2018 undergoing a rigorous accreditation process with the New England Association of Schools and Colleges. In the fall of 2018, NESS was accredited by NEASC. NEASC, the oldest accreditation agency in the country, accredits educational institutions, like Harvard, Connecticut College as well as a vast array of independent schools. NESS is the first school partner program to be accredited in the country validating the quality of our curriculum and achieved outcomes. What started out as a small community sailing program in 2002 has now blossomed into a very relevant educational partner to schools and is making a real difference in students' lives using the water as a learning platform.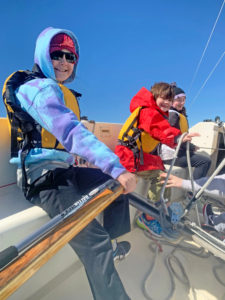 The New England Association of Schools and Colleges said, "NESS makes a difference in the lives of the young people it nurtures—sometimes a life-changing difference and sometimes a simple moment of self-confidence gained. We had a distinct sense the people who make NESS what it is regard this opportunity as a genuine and rare privilege. Their commitment will continue to strengthen this exceptional program."
Where does the organization see itself in the next few years?
Looking to the future NESS will dive deeper into our collaboration with schools both during the summer and the academic year. It is this partnership that allows us to not always support the curriculum but teach important life skills such as teamwork, communication, confidence, perseverance and self-control.
A special thanks to the NESS Associate Director of Communications Caroline Knowles for giving us the insights to the organization!