Although the El Toro was conceived in "Bull Sessions" at the Richmond Yacht Club in 1936, it has become a recognized class of over 11,000 one-design yachts and is the most popular "dinghy" on San Francisco Bay.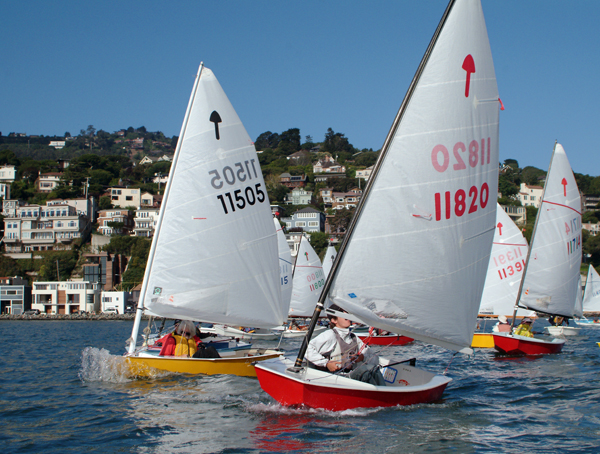 More than fifty years ago, a need was recognized for a small inexpensive sailboat which could serve as a yacht tender and training craft. The El Toro design was based on the MacGregor Sabot plans which appeared in the Rudder Magazine in 1939. Today, the class has allowed new materials to be used with a considerable improvement in performance. The sassy El Toro now has many of the "go fasts" of larger yachts adapted for lighter loads and the small rig. New El Toros are not as inexpensive as they once were, but the original design considerations have remained. Today's yachts are satisfactory tenders and sprightly racers.
Junior sailing programs at yacht clubs and municipal sailing classes have developed many fine young El Toro captains. High quality racing programs have kept the interest of these young sailors. Often sailors "move up" to larger yachts and are frequently recognized as champions. Many return to the lively tactical sailing situations provided by El Toro racing.
The El Toro has benefited by high quality racing provided by the Small Boat Racing Association. The SBRA has in turn been supplied with sailors in many other classes that have started in the El Toro.
| | | | |
| --- | --- | --- | --- |
| Length:    | 7 ft. 11 in. | Sail Area: | 49 sq. ft. |
| Beam:    | 3 ft. 10 in. | Hull: | Wood or Fiberglass |
| Weight: |  60 lbs. (hull only)   | Spars: | Wood, Aluminum, or Carbon Fibre |
|   | 80 lbs. (min. wt. Equipped) | Crew:  | One |
-From the El Toro class website