The B/One is an exciting, new 7m (23ft) trailerable, one-design sport boat currently under construction by Bavaria Yachts in Giebelstadt, Germany.  Bavaria asked Farr Yacht Design for an economical one-design that would impress advanced sailors with excellent performance, yet be easy to handle and operate for the weekend sailor and his/her family.
Farr Yacht Design, the designers of the B/One, have met these requirements with a technologically advanced hull shape developed from the Volvo Open 70 and Farr 400, an easy to use sailplan, and interior features you would expect to find on a boat 3 feet longer.
The B/One has the power to weight ratio to perform well both upwind and downwind.  The 34m2 (377ft2) of upwind sail area is set on an aluminum mast.  The 48m2 (517ft2) asymmetrical spinnaker flies on a 1.3m (4.3ft) retractable bow sprit providing plenty of downwind horsepower. The keel and rudder are retractable making docking or anchoring in shallow water possible. The retractable keel also makes slip launching a breeze and allows for very low trailering heights, so that the boat can be towed by a relatively small vehicle. The B/One promises to be an absolute delight to sail and operate with unique features from bow to stern.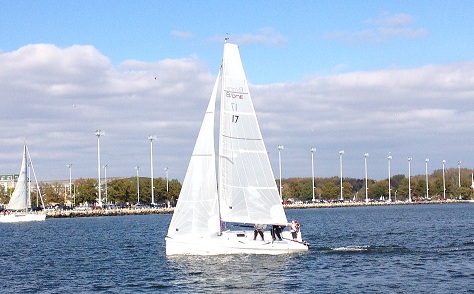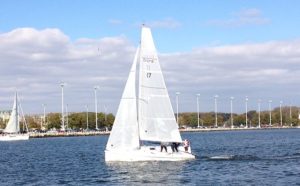 For an in-depth review of this boat, click here:  https://www.sail1design.com/airwaves/one-design-classes
Read the S1D SailTest article on the B/One