Girls Rule the Day at Opti Team Racing Nationals,  By Airwaves Writer Clinton Hayes
The reason why I said yes to being PRO at this year's Opti Team Racing Nationals, in large part, was because friends of mine had done the same the last couple of years and said it was the best thing they did all summer. Although there's still time left, its looking like that might be the case for me as well. California Yacht Club in Marina Del Ray, CA in cooperation with the United States Optimist Dinghy Association, set the stage for a great event with dozens of volunteers and another dozen umpires. As PRO I also have to thank the trusty California sea breeze for making our job easy with very few course changes. 23 teams with 4 boats on a team, many with a substitute, sailed over 300 total races across 2 racecourses in just 3 days.
For those of you like me who haven't been around Optis in a long time and haven't seen any 4 on 4 team racing, the racing ranged from challenging at best to completely crazy. The Optimist stops and starts in an instant making almost any team racing move possible at any moment. The small size of the boat and high skill level of most teams meant boats got within an inch of each other without fouling.
Check out this video http://usodanationals-2014.org/graphics/UploadFile/11303/16345/teamracing2_.mov.
I was not jealous of the tough job the umpires had sorting out whether or not contact had occurred. I would put any of these 13 year olds up against the best match racers in the world in terms of "selling" a call to the umpires. It was very fun to watch.
I did manage to pick up the basics of 4 on 4 team racing. There are basically 2 winning AND stable combos: 1,2,3,X and 3,4,5,6(kind of like a play 2 in 3 on 3). Really the play is to have 3 of your 4 boats in the top 4 or put 2 of the other team's boats in 7th and 8th. 1,2,6,X also wins but is very unstable because so many opponents' boats can work together to pass your 6 back. 4 on 4 favors "playing back" which kept most races exciting till the very end with many lead changes on the finish line.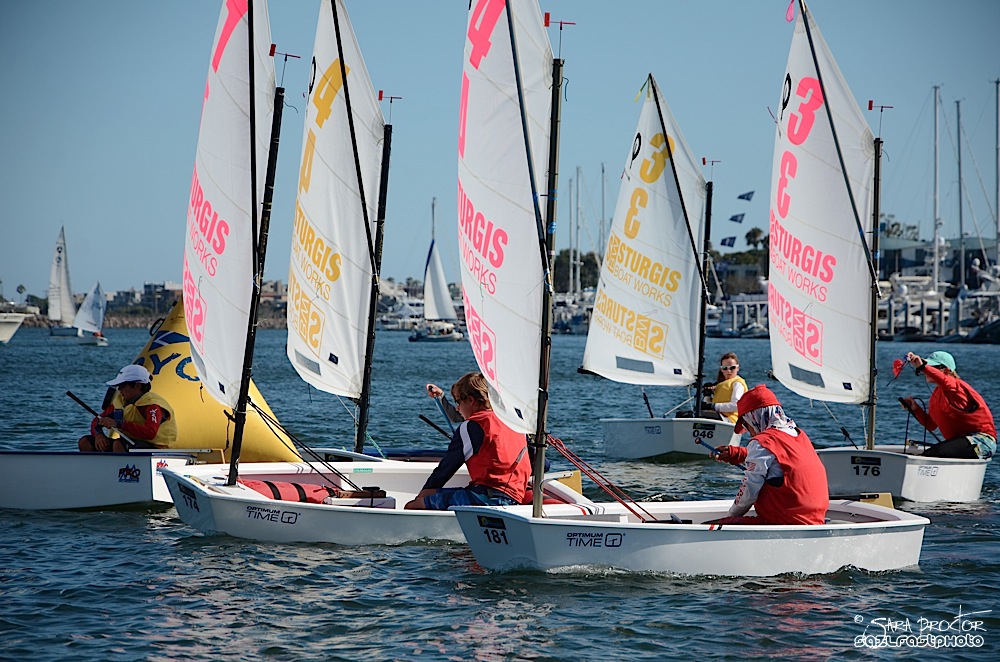 Gold Fleet racing. Photo credit to Sara Proctor sailfastphotography.com
I could go on talking about team racing but what I really want to say something about are the girls. It's clear that the Optimist is special because the girls and guys really compete on the same level. Scroll down the fleet racing results and you'll see it's pretty close to 50% girls in the gold fleet:
http://usodanationals-2014.org/tp70/page.asp?ID=315736.
A large part of this is probably the more identical size of girls vs. guys of that age but another part is equal opportunity. There are only 2 female team races in the country that I know of, the Duplin Team race at Tufts(a college event) and the Chix only team race hosted by Harvard this year http://www.ritra.org/chix-only/. College fleet racing has both girls and coed competition, why not team racing? A very small percentage of girls will go on to start in a college team race nationals but what about the rest? Most of them love team racing just as much as the guys but don't get a chance to compete outside of practice. Working hard at team racing practice for the sole benefit of the coed skippers seems like a pretty unfair situation.
Beyond the opportunity issue is the pure skill I saw out of both genders, but especially the girls. I coach high level college team racing and I saw things from some of the girls that I wished I could have videoed to show our incoming freshmen how to hold a pin and the right way to do a trap at mark 3. Needless to say, I was very impressed. In the finals the two best teams met for a first to 3 wins series. LISOT Gold struck first before the teams traded wins with team CERT/SPYCRT taking the 5th race and the regatta win. After watch all that racing it came as no surprise that the winning team had more girls than guys. Winners of the 3rd vs. 4th sailoff, SailStrong Red, also had more girls than guys. That amounts to more girls than guys total on the podium.

            Teams Black and Yellow at the start line during the finals. Photo credit to Sara Proctor sailfastphotography.com
My hope is these talented young sailors keep having fun team racing. Each day I was shocked to hear that at 5pm the kids still wanted to keep racing when the umpires and Race Committee where burnt out hours before. It was crazy how much they loved it because they don't get to do it that often. I especially hope that most of these super talented girls will keep driving in team races as they enter high school and college. My pledge to them is that as long as I am involved with college sailing I will work to establish a girls college team racing nationals so hopefully by the time they are 18 and showing up to campus their freshmen year they have something to work toward in team racing.

I'd like to thank to USODA for bringing me and my girlfriend(Co-PRO Erin Pierce) to this great event. Two people in particular worked so hard to make everything possible. Bill Stump form California Yacht Club took care of any logistical problem the event faced and Genoa Fedyszyn, USODA executive director, lead the way to make everything work. Thanks! And maybe see you next year.