By Airwaves Writer Taylor Penwell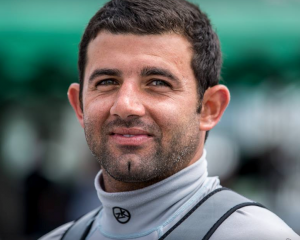 Victor Diaz de Leon is one of the best professional sailors in the upcoming generation. Originally from Venezuela, Victor has excelled in his career in college sailing and now professional sailing aboard podium finishing programs in the J70, Megles 24, and Etchell classes. In addition to these classes, Victor is an accomplished Moth sailor. He was nice enough to take the time out of his busy worldwide racing schedule to answer some questions about himself and his racing.
Where are you from Victor?
I am from Puerto La Cruz, a small town by the sea in Venezuela. I was born and raised there. I lived a very fortunate life growing up, playing in the ocean every day and always sailing, fishing or windsurfing.
How did you start sailing?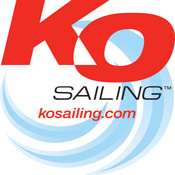 -I started racing sailboats when I was 6 years old on my Father's 30ft racer cruiser. I absolutely loved the adrenaline of racing and the tension on board. My mom never came on board for regattas to avoid "getting a divorce" she always said, haha. When I was seven years old my dad got me an Optimist and I quickly became obsessed with the sport and racing. It became my life.
What were the first boats you sailed?
I sailed optimist, sunfish and Lasers growing up in Venezuela. I had the fortune of having an amazing sailing coach and life mentor, Umberto Costanzo, an Italian immigrant. He was in his mid 80s while I was a teenager. He never came out in the water with us. Not once. Instead, he would explain the physics, tactics and sailing concepts on land so then we could go experiment with the theories on the water, while he watched from shore. Then we would have a meeting after practice and share our thoughts on what discoveries where made that day.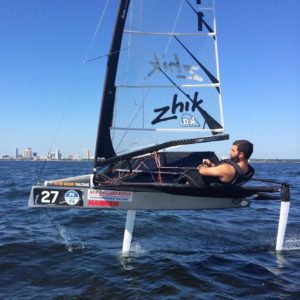 Tell us more about your mentor Umberto Costanzo.
He was an amazing guy with many stories and talents. He emigrated from Italy after fighting in World War II, was a mountain ski slalom world champion, an architect, a painter, sculpture, writer, entrepreneur and sailor. You could compare him to a Leonardo Da Vinci. He was tough and strict. A fan of the strong in spirit. For example, we had no dollies to move our boats because carrying them by hand made us stronger and become better teammates among sailors. When no one else came to train, it meant that I had to get my boat from the wooden racks to the beach 50 yards away. I would carry the hull on my back and then rig at the beach. From there I could carry my boat all rigged up on my thighs. It was empowering and gave me a feeling of invincibility. Those were the glory days of my youth.
When and why did you come to the U.S.?
When I graduated high school at 17 years old, my parents decided to send me away so I could learn English in the US. Unfortunately, they were forced to come as well because Venezuela was no longer safe. Crime, corruption, and political chaos made for a very dangerous place. When we left it felt like my life was stolen away from my family and me. My hometown, my friends, and the many things I enjoyed were far away.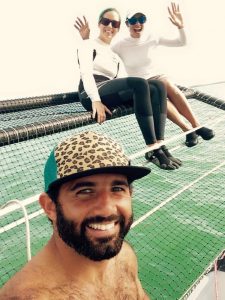 We were located in Washington D.C. We had some relatives who were very kind and helped us settle. My family and I started making a new life. My parents and brother moved to Miami after two years where the weather and culture felt closer to home. My family and I are very thankful for how welcoming this country has been and for all the opportunities it has provided us with.
How did you pick St. Mary's College of Maryland?
I went to English school, then community college and finally St. Mary's college of Maryland were I started sailing again. The proximity to D.C encouraged me to visit St. Mary's and once there I instantly loved it.
How did college sailing make you a good sailor? 
Going to college in the U.S was an amazing experience. I made many friends and got to sail almost everyday. College sailing gave me the opportunity to sail against great sailors and work with top-notch coaches. Racing so often with such evenly speed matched boats helped me better understand the importance of starting and boat-to-boat tactics.
How did you start pro sailing? What kind of work goes into Pro Sailing?
Through one of my summer jobs coaching optimists in Long Island I met Scott Kaufman, an Etchells owner. We started racing together and soon became very close friend. He is now like a second dad to me. Racing in the Jaguar series I met Willem Van Waay, who is now my best friend. He saw my enthusiasm and quickly took me under his wing. Little did I know that you could make a living out of sailing. Willem introduced me to this possibility and offered to help. We raced together for a 2 years so I got to learn from one of the best Pros in the industry. Learned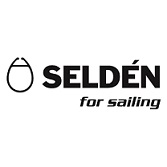 important new skills, work ethic, etc. I learnt that being a successful professional sailor takes a strong desire to win along with having a friendly personality;) The more you win, the more jobs you get. But winning takes preparation: making your boat perfect, testing different sails, creating repeatable settings, practicing enough hours as a team, analyzing other programs successes, thinking outside the box, etc. All this takes time and a constant drive to improve one's self.
What are some of your favorite career highlights so far?
I am excited for having the opportunities I have had in my career so far. From sailing with the best tacticians, sailmakers, drivers and trimmers in the industry, to being the guy in charge of my own team and running the show. We were second in the 2014 J70 worlds in Newport with "Catapult":  Joel Ronning, Bill Hardesty, Willem Van and myself, I was doing the bow. In last years J70 Worlds, we came third on "Africa" with Jud Smith, Alec Anderson and Ed Wright. But this time I was the tactician. It was a bitter sweet feeling as we were leading the Worlds the first two days, but sharing the podium and putting a serious fight against your older teammates/mentors felt great. Some of last year highlights include 3rd place j70 worlds and 8th place Melges 24 World's with myself being the tactician for both events. I was 9th place in my first Moth Worlds. 1st place in Etchells North American's as trimmer. As I am excited about how my career has evolved, I have my sights on winning something big like a World Championship. It has been my dream since I was very young. I look forward to the future and chasing my dreams.