Over the weekend of September 16th-17th the United States Waszp Nationals was held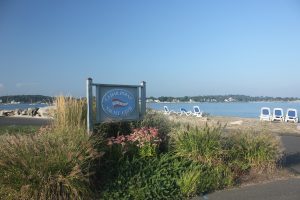 at Cedar Point Yacht Club in Westport, Connecticut. The Waszp class is a new exciting boat that is gaining attention throughout the country. If you hadn't had a chance to check out these boats yet, its a must do! Check out the article First WASZP Class Regatta in the USA!: WAZSP Profile and Regatta Report for the Waszp profile.
Day One – Saturday, September 16th:
Nine sailors from across the country arrived at Cedar Point Yacht Club and were greeted with foggy conditions. The breeze was more than the forecast had predicted ranging from about 5-7 knots. The sailors knew the forecast wasn't looking great for the weekend, so the group all rigged up and after the skippers meeting launched quickly to try and get in some racing. For the first race, the breeze was still about 5-7 knots blowing from the East, the course for the day was a windward leeward. Conditions were spotty throughout the course, but the top half of the course seemed to have more breeze shifting towards the right. Downwind the trick was to stay as balanced as possible and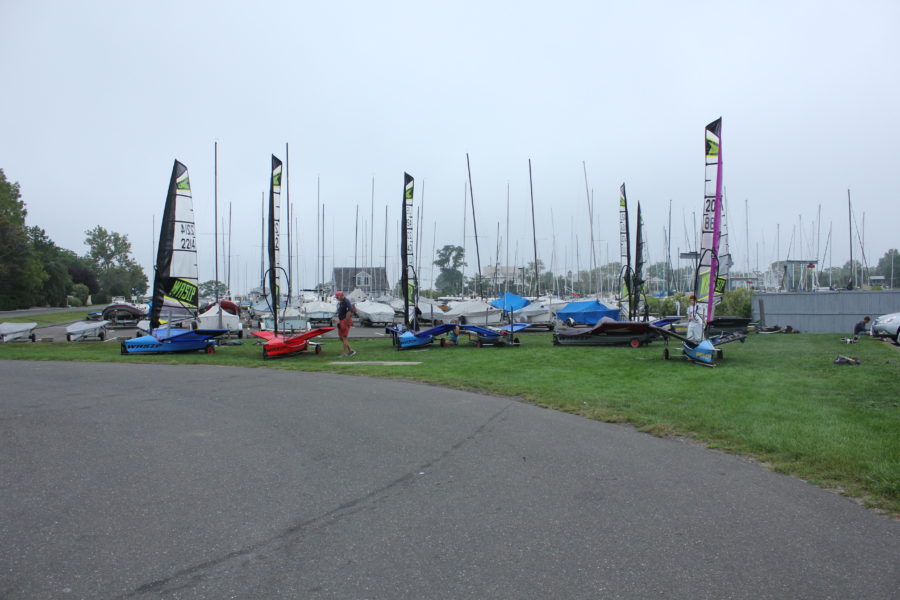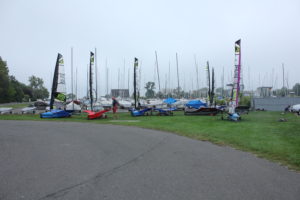 stay in the pressure. Sam Blouin took the first race win, with Conner Blouin in 2nd, followed by Reed Baldridge in 3rd. The second race they shortened the course as the conditions seemed to be going in and out, and dying down to the 3-5 knot range. A lot of the same for the second race, staying in the breeze was key along with balancing your boat. Robyn Lesh took the 1st this race, followed by Connor Blouin in 2nd, and Sam Blouin in 3rd. After the sailors finished the second race, the race committee moved the course more East as wind conditions looked a little more consistent up the course. However, once the race committee set the course, the breeze had died out. Waszp sailors hung out while we all hoped for more breeze to fill back in throughout the course. Unfortunately, it wasn't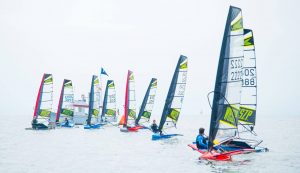 looking promising, so the race committee sent us all in for a wind delay on land. Once all the sailors reached land, we waited for a more consistent breeze. Sailors hung out enjoying some snacks while we all hoped for better conditions to transpire. After about an hour wind delay the breeze filled back to the 5-6 knot range, but due to the time of day and breeze predicted to die the group called it for the day. Once the call was made, the group derigged for the day and headed upstairs to enjoy a great taco dinner put on by the club. Sailors all left fed well and tired from the day of low riding, and most of all hoping for better breeze tomorrow.
Day Two – Sunday, September 17th: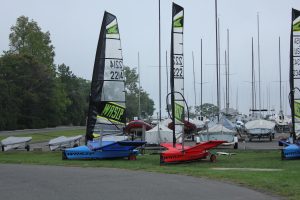 All the sailors arrived at Cedar Point eager for better breeze; unfortunately, that was not the case. Foggy conditions and zero breeze were the conditions the sailors were greeted with on day two. However, despite the wind delay sailors rigged up their boats hopeful that breeze would fill as the fog lifted. During the wind delay, sailors chatted about the class and where to hold regattas in future. They also discussed the boats and different settings they have been using while sailing. Despite the lack of breeze, it was a great way for the class to get more exposure and get sailors of this new class coming together. At noon the race committee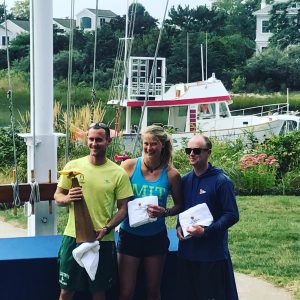 called the regatta for the weekend, and awards followed. 1st place Sam Blouin, 2nd Connor Blouin, and 3rd Robyn Lesh.
Unfortunately, the conditions for the Nationals were not foiling, but it was another great event to get this class up and moving. It will be exciting to see the events in this class continue to grow!
Like USA Waszp Class on Facebook to follow the class and stay updated with new events coming to the calendar soon!