This past weekend, Severn Sailing Association & the Annapolis Vanguard 15 fleet hosted the 2015 Mid-Atlantic Championship. In years past, one would expect V-15's to arrive en masse, on car tops, on trailers, all filled with college-age & post-college sailors, ready to do battle, and ready to have fun.
The Vanguard 15 became a very successful one design sailboat, primarily with the collegiate/post-collegiate sailing crowd. V-15 Midwinters, team races, and summer events often attracted 50+ boats, and incredible competition. These events had a summer open-air Woodstock feel; fun and excitement on the water was surpassed only by the fun off of it. This Bob Ames design was a hit; the V-15 is a great boat, which fit the crowd perfectly; simple to rig & maintain, keeping costs as low as possible, open, easy cockpit, boats even in speed, and they sail really well, planing in 10 knots and above. Good times.
Sadly, the class, as it was conceived, has all-but evaporated, as the new boat assembly line, and parts and sails, stopped production. But that's another topic. To learn more about the history of the class, and what happened, visit this article "Elegy for the V-15: Good Things Do End, But That's OK".
So what to do with all of these V-15 hulls, and better yet, memories of great events? The 2015 V-15 Mid-Atlantics, then, one might think, would be dead on arrival. No interest, no one traveling, and, no regatta.
Not so fast. In comes Severn Sailing Association, and the Annapolis V-15 Fleet. Their response, led by new Fleet Captain Tim Herzog, and his wife Jennifer, was not only to keep this great boat alive, but re-invent the events. Times change. You see, many of those collegiate and post-collegiate sailors, who enjoyed the class and the boat in younger, carefree 20-something days, well, they got married, and had kids. Life gets in the way, there's less time for sailing, have to find babysitters, it's easy to say goodbye to weekend sailing…. unless….
Wait! Why not bring them along?? In fact, why not make the kids, who represent the future of the sport, the focus? Seems the venerable V-15, so perfect for team racing, and tight one-design racing among college stars, also fits a lot of kids, comfortably!!

Bingo! So this year's event featured several former standout college sailors, along with their wives/husbands, and kids: Matt Schubert (Kings Point), Ian Burman (Georgetown), Julie Younger Sitzmann (US Naval Academy), Lori Plumb Schubert (U. New Hamsphire), Tim Herzog (St. Mary's College). Along with a few "normal" teams, the event also attracted a few current college sailors, all from the US Naval Academy: Alex Asuncion, Mike Popp, and Gary Prieto.
With age ranges out there from 4 to 10, the "future stars" of sailing enjoyed a perfect day on the water. Smiles were everywhere on the course, which featured 7-14 knots and beautifully sunny skies. A few marks, to top it off, were equipped with candy. So, in this race, hitting a mark was a sugar-filled bonus!

Afterward, the fleet convened and awarded trophies for A, B, and C Divisions. This creative (and brilliant) scoring system allowed everyone to feel like they made a difference out on the water.
A Division:           Open
B Division:           Crew skippers this division
C Division:           Must have someone under 12 driving the boat
Near the end of a long, sunny day of racing, as most of the kid-filled boats had happily sailed in to prepare for the planned scavenger hunt (designed by Jennifer Herzog) and the fleet dinner party, it was down to 3 boats remaining for the last race. In a nice sign for the future, a 10 year old skipper won it*; a perfect way to end the day.


*The editor did notice that the other two boats in this last race, skippered by US Naval Academy sailors, with no kids aboard, ran into rather interesting problems (lost sunglasses on one boat, and hitting a mark on another) during the race, which allowed the 10 year old to pass, and win. This was a subtle act, but a very thoughtful gesture that gave a young sailor a great thrill, and fit the philosophy of the event perfectly.

Great going to Severn Sailing Association, The Annapolis V-15 Fleet, and Fleet Captains Tim & Jennifer Herzog. It could have been easy to walk away from the V-15, and let the boat fade away with its younger, rowdy memories. Instead, the boat has new life, in a new format, and with proud parents looking on and engaged, the Vanguard 15 is making new sailors fall in love with our sport. I can't imagine a better fate for a one design class.


I was able to catch up with Fleet Captain Tim Herzog, and get his take on the event:
How was this event conceived?
It evolved from an idea that Alon Finkelstein had this winter to "rebrand" the fleet as a family fleet.  Acknowledging that many of us who sailed the boat in the past now have young families (and a different lifestyle), it seemed we needed to make our monthly scored events non-weekend events (now Tuesday nights).  And we thought we could still be ambitious with one weekend event, but after conducting a survey… it seemed one day would be much more feasible than two.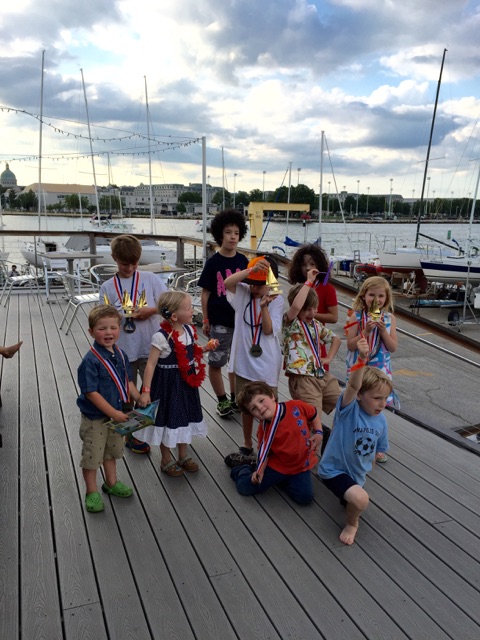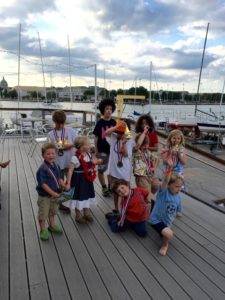 We toyed with ideas of team-racing, or A/B division events.  We got excited about maybe having separate teams sail A division, so that kids could have breaks and play together on land, but we abandoned that idea for this first go at it.  Logistically, it would have been hard, since we have to sail out a little ways in Annapolis to stay clear of motor boat traffic.
How would you rate its success?
I think it was a success!  I think we balanced giving good sailors an opportunity to have strong (but low-key) competition with opportunities for kids to have a taste of racing that didn't feel extreme or intimidating.
Do you think this event will happen again for the V15 fleet next year?
I imagine we'll do something similar again.  I'd love for everyone to put on their thinking caps and give feedback or ideas.  I could envision having a rotation boat or two, so that kids could have breaks.

Would you recommend this type of event for other one-design classes?
I would definitely recommend this format for other classes.  Keep it simple and fun.  Be realistic with everyone's capabilities.  And remember some of your biggest goals…like having kids walk away from the experience as psyched or more psyched about sailing.
SSA Vanguard 15 Fleet
Vanguard 15 Class Association