By Airwaves writer Andrew Kerr
Picture this: A team is approaching the weather mark in 3rd place on a tight starboard tack lay line , it looks like that with some good sailing they will make it around the mark  ahead of 55 other teams and will be off and running with a good spinnaker set.  
But then the situation changes quickly, the driver starts to get a little anxious and starts pinching, a port tacker ducks them and then tacks up on their hip preventing an escape tack and as the boat speed drops and the foils steadily stop lifting and in tandem with an ill-timed set of waves  the boat slides to leeward with no chance of making the mark , now the team is forced to jibe and duck all oncoming starboard tackers before finally getting in line again to round the mark  in 18th place .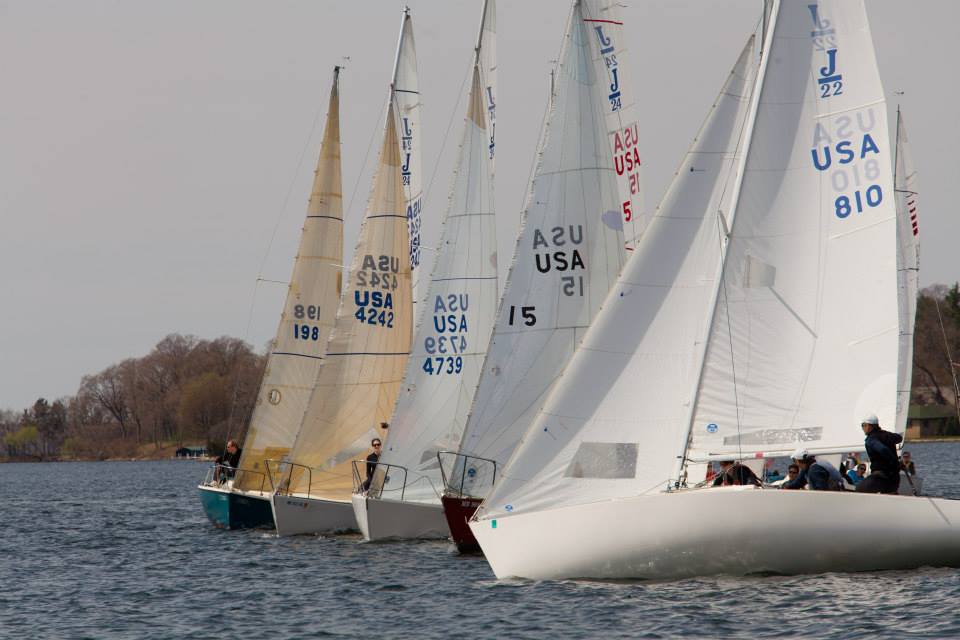 Sound familiar? It happens to all of us and it happens fast , it is  a very common issue in big and small fleets dealing with adverse current, on short beats and in flatter water and medium air (where fleet boat speed is very comparable) where there tends to be lot of traffic at the weather mark.
Interestingly enough – weather mark rounding's tend to be a little   less complicated on long beats in big waves or heavy air as the fleet has a tendency to spread out more in these conditions due to a bigger difference in boat speed and boat handling skill.
Let's explore the key elements of managing this scenario and ways to mitigate and reduce the potential issues that a tight lay line presents.
Cardinal rule – Do not pinch initially on the approach! If the team pinches it drastically reduces the chances of making the mark as the boat goes sideways. Take the mark out of the picture and go fast; get the maximum lift out of the foils and the boat will climb up to the mark – boat speed, boat speed, boat speed. This is one of those critical moments in the race and the series – calling lulls, puffs, wave sets and being locked in as a team is everything right now.
Alert! Alert! We need an escape plan and the option of the slam dunk defense: Ask the question of your designated set of eyes to leeward -how many port tackers are going to duck us and how far away are they?  This is critical information as any port tacker that executes a good duck and then a subsequent tack on the lay line is going to be pretty close to bow to bow on the next crossing if an escape tack onto port is needed and they represent a potential shutting of the door. With this communication it is important to be on the same page with the terminology that is going to be used – do you like to hear "bow 14 is 6 lengths away "or –"Bow 14 is 15 seconds away"?  When getting close to the mark a defense against the port tacker ducking and then tacking on the hip is to execute a slam dunk tack on them as they duck – remember the constraints of Racing Rule 13 – tacking, a tacking boat shall keep clear of other boats and rule 10, 11 and 12 does not apply so the ducking boat could luff us as they establish a leeward position. The slam dunk takes a lot of practice and typically does not work in light air or big waves as the ducking boat is much faster and can sail right through the tacking boats lee. It generally works best in flat water and medium air or when very close to the mark when there simply is not enough time and distance for the leeward boat to sail through the lee of the tacking boat. This is where your tacking practice in a wide variety of wind and sea conditions will prove invaluable.
Risk/ reward decision based on info and a scan of boats around us – are we going to make the mark? Are we gaining or losing bearing on it and how is the boat ahead (if there is one) doing on the same line as us? Do we anticipate getting tacked on by other boats which with the added bad air may make it difficult to make it? If it looks like the probability is we are not making it and there is a gap in the starboard tack parade then a high percentage decision, particularly in a big fleet is to tack and get in front of them while we can, if the crossing looks close – wait for them to go bow down in a header or a lull or hit a wave set and then tack and cross them while we can.  The other scenario is we could well be net gaining on the starboard tack parade and patience will pay, especially if we see a lift ahead that can get us to the mark or a left shift or more velocity  to tack on and cross with. 
Remember the constraints of Racing Rule 18. 3 – Tacking in the zone, in a nutshell if we tack in the zone then we cannot sail a windward boat up above a close hauled course, if we tack outside the zone to the mark then we can take them head to wind if we need to shoot head to wind to make the mark.
The art of the shoot, with compliance to the above limitations that rule 18. 3 presents, if we cannot make the mark and there is no avenue of escape to tack too, then shooting head to wind is going to be the move. Practicing shooting head to wind in a variety of wind, sea and current conditions here will be invaluable so that we have an accurate idea of how far we can carry with our momentum. I remember practicing shooting head to wind just prior to the Ensign Nationals a number of years back and it paid big dividends as we were able to shoot head to wind , carry our momentum 2 boat lengths and make it around in a big fleet . Ideally when you shoot you drop the Genoa , if only half down to reduce windage  – or roll up the headsail , very often a team does not have time to do this ( or has not practiced it)  so it is crucial to make sure the headsail sheet is blown right off so it does not backwind us on to port tack . The trick is to get the boat going maximum boat speed and then wait as long as is possible/ practical before heading the boat up sharply.
Conclusion:
With tacking practice, shooting head to wind practice and concise communication and heads up sailing from the team   it is rewarding for a team to make it around the windward mark successfully in a tight fleet as there is much to process  and consider in a short time.  The team being able to execute at this critical juncture in the race will help go a long way to solidifying  a good regatta or series finish.