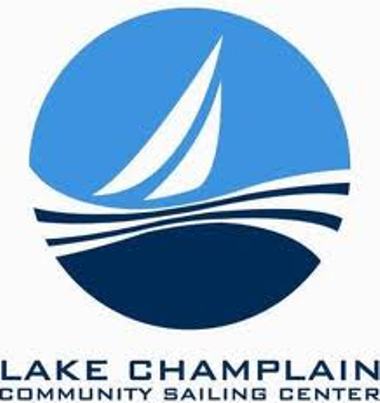 For centuries the Burlington waterfront was home to a busy commercial port. The two miles of Lake Champlain shoreline were covered in factories, shipping facilities, and oil storage. Resources were transported by ship and barge out of Vermont and south to New York or north to Montreal, then out to the ocean. Once Burlington became linked by interstate highway, it no longer needed commercial port facilities.
Gradually the industrial wasteland transformed into public parks, beaches, a bike path, and a public boat ramp. However the waterfront scene is still dominated by two structures. The Moran plant is a massive brick and scaffolding structure in disrepair just north of downtown and one of the last remnants of the old industrial waterfront, symbolic of the old Burlington. Right next door is an equally eye catching, brand new, modern blue structure home to Lake Champlain Community Sailing Center (LCCSC), symbolic of the new post-industrial Burlington.
From its founding in 1994, LCCSC had no real facilities of its own. Operating out of a spartan, re-purposed Burlington Public Works garage, space was subsidized by tents and shipping containers, reinforcing the waterfront's then-gruff image. Perseverance was finally rewarded in winter 2018, when after an ambitious fundraising campaign and city support, LCCSC relocated to a state-of-the-art carbon-neutral building.

For years LCCSC somehow provided programming well beyond their meager setup. LCCSC's robust catalog is comparable to well known programs in larger cities like Boston or Newport.  LCCSC delivers above its weight class in little Burlington, Vermont.
LCCSC has the standard programming you would expect to see at any sailing center, but takes it much further. They have summer camps for all ages and abilities, and then mix in speciality programs. Kids have access to programs combining sailing with a dozen other activities including painting, rock climbing, skating, mountain biking, museums, and STEM.
However what sets LCCSC apart is their signature programs. With names like Floating Classrooms, LeaderShip, WAVES, and First Sail, each one is likely worthy of its own article. Floating Classrooms is a unique program with the goal of putting each fourth and fifth-grader in Burlington on a sailboat at least once. This experience is paired with out of classroom learning in subjects such as ecology, physics, history, and STEM. These programs use sailing as a avenue to teach and provide life experiences larger than sailing itself. First Sail exposes participants to sailing who have previously never had the opportunity. LeaderShip uses sailing to challenge young sailors to develop life skills. LCCSC's signature programs are really about communication, leadership, teamwork, sustainability, and go beyond sailing itself.
In addition to the signature programs, LCCSC has a robust adaptive program using a specially modified Sonar and Martin 16s. LCCSC partners with Vermont Adaptive Ski and Sports to remove barriers from sailing participation and make sure everyone is able to access the lake. Vermont Adaptive shares office space with LCCSC and uses their building as a summertime base for adaptive biking programs to make use of the bike path adjacent to the building.
LCCSC also serves the racer. They host the University of Vermont Sailing Team, a consistently well performing and high ranking NEISA team. They also organize and run the Northern Vermont High School Sailing Team (NVHSST). This is the only competitive high school sailing team in Vermont, made up of combined local schools, which regularly travels throughout New England to compete. In the summer season, LCCSC hosts a popular free Friday 420 racing series open to the public, and puts on racing clinics for 420s and Lasers.
LCCSC has something for everyone. Sailing happens seven days a week for six months a year, an impressive accomplishment for a city with snow on the ground the other 6 months. With rentals, private and group lessons, custom programming for larger groups, company outings, corporate retreats, racing, and lake-side yoga, there's no reason to not "love your lake" as staff say.
As of spring 2018 LCCSC is housed in a brand new, state-of-the-art facility. The building includes two levels of indoor storage, staff offices, conference rooms, a massive outdoor function space, locker rooms, showers, equipment room, observation deck, and maintenance shop. The building is flanked by two gated boat yards and the Lake Champlain Bikeway, which circumnavigates the entire 500+ square mile lake. On the water sits the massive "Atlas" dock, a triple wide dinghy launch, a boat lift, and a dozen moorings, all protected by their floating wave attenuator. Larger boats launch at the next door public Coast Guard ramp. LCCSC fields an impressive fleet including a half dozen Sonars, twenty 420s, a dozen Lasers, Open Bics, Hartleys, a handful of Rhodes 19s, and several dozen kayaks, canoes, and paddleboards.
In a city and state famous for outdoor adventure sports, LCCSC is at home and does not disappoint. They offer more than a typical yacht club and faithfully deliver on their noble motto, "Lake access and life lessons for all". They have an active volunteer program to help keep everything running, a hardworking dedicated staff (some of whom have been there since its inception), and strong relationships with local business and other outdoors programs. In their 20+ years LCCSC has firmly embedded itself in Burlington's outdoor culture. Now that they finally have facilities to match their ambitions, the LCCSC is set for even more growth. Despite their relative geographic isolation, LCCSC is world class by any standard.