By Airwaves intern Jordan Newland
The Mallory Trophy is the pinnacle of high school fleet racing. The Mallory Trophy is ISSA's double-handed national championship regatta in which the teams sail 420s and FJs. It was comprised of two fleets, A and B, and was hosted by the Collage of Charleston on the 14th and 15th of May. Twenty of the United States best high school sailing teams faced off in this regatta. They came from the seven interscholastic Sailing Association (ISSA) districts. To qualify for the Mallory Trophy, they must have made it to their districts' Mallory Elimination regatta and be one of the top three teams overall in that regatta. With all of the diverse talent and Collage of Charleston's new Z420 fleet, this regatta was a real testament to teamwork.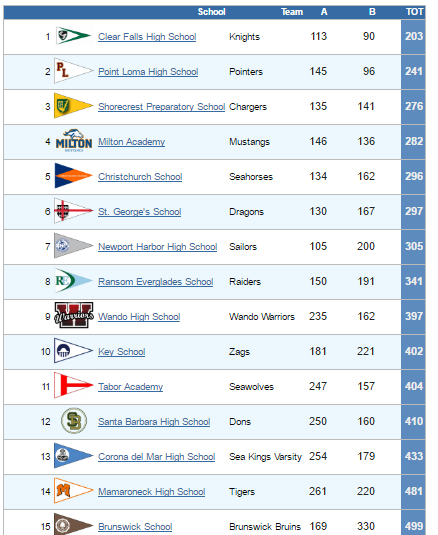 FULL RESULTS HERE
The first day was a beautiful 75 f with a breeze between 7-12 knots coming out of the west. They raced from 10:00am to after 6:00pm getting in an astounding 14 races per fleet, 28 races in total. These races tested the sailors' skills with medium to heavy wind and current with its occasional 20-knot gusts and 5-½ foot tide. Clear Falls' Knights from the southeast district ended the day in first place with a score of 119 points. They had a 56-point lead on the next team ChristChurch from the mid-Atlantic district. Point Loma Pointers from the Pacific Coast district followed ChristChruch with a score of 179 points.
The second day was shorter than the first; it only lasted from 9:30 am to about 1:00pm. It stayed a mellow 74 the whole day with a westerly breeze of 8 knots that weakened throughout the day.  They finished six races per fleet before they called it a day and a regatta. Clear Falls kept the lead with a final score of 203. Point Loma came in second with a score of 241 points, and Shorecrest Prep came in third with a score of 276 points.
The sailors out did themselves with this regatta. They sailed fast and endured long days of continual racing with a total of forty races. No protests were heard the whole regatta and only two redresses were requested with is very surprising for a regatta of two twenty-boat fleets. Of course, these races would not have been possible with out all of the volunteers. A multitude of Collage of Charleston sailors helped with this regatta, from the coaches to students to dock men. There were also other volunteers such as Ryan Hamm and Ryan Davidson who lead the races and starts. The 2016 ISSA Mallory Trophy Championship ended up being an amazing fleet regatta for all of the teams present and was a great experience for all.