Naval Academy Wins Gill College Sailing Coed National Championship, Charleston wins Fowle Trophy
ANNAPOLIS, M.D. (June 8, 2021) – Today was the last day of the Gill College Sailing Coed National Championship, the final of three high caliber spring college sailing national championships that were hosted by the U.S. Naval Academy with support from Georgetown University, the Annapolis Yacht Club, Severn Sailing Association, Eastport Yacht Club and the Annapolis Sailing School. The Naval Academy came out on top on their home waters to win the national title and the Henry A. Morss Memorial Trophy.

The Midshipman won the LaserPerformance College Sailing Team Race Nationals on June 2nd and have now secured their second victory in this spring championship series.

Today concluded two days of racing on the Severn River with 18 races completed in both A and B divisions in FJs and Z420s on windward-leeward courses. The first day of racing had sunny skies, temperatures in the mid 80s and a SSE breeze ranging from 8-12 knots. Today was equally moderate, sunny and warm with winds building enough for some hiking.

Navy held onto their first place lead throughout the regatta and today is awarded the Henry A. Morss Memorial Trophy for their win, which was donated by a group of nationally known yachtsmen as a memorial to Henry A. Morss, a Boston yachtsman and 1907 Bermuda Race winner, as well as an MIT alumnus and benefactor. Navy last won this title in 1995.

"Winning today is an amazing feeling," says Ian Burman, head coach for Navy, "going into the season we thought we could accomplish a lot, but to win today and the LP Team Race Nationals is amazing and I am so proud of the team. Every time we thought we would pull ahead we would have a little set back and it was closer than we hoped, but we are so happy to pull it [the win] off."

"Stanford and Jacksonville came on strong today, but luckily we had a cushion," Burman says. "We tried to sail conservatively and hold onto the lead, sometimes it was too conservative and we were focused on Charleston, which also allowed Stanford and Jacksonville to catch up. But to be able to win is awesome and we could not have done it without all the help from volunteers, local clubs, coaches, the Navy athletic department and midshipman."

Sailing for the Naval Academy was: Joseph Hermus '22 and Kimmie Leonard '22 in A-division and Connor Bayless '21 and Fiona Lobon '22 in B-division.

Stanford University finished in second place after moving up from third place yesterday and in a tight battle won the Oxford University Trophy.

The Oxford University Trophy is awarded to the second place team in the Gill Coed Dinghy National Championship. The Oxford University Yacht Club team and its captain Jeremy Thomas presented this trophy in 1954 on the occasion of the first of a continuing series of college regattas between British and North American teams held alternately in the United States and Great Britain every two years.

"Michelle [Lahrkamp] and I didn't keep track of the scores," says Sammy Pickell a junior, who sailed in B-division for Stanford, "there were three women's pairings in the top three and we wanted to stay ahead of the guys! We focused on controlling the fleet – especially when the wind picked up today and it was less about boat speed – we wanted to get off the starting line well and sail where we wanted."

"We were told with one race to go that we had won B-division, we were so excited to not only win, but be a women's team in a coed regatta," says Pickell. Pickell sailed in all three national championships this spring. "It was a great way to finish all of the events and finish strongly."

Sailing for Stanford was: Telis Athanasopoulos Yogo '22 and Patricia Gerli '23 in A-division and Michelle Lahrkamp '23 and Sammy Pickell '22 in B-division.

Jacksonville University finished in third place just five points ahead of Georgetown University in fourth, winning the Metropolitan Sailing League Trophy, which was first presented in 1971. Jacksonville was in fourth place after yesterday's racing, but fought hard with a number of top three finishes today to stay ahead of the College of Charleston and Georgetown University.

"Third place was hard fought," says Jon Faudree, head coach for Jacksonville, "We tried to just take it one race at a time and one start at a time. Being outside of the podium going into racing today I think helped relieve some of the pressure. We have worked on consistency, over the last five years with Alfonso Garcia Bringas in particular and I couldn't be more proud of him. Logan Brickhouse has also only been sailing for two years and is such a naturally talented sailor."

"We practiced for the light air and chop at Florida Yacht Club but practicing in it and executing in it is another story," says Faudree. "It's not the conditions we like, but we did it. Our team is finishing it's eighth year as a team and I am so grateful to the small group of alumni we have and those who took a chance on the unknown sport. Having assistant coaching has helped us get to this level too – I'm very grateful."

Sailing for Jacksonville was: Alfonso Garcia Bringas '21 and Logan Brickhouse '21 in A-division and Telmo Basterra '21, Charlotte Rose '22, Mia Porter '22 and Grace Benzal '23 in B-division.

The Robert Allan, Sr. and Robert Allan, Jr. Trophies are awarded to the low point "A" and "B" teams, respectively, in the Gill Coed College Sailing National Championship. Alfonso Garcia Bringas '21 and Logan Brickhouse '21 won A-division from Jacksonville University with 82 points, just six points ahead of the second place pairing from Navy. Michelle Lahrkamp '23 and Sammy Pickell '22 from Stanford won B-division with 93 points, 23 points ahead of the second place pairing from Georgetown.

The Fowle Trophy honors the late Graduate Secretary of the New England District and Executive Vice President of the ICYRA/NA. Len served in both posts from their creation until his death in 1973 and his devotion to college sailing is without peer. College sailing today had its very beginnings in the organizational ability and personal drive of this one man.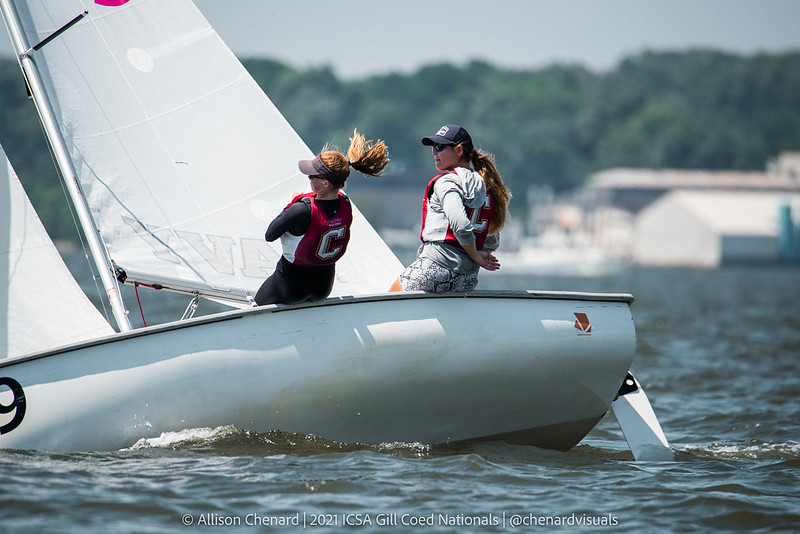 This trophy is awarded to the team of the college or university with the greatest number of Fowle Trophy points. View further calculations for the Fowle Trophy here on the college sailing website.
The winner of the Leonard M. Fowle Trophy for best overall collegiate team is the College of Charleston. This is the fifth time that Charleston has won this honor in the last ten years, and the third year in a row.
Stay tuned for more college sailing awards and honors including the College Sailor of the Year, Quantum Women's Sailor of the Year, All-Americans and Sportsmanship honors.
T2PTV filmed a show that will stream later tonight covering the racing with commentary and interviews from the two days of competition. Find the show on the T2PTV YouTube channel. Subscribe and ring the "bell" to be amongst the first to see the show.
Additional social media updates can be found on the College Sailing Facebook and Instagram pages.
To learn more about the teams competing in all of the events and to follow the racing and results visit the College Sailing website and TechScore pages.
Gill Coed Final Results (18 races):
1. U.S. Naval Academy, 210
2. Stanford University, 236
3. Jacksonville University, 260
4. Georgetown University, 265
5. College of Charleston, 273
6. University of California at Santa Barbara, 287
7. Tulane University, 304
8. U.S. Coast Guard Academy, 314
9. Roger Williams University, 332
10. George Washington University, 333
11. Brown University, 343
12. Hobart and William Smith University, 354
*13. Boston College, 368
*14. U.S. Merchant Marine Academy, 368
15. University of Rhode Island, 411
16. St. Mary's College of Maryland, 424
17. North Carolina State University, 426
18. University of Oregon, 648
* Number of high-place (2) finishes
Photo credits: Allison Chenard, U.S. Naval Academy, Jacksonville University
Contact: Jennifer Mitchell |Toile à Voile for ICSA | media@collegesailing.org | 970-216-7072 m.
The ICSA sponsors and partners through the 2020-21 season are: LaserPerformance (www.laserperformance.com), Official Boat Supplier of the ICSA. Gill North America (gillna.com), title sponsor of "The Gill College Sailing Coed National Championship". Quantum Sail Design Group (www.quantumsails.com), official sponsor of the "Quantum Women's College Sailor of the Year".