Navy Wins College Sailing Team Race National Title
ANNAPOLIS, M.D. (June 3, 2021) – Racing was completed today in the College Sailing Team Race National Championship hosted by the U.S. Naval Academy in Annapolis, Md. with support from local clubs, Severn Sailing Association, Annapolis Yacht Club, Annapolis Sailing School and Eastport Yacht Club, who helped store boats and teams and Georgetown University for helping to supply FJs and Old Dominion University with a ref boat. This is the second of three, spring college sailing national championships hosted by the Naval Academy. The top twelve collegiate team racing teams in the nation competed for the national title and the Walter C. Wood Trophy and the host school, Navy, came away the winners.

Racing started yesterday morning, June 2nd, in the two day national championship in light southeast winds. The wind built steadily throughout the day and was in the mid-teens by the end of the day. Competitors raced in FJs and Z420s on the Severn River. The first round robin of racing, in which each team races each other once was completed yesterday. The top 6 teams then advanced to a championship round for another round of racing to narrow down the final four teams who compete for the national title. All scores carried over.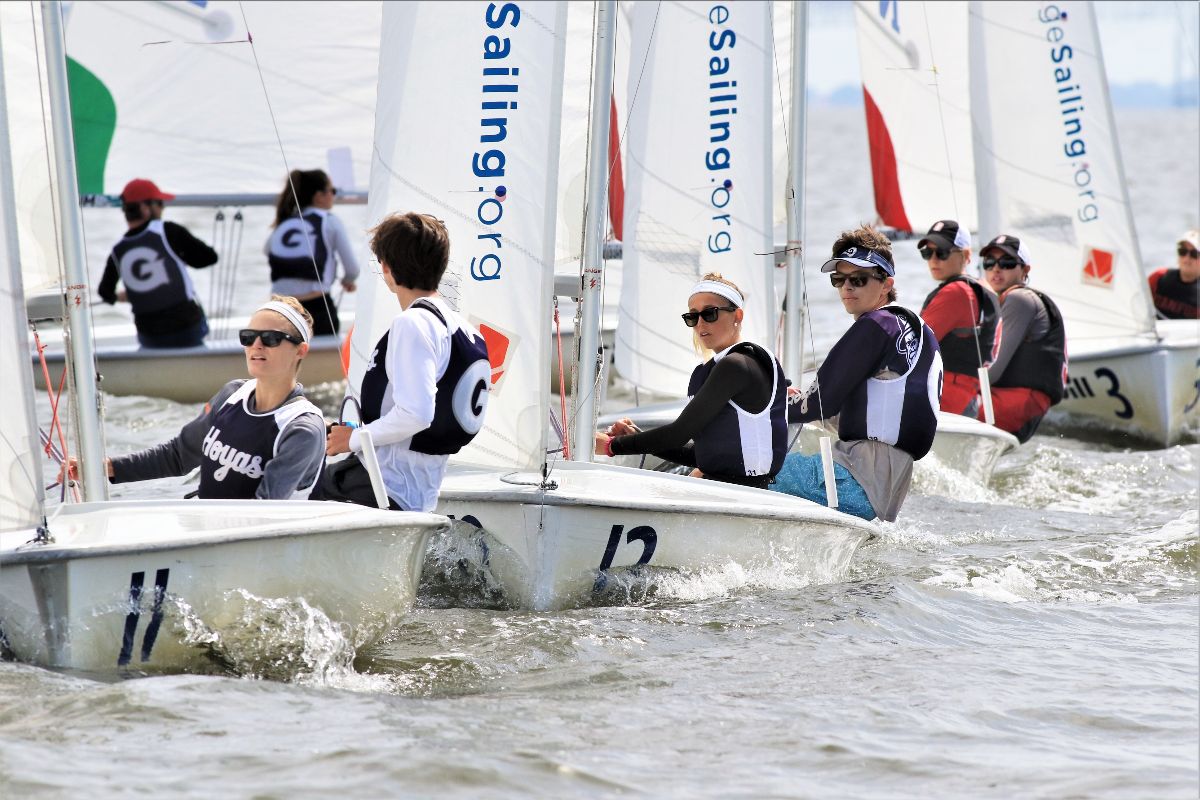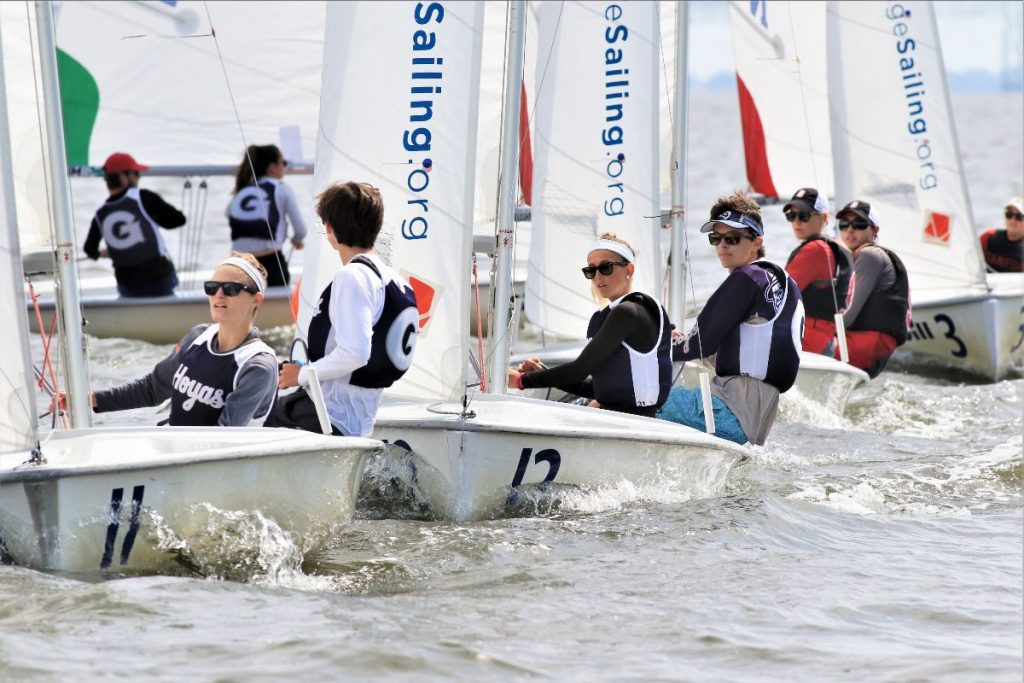 Principal Race Officer Gavin O'Hare, Chief Umpire Jeff Borland and his team of Christine Accetella, John Pratt, Jeff Woodard, Steve Sparkman, Bill Simon, Bill Cook, Charlie Arms, Doc Sullivan and Tony Weiner ran a stellar event in challenging COVID conditions with fair and consistent racing.
Racing today was in great team racing conditions in 6-10 knot southeasterly breeze with moderate shifts. The Naval Academy was on top of the leader board after day one and separated themselves from the pack from the start. They held onto their lead today going undefeated in the gold fleet round and with only one loss in the final four to Roger Williams University.
This is the seventh time that Navy has won the Walter Cromwell Wood Bowl, the last time was in 1992.
"Our guys sailed really well and we had more competitive races than it looked like," says Ian Burman, head coach for Navy. "We had great boat speed and boat handling and we could rely on that to get us out of trouble when we needed to, communication between the teammates was great and the sailors were on the same page. We also stayed un phased and just kept charging."
"We had a great group of sailors this year and we were thrilled to be competing and even more thrilled to win," says Burman. "I am really proud of the team, it's been a long time coming with hard work. I am also so thankful to all of the volunteers and the race committee. We almost didn't have college sailing this year, and this was a great accomplishment."
Sailing for Navy was: David Benson '22, Connor Bayless '21, Joseph Hermus '22, Olivia de Olazarra '22, Madeline Pruzan '21, Colin MacGIllivray '23, Fiona Lobon '22, Sean Linden '21, Kimmie Leonard '22 and Jonah Hatt '23.
Roger Williams University had a strong showing throughout the regatta and only had three losses today, one of which was to College of Charleston in the final four, they finished in second place overall.
"We had really good really close races," says Amanda Callahan, head coach for Roger Williams. "Our only tough races were when we didn't get off the line well, like in the end of the first round robin yesterday – but even when one of our boats got stuck on a coach boat anchor line and started two minutes late – the other teammates held back the competition and we came back to win the race, it was epic."
"The team did so well," says Callahan, "we felt really lucky to be able to practice all year and compete this year. We had purpose and a mission and we stayed really focused. We were able to carry our momentum last year into this Nationals, I'm so proud."
Sailing for Roger Williams was: Spencer Cartwright '21, Aidan Hoogland '24, Cameron Wood '22, Rachel Holick '21, Molly Matthews '23, and Emily Gildea '21.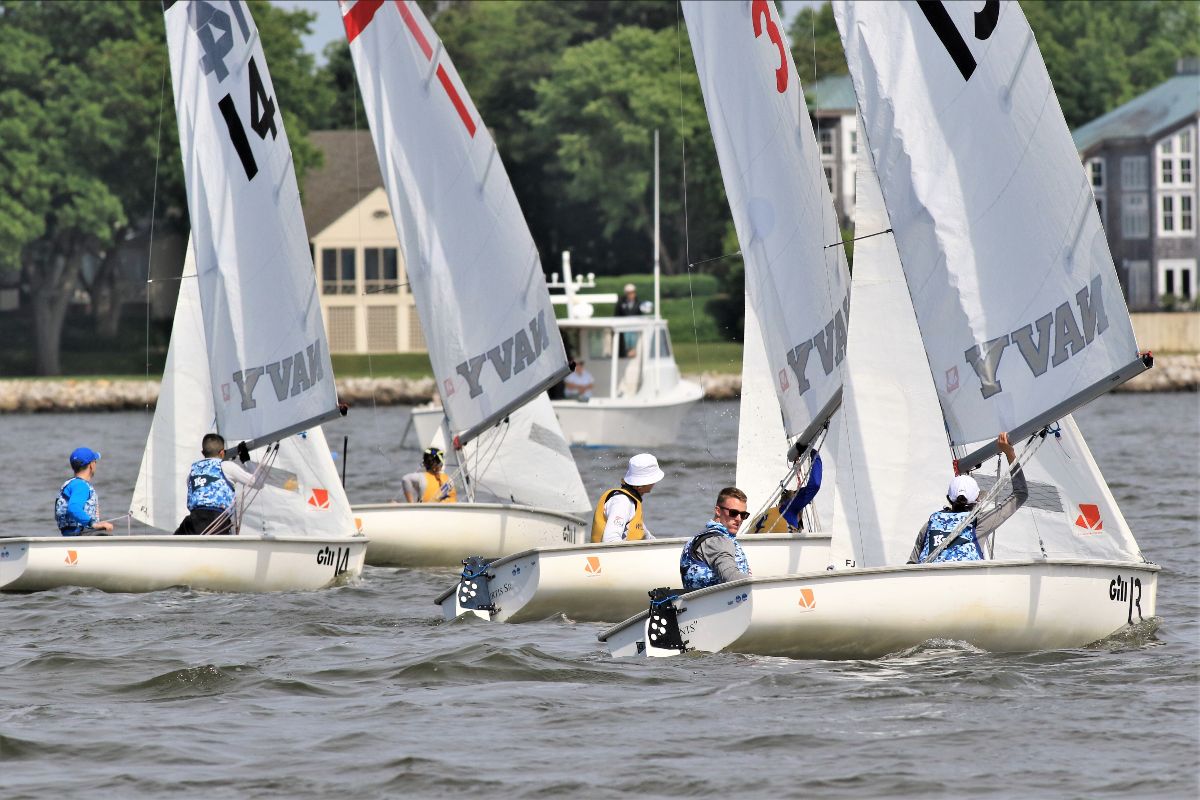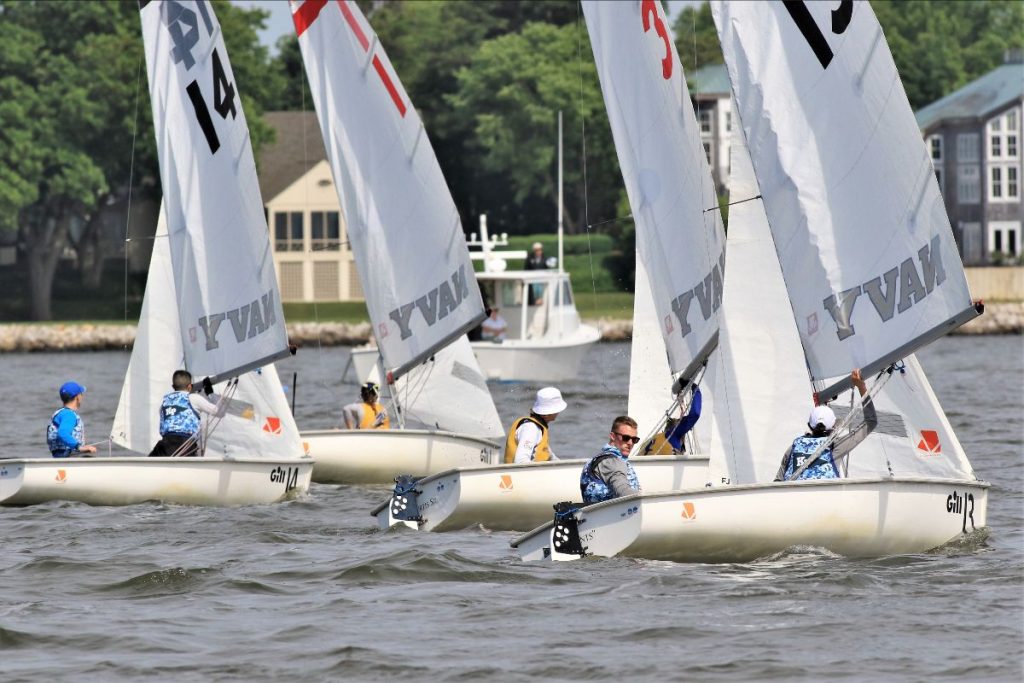 College of Charleston finished in third place after a hard fought regatta. They also only lost one race in the final four, but their record was not as clean as the other two teams, landing them in third place overall.
Sailing for Charleston is: Jack Brown '21, Hunter Skinner '20, Pierce Ornstein '22, Paris Henken '22, Noelle Owen '23, Anna Sherry '23, Anna Sherry '23, Hunter Skinner '20, Roxanne Snyder '23, Lucy Klempen '24, and Peter Barron '21.
Georgetown University finished in fourth place after some tough losses in the final day of racing.
Sailing for Georgetown was: Jack Reiter '22, Mariner Fagan '24, Scott Mais '23, Andrew Person '21, Annabelle Ayer '22, Caroline Teare '21, Addi Harris '24, and Lucy Beimfohr '21.
Racing continues June 7th-8th in the Gill College Sailing Coed National Championship back at the Naval Academy.
T2PTV filmed a show that will stream later tonight covering the racing with commentary and interviews from the two days of competition. Find the show on the T2PTV YouTube channel. Subscribe and ring the "bell" to be amongst the first to see the show.
Additional social media updates can be found on the College Sailing Facebook and Instagram pages.
To learn more about the teams competing in all of the events and to follow the racing and results visit the College Sailing website and TechScore pages.
Final Results (wins and losses):
1. U.S. Naval Academy, 17-2
2. Roger Williams University, 14-5
3. College of Charleston, 13-6
4. Georgetown University, 10-9
5. Stanford University, 8-8
6. Brown University, 7-9
7. Tufts University, 8-8
*8. Boston College, 7-9
*8. Tulane University, 7-9
10. Jacksonville University, 4.5-11
11. St. Mary's College of Maryland, 4-12
12. U.S. Merchant Marine Academy, 2-14
*Tie stands
Photo credit: Will Keyworth
Contact: Jennifer Mitchell |Toile à Voile for ICSA | media@collegesailing.org | 970-216-7072 m.
The ICSA sponsors and partners through the 2020-21 season are: LaserPerformance (www.laserperformance.com), the Official Boat Supplier of the ICSA. Gill North America (gillna.com), title sponsor of "The Gill College Sailing Dinghy National Championship". Quantum Sail Design Group (www.quantumsails.com), official sponsor of the "Quantum Women's College Sailor of the Year".